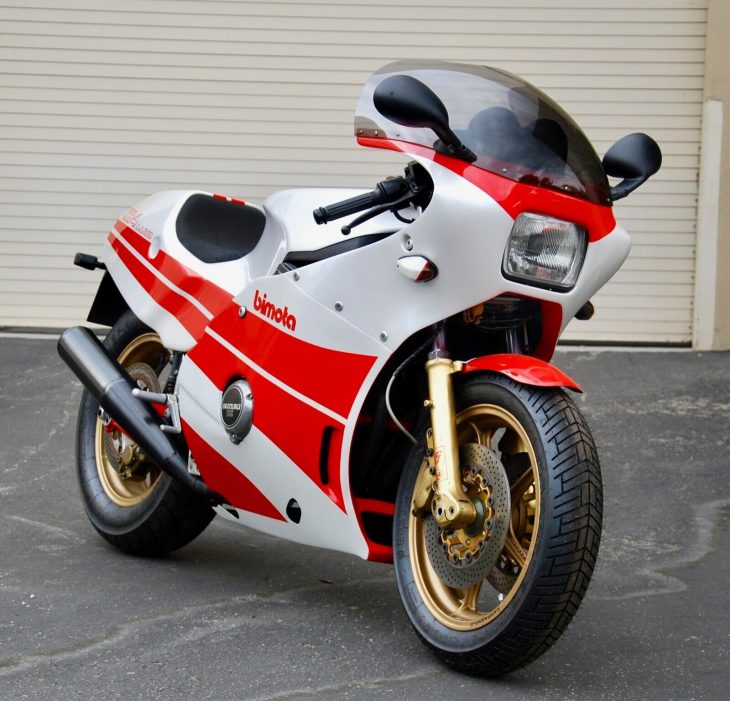 This Bimota SB4S is the epitome of an Italian exotic: long, low, lean, and fast, stuffed full of the best componentry and radical thinking available at the time. Imagine it sitting next to nearly any other early 1980s machine and it's almost like a MotoGP bike just dropped by your local bike night. Note the one-piece tank and tail section attached by just a few fasteners to help simplify maintenance, the quick-release axles, high-spec suspension, eccentric chain adjuster, and lightweight 16″ wheels that were fitted with then-rare radial tires. Most SB4s used modular units similar to Honda's Comstar wheels, but this example is fitted with beautiful Campagnolo hoops.
Bimota's reputation was built around their race-inspired frames, and the SB4's is no exception. The chrome-moly trellis unit with machined aluminum side-plates is a gorgeous piece of engineering, once the lightweight bodywork is removed, and wrapped around the utterly massive 1074cc powerplant borrowed from Suzuki's GSX1100. Air-cooled, with four valves per cylinder and Suzuki's Twin Swirl Combustion Chamber technology, it was left largely stock in this application because the main performance advantage of the SB4 came from a reduction in weight: the Bimota came in at a claimed 405lbs, 130lbs less than the 535lb GSX1100!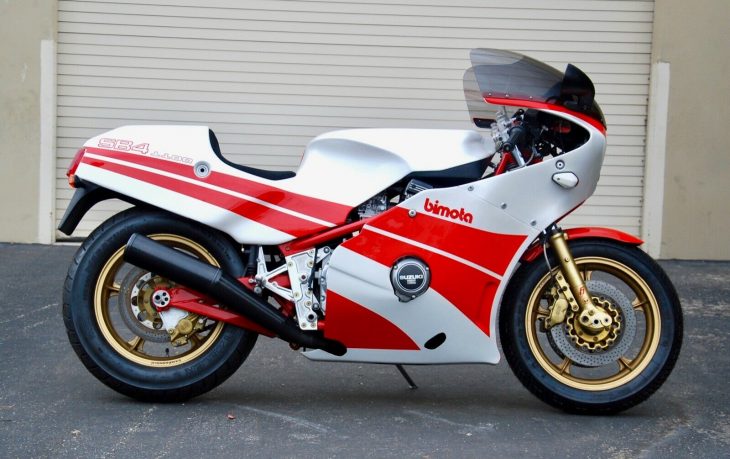 Significantly, the SB4 was available with both three-quarter and full fairings. Looks are subjective, but the three-quarter design is probably the better bet if you plan to regularly use your Bimota: the full fairing apparently traps lots of heat, and the air-cooled mill has a hard time managing the resulting elevated temperatures. That being said, this example has 15,000 miles on the odometer, so previous owners have either ridden it fast enough to keep temps down, or spent a lot of time rolling it around their garages…
I've seen a number of different directional indicators, or even no indicators fitted to the SB4. I'm assuming that none were originally included, because Italy, but different solutions were found to suit the requirements of different markets. These flush indicators seem to work as well as any, and are a damn sight less obnoxious than the DOT-approved bits fitted to many later motorcycles. I'd fit some bar-end signals and get rid of these barnacle-looking things, but that might just be me.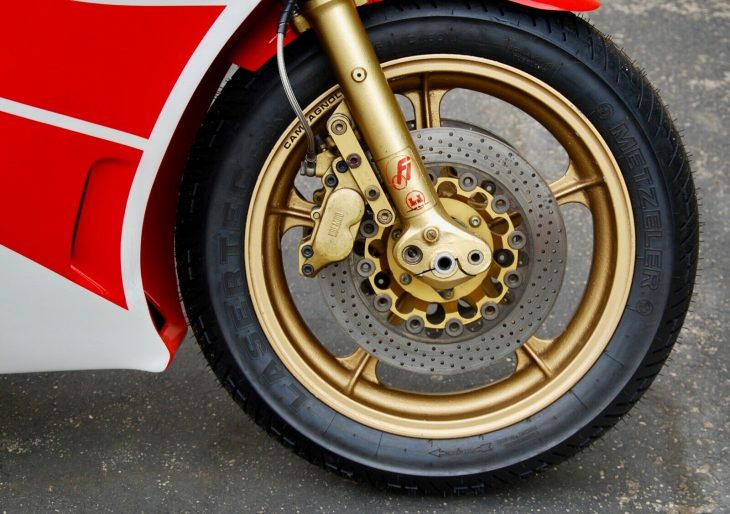 From the original eBay listing: 1984 Bimota SB4S for Sale
1984 Bimota SB4S, 1 of only 34 produced


Bimota's significant reputation was forged in the creation of fast, exclusive motorcycles oozing with Italian style. That reputation began in the 1970s when founders Giuseppe Morri and Massimo Tamburini shifted their successful heating and ventilation firm's focus to that of their passion – motorcycles. 

Japan's offerings of the time often consisted of a wonderfully smooth, powerful engine mounted in a frame of limited performance. Moto Martin of France, Bakker of Holland, and Harris and Spondon of England, all saw the potential of these engines. But Bimota exploited the situation with Italian flair, building exotic, exclusive, innovative machines in very limited numbers. Technical innovation too has long been a Bimota hallmark, as exemplified by the hub centre-steered Tesi models, while on the world's racetracks Bimota-framed machines have won hundreds of races and numerous championships. 

Utilizing the Suzuki GSX1100 powerplant, the Bimota SB4 was priced at approximately $11,000, making it one of the world's most expensive motorcycles. And one of the most exclusive with only 272 built, 34 of which were the even-more-exclusive SB4S models with full fairing. And one of these SB4S is on offer here. In perfectly original condition, the bike has covered a little more than 15,000 miles from new. Having been on static display for several years, the bike was recently re-commissioned and serviced, and now starts easily and rides perfectly. Brakes work well and all electrical systems function as they should.

This is a perfect opportunity to add an exclusive, very limited production Italian exotic with the ease of ownership and outright power and pace of a Japanese superbike.

For further information, video of the bike running, and additional photos, please visit ClassicAvenue.com
The SB4S is extremely rare, rare enough it's hard to find actual pictures of one. Just 34 were built, and I'm not sure how consistent they were in terms of specifications. It supposedly differs from the "regular" SB4 with its four-into-one exhaust, oil-cooler, and other details. This example has the standard dual exhaust, and I can't tell if there's an oil-cooler hiding behind the full fairing. I'm also curious about the adapters that apparently allow larger, four-piston front brake calipers to be fitted. They appear to be a period-correct update, so I'd love to know more: did the bike come this way from Bimota? Was it modified when new? We've featured this particular bike a couple times in the past, but this is a heavily revised listing with much nicer photos, so it seemed a good time to revisit it. The seller is asking $21,900 this time around, so maybe the third time is the charm?
-tad