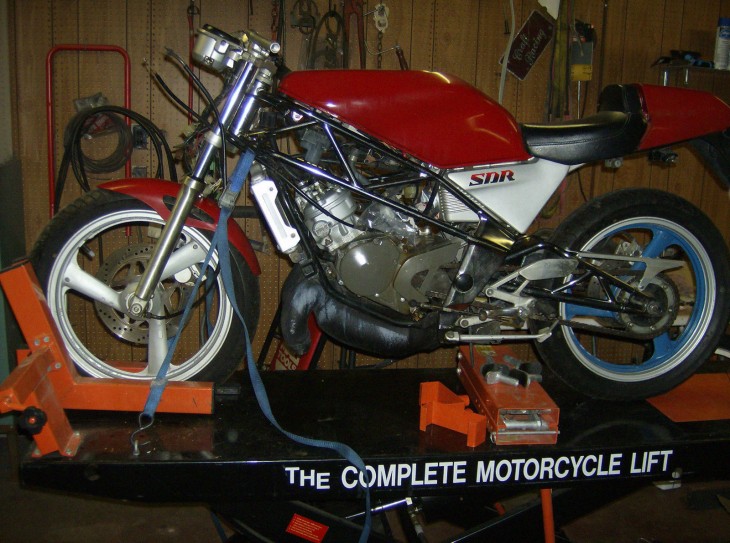 This SDR has all the makings of a project to keep you busy over the winter but hopefully rewarding you in the spring.  It's mostly all there, it is titled and damn it; it's a stroker!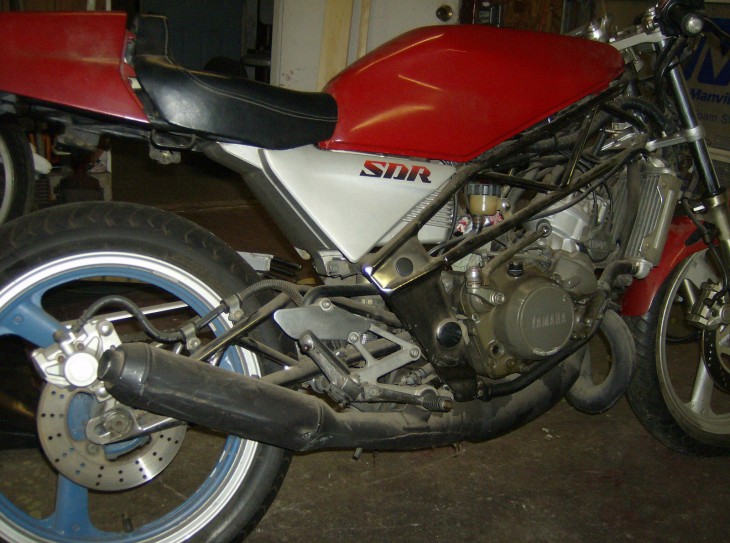 Here is the story:
UP FOR A 3 DAY LISTING, YAMAHA SDR200, 2CYCLE WATER COOLED, RARE IN US, I BOUGHT THIS AS A PROJECT TO RESTORE OVER THE WINTER, HAVE BOUGHT A FEW MORE BIKES SO IF THIS SELLS QUICK I GUESS I WILL LET HER GO, THESE WERE BUILT BY YAMAHA 1987-1988, THIS ONE IS TITLE AS A 1990, BMV SAYS THAT WAS THE YEAR IT WAS BROUGHT TO US. THEY WERE NEVER SOLD IN US. THIS ONE NEEDS WORK BUT IS 90% THERE, PREVIOUS OWNER HAD A LITTLE KNOCK OVER (his words) AND TOOK IT APART TO FIX IT, NEVER HAPPENED, TANK HAS A LITTLE BONDO AND CRAPPY PAINT, NEEDS LEFT HANDLE BAR AND CONTROLS, I HAVE A LEAD ON SOME PARTS IF IT COMES THRU THEY WILL GO WITH IT. TANK IS CLEAN INSIDE, CLEAR IS COMING OFF CHROME, RADIATOR HAS A DENT AT CAP, FORKS GREAT AND STRAIGHT, NEWER SOFT TIRES, NEW BATTERY, BRAKES WORK GREAT, GREAT HARD TO FIND CONVERSATION PIECE. FIRM ON MY PRICE, I WOULD LOVE TO RESTORE THIS SO IF IT SELLS QUICK FINE IF NOT I WILL GET TO IT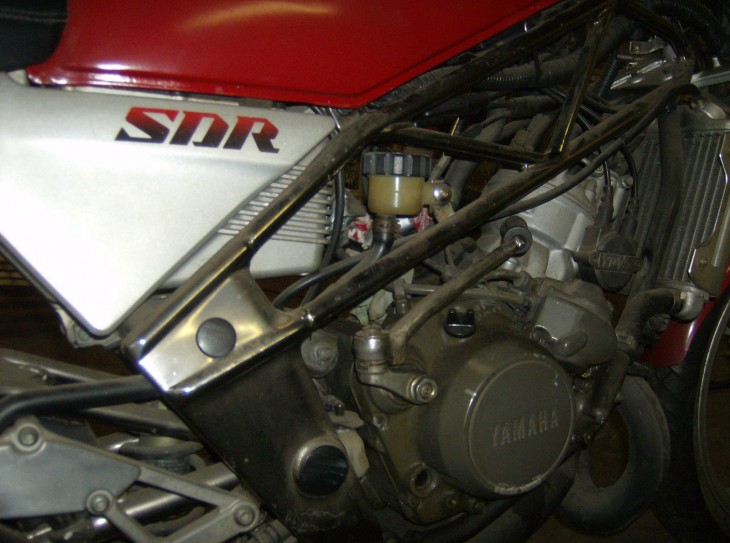 It's dirty, grimy and dusty;   just how project bikes should be.  It's probably been completely apart as the frame would have been silver from the factory.  Once cleaned and freshened up I think it would provide a lot of smiles.   You sure won't see many of them, I guarantee that.
The asking price is $3000.
Ian