Warning!
This post is in our archives. Links in this post have been updated to point to similar bikes available to bid on eBay.

Cleared For Takeoff: 2001 MTT Turbine Superbike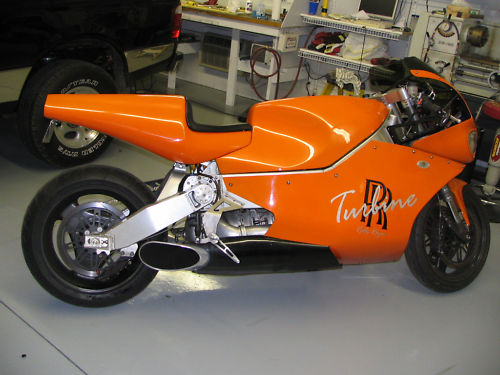 Ram air?  Please.  Fuel injection?  Old news.  Nitrus?  Childs play.  This is one for the straight line adrenaline junky crowd.  It's probably not for the average RSBFS reader but you have to admit you could have some fun with this.  I would have a blast asking what class they'd like me in for a track day.  How about asking the guy parked next you to step back because you have to start your jet engine?  You could butt into a conversion about fuel injection mapping and ask if they could help you with your turbine lag.  That would be your Rolls Royce turbine lag.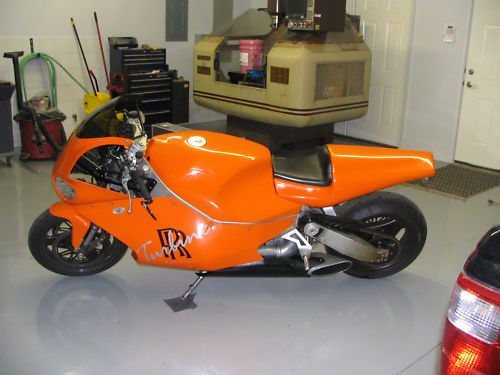 You have to give credit where credit is due.  How many of you out there wondered what to do with turbine engines that had timed out in the eyes of the FAA?  Well someone did and created a nice little niche market.  The company that did was MTT.  Their website has an answer to any question you might have about the MTT Superbike.  Maybe your first question would be how much horsepower does the bike make:  320hp for your information.  Not enough for you?  Then step right up to their newest  creation,  the MTT Streetfighter.  It comes with an optional 420hp turbine engine.  And a 250cc two stroke is illegal for the streets?  Makes perfect  sense to me.
There are plenty of videos of this bike on Youtube.  I picked this one because it was kind of informative and featured guys wearing chains riding with no helmets.

Even if this isn't your type of bike, you have to admit it is kind of wild hearing that jet sound.

The details on the bike for sale: 
This is the MTT Y2K Bike with 1900 miles on it, Serial number 3, Allison / Rolls Royce turbine starts and runs flawlessly, What a rush !!!!.   It has been modified by the MTT Factory with the new style computer system, Turbine oil and Transmission fluid modification has been preformed by the factory to house the fluids in the frame allowing larger coolers, this is standard design on the current builds. Bike is located in Iowa, MTT has done a tremendous job of engineering on this bike. Call with any questions, Ph 515-210-9400.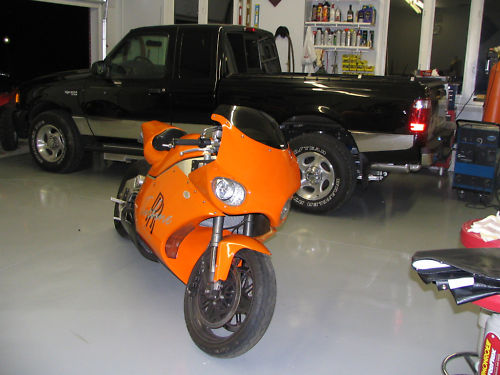 Not sold yet?  How about the fact you have a choice of fuels, diesel or kerosene.  What, no jet A?  Another novelty is a rear view camera.  Not sure what the rationale is for that but is anything really rational about this bike?   Retail price is $175,000 for a brand spakin new one.  This baby is listed as a classified ad with a take it home price of $99,000.  Speed has a price.  I know Jay Leno is a famous owner of one of these bikes.  Jay, if you are a RSBFS reader hook us up with a review of the bike.  .
IK