Honda's diminutive V4-400 has almost a cult following here, and it was never actually offered for sale anywhere but Japan.  This fine example looks to have just a fraction of km's showing on the odometer.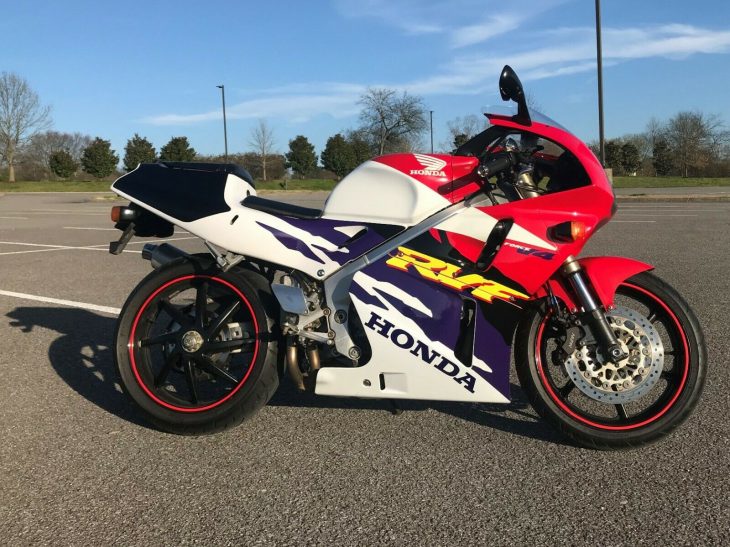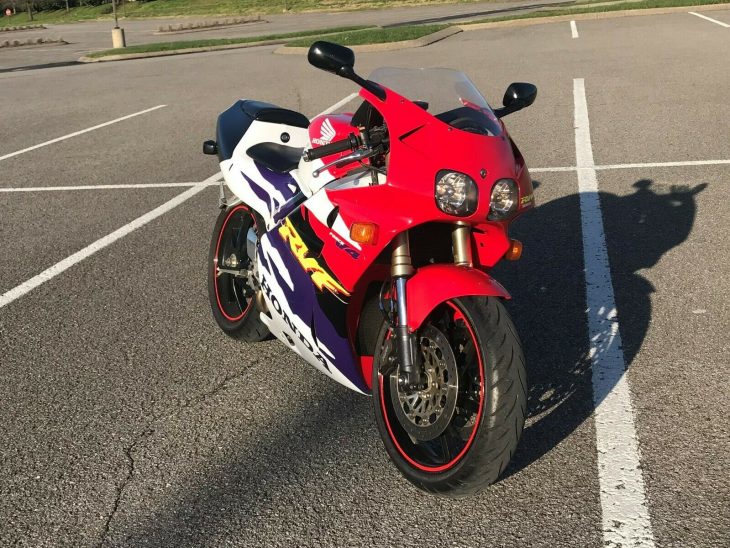 As the last in a long line of small V4's, and had the commensurate goodies on board – in addition to 59 ponies, the gear-driven cams brought music to every twist of the throttle.  The alloy chassis had upside-down forks up front and 17-inch wheels at both ends.  Nissin brakes are right-sized at 269mm, with black calipers matching the black painted alloy wheels.  Graphics took their cues from the RC45, though the more modern fox eye headlamps were particular to the RVF.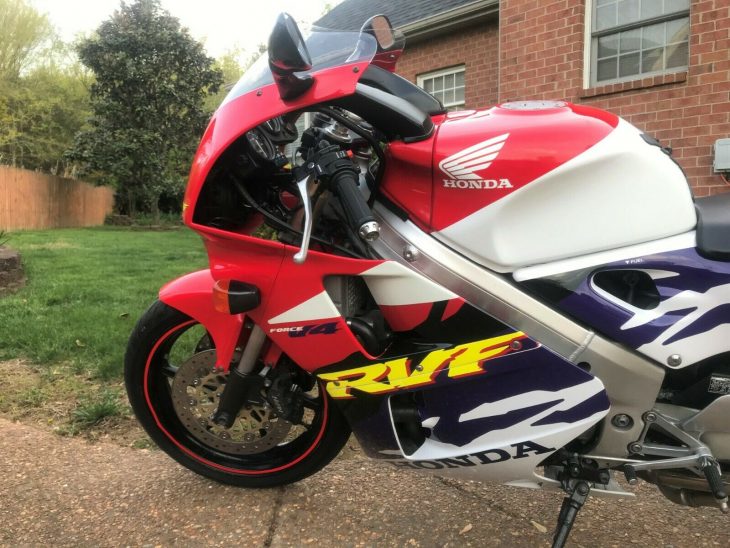 Sounds like this RVF owner picked a nicer example and worked to keep it that way, a couple of stress cracks but find another lightweight sportbike from a past generation without them.  Kudos for using the ignition key without the house keys, and the red wheel reflectors look great day or night.  Comments from the eBay auction:
As for this bike. I purchased it from a private collector last summer, and have ridden it regularly for about 500 miles on short weekend rides. Bike was fully prepped and all fluids replaced prior to my ownership. Bike starts right up and all mechanicals function flawlessly. Currently ridden on non-ethanol fuel only, and kept on battery tender. Miles will go up marginally with the occasional warm up.

Cosmetically in great shape. No dings on tank, OEM fairings with no rash or touch up paint, no signs of bike ever been down, and very glossy paint/decals throughout. A couple of minor blemishes from prior ownership: tank extension has small scratch on upper right corner, minor stress crack on upper left cowl, and small stress cracks on lower side fairing and tabs (reinforced with plastic cement on inside). Details shown in ad photos and I'll be glad to provide additional pictures or videos if desired. Minor modifications that came with bike: silver bar ends and steel braided brake lines. Reflective wheel tape added for night-time safety. Overall bike condition is very clean and well cared for; with some normal signs of wear for twenty-four year-old bike.
As a baby superbike, the RVF400R had a lot of differences with its big brother RC45, but shared the family build quality.  Pretty racy for the segment, the high MSRP warded off the bean counters and the really junior riders for which it was theoretically intended.  This one has been taken care of nicely and will reward the next owner with plenty of power for its low all-up weight.
-donn