2004 Aprilia RSV 1000R NERA
This may be one of the most understated limited production bikes I've ever seen.  You'd have to have a really good eye to see this thing roll by and know what you just saw.  The Nera was not aimed at the race replica crowd.  This bike oozes Italian sophistication. The Nera was the first in Aprilia's "Dream Series" of bikes (I chuckled too) with a production run of 200 bikes. Chuckling aside, you got a bike with some really nice bits: carbon fiber bodywork, magnesium and titanium sprinkled throughout (including nuts and bolts), a HP bump and a set of forged magnesium wheels: nice!  It all added up to a bike that was lighter and more powerful than the standard RSV, not to mention exclusive.  This one includes a couple of extras and obviously rarely hit the street.
From the seller:
This is a One-Of-A-Kind, extremely rare Nera Super Sport Bike for sale. Garage kept, rarely ridden, maintained as a collector's item. No scratches, dings, or dents of any kind. Starts right up and runs as good as the day it was purchased. Carbon Fiber everywhere! Comes with two gas tanks – one carbon fiber and one standard. The standard is currently installed on the bike. Also two sets of exhaust – one original and one racing. The racing is currently installed on the bike. Original owner, clear title, and all original paperwork.This is bike 22 out of only 200 made!! Belongs as a collector's item too rare to ride, but you can if yer want to 😉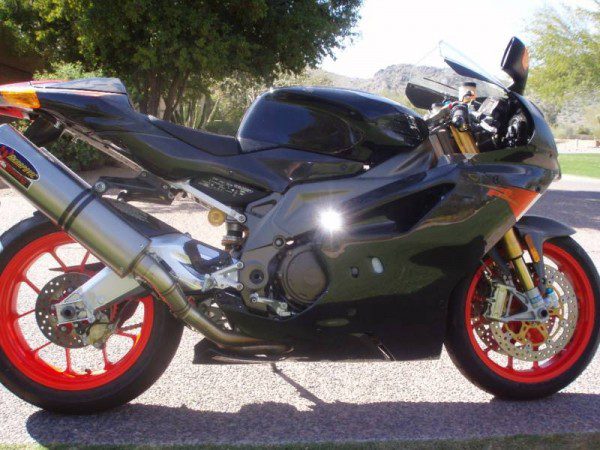 It's too bad that the pictures just don't do this bike justice.  They can't pick up that nice carbon weave in the bodywork that makes me all sweaty and wish I had gone to medical school to afford this bike.  Which brings me to price. If you gotta have it now, the seller has a pretty high price but he also listed the reserve which looks to be  right in line with book value.  Warm up the cappuccino machine and go place a bid!
IK