2003 Factory ZX7RR:  Former Hawk Kawasaki In BSB
This is one of those auctions where I wish they had included a lot more pictures.  I don't have the coin laying around to purchase the bike but I sure like looking for the pictures to see all the bits and pieces I could never buy.  Hawk Racing was apparently running this bike against 1000cc bikes back in 2003 in BSB.  While searching the internets I came across a post that claimed these were in fact ex-factory ZX7's that Hawk Racing was using.  I would take that to mean the bike is actually a little older than a 2003.  Who gives a rats ass about the age though if this is the real deal and not just a kitted up bike.  Are there any Kawi fans out there fantasizing bout peeling that bodywork away and seeing what exotica lay beneath?    This would have been then end of the line for the ZX7 in BSB as the very next year they ran the new ZX10.
Some tidbits about the bike:
EX FACTORY RACE TEAM Kawasaki ZX7RR

Last sed in 2003 British Superbike by Hawk Kawasaki Official Kawasaki Uk Race Team. These bikes had put out over 150bhp form a 750cc machine.

Specfication is huge:

Ohlins Front Fork

Ohlins Rear Shock

Suter Dry Clutch ( Cost in excess of £3500 new)

Factory Engine, which included factory cylinder head, titanium Pankl con-rods Factory pistons, facvtory crank, factory gearbox, machined lightened crankcases

Akrapovic Full Titanium Exhaust System

Brembo Brakes, calipers, discs, pads, master cylinders

Factory Radiator

Factory Subframe, Battery Box

Factory Carbon Airbox

Factory Aluminium Petrol Tank made by Thomas Gnemier in Germany.

Dymag Wheels

Factory 41mm Keihin Carbs
Chomping at the bit to buy it?  They are asking 20,000 pounds sterling (I love the way that sounds).  That converts to roughly $32,000.  It does mention they are open to offers:  hmmmmmm.  I don't think I have enough body parts to sell and still be able to ride.  If it's time to be the only guy on your street with a factory race bike you can .
I guess you could call this a relative of the bike above.  It's a nice clip on the 2000 ZX7RR.  I noticed it does have the same Suter clutch as the bike for sell.  I posted it because Kawasaki info seems so scarce.  A little Kawi love, I guess.

Here is the one picture I could find of a Hawk Kawasaki in action from 2003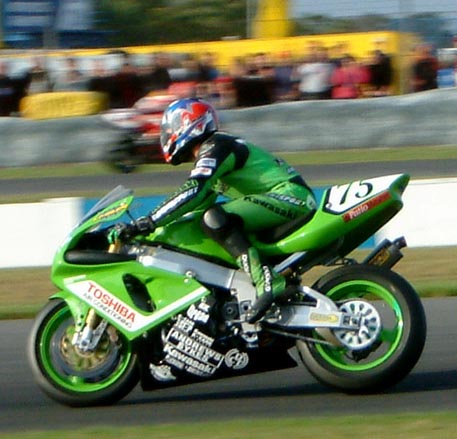 If by any chance you still aren't sold on the cool factor of this bike, check this link out.  All I can say is stunning.
IK