While not a very well respected machine, it's hard to argue the value for money when one considers the TL1000R. Having only been produced for 5 years, and not a huge sales success at the showroom, these survivors will get more and more rare. This one has nearly 29k miles but the owner demonstrates that he is an enthusiast and mechanically capable with his description. With a current bid of $3050 and no reserve, this one is going to sell. Good luck to buyer and seller!
dc
2002 Suzuki TL1000R For Sale on eBay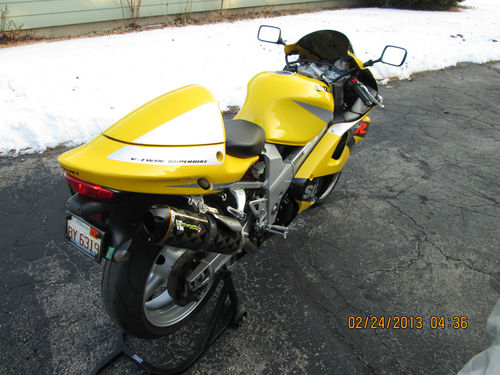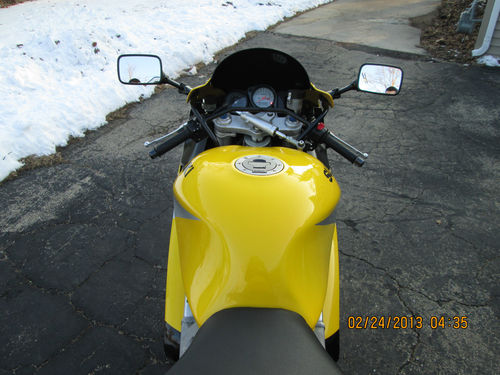 seller's description:
You are bidding on a used 2002 Suzuki TL1000R. The bike starts right up every time and runs great. It is completely ready to ride and is in excellent condition. You won't be disappointed when you see it.

I require a PayPal deposit of $500 within 48 hours of the sale and the balance in cash. It can be picked up in Montgomery IL, or I will deliver it within a 200 mile radius if you pay for the gas for my F150 4×4 which isn't exactly cheap.

I don't ride wheelies or anything like that (except on my pit bike) and I don't take it on the track or drag strip. The bike has never been down. I am the second owner and I have had the bike since 2008. I change the oil and filter and perform the other required maintenance religiously.

There are very minor scuffs on the tail fairing near the cargo hooks. I always use masking tape if I bungee anything to it but they still happened. They are not noticeable. The tank is virtually flawless. The paint looks great with no swirl marks or oxidation. There are about two minor scratches on the right side fairing due to an errant piece of retread flying off a semi on the highway. See the pics – they are not noticeable. The heel guards show their age but they are easily replaceable or paintable back to the stock finish. The tail hump was knocked onto the ground when the bike was at rest and it has a few relatively minor scratches. You can still buy the tail hump new from Suzuki with matching paint and stickers already installed for around $200. Pictures don't due this bike justice but I will be happy to email you more if you want.

I have been riding and wrenching on bikes since I was 10 and I worked as a motorcycle parts manager for five years. I currently work in the service department for a CAT dealership so at the risk of sounding arrogant I will say that I know my engines and vehicles. I do all my own work and I perform all the required maintenance per the schedule in the owner's manual. Electronic copies of the service manual and the Suzuki competition service manual are included. So is the original owner's manual and all of the stock parts I removed from it. I am the second owner and I bought it off of Ebay five years ago when it had about 8,100 miles. The first owner took great care of it and there are virtually no cosmetic defects with the bike at all. The motor has zero issues and it runs very strong.

I installed a set of Two Brothers Racing carbon fiber M4 slip-ons last summer and they are in as good as new condition. They don't have the slightest scratch or anything on them. They are fairly loud but they sound great. Very deep and throaty. I get compliments from everyone from Harley riders to sportbike guys. They retail for $895. If you don't want them I will reduce the total price by $400 after you win the auction and I'll install the stockers. The stock exhaust is in great shape and it is included either way. I have the passenger seat and the matching tail hump. I have a TRE (Timing retard eliminator) switch installed on the bike because Suzuki decided that it had too much power at low rpm in the first three gears and they de-tuned it by retarding the ignition timing up to 6,000 rpm. The switch eliminates that by fooling the ECM into thinking the bike is always in sixth gear and allowing it to have full power. When it is in neutral the switch I have maintains the factory neutral ignition and fuel maps, which is a good thing. It also has the stock air box damper doors removed. They severely restricted the air flow to the airbox below 4,000 rpm. It runs and sounds much better and the slight flat spot at mid rpm is gone. I removed the PAIR valves which only serve to take fresh air from the airbox and inject it into the exhaust to allow the bike to pass federal emissions. It saved about 5 pounds and they can't leak and cause it to backfire which can happen. The clutch pushrod seal is known to leak but I replaced it and the pushrod this spring with the SV1000 version which is better. It also got new plugs, new coolant, new brake and clutch fluid, and new brake pads this spring. I change the oil and filter every 3000 miles with high quality conventional oil. Every modification I did is easily reversible if you want and I'll be happy to talk you through it or whatever. Other than that it is stock.

If you don't know anything about this bike it is a high performance V-twin that was designed to compete with 750cc 4-cylinder bikes in the AMA roadracing class in the late nineties. The rules at the time allowed up to 1000cc's for a V-twin while 4-cylinders were limited to 750cc's. It has a cult following for good reason. Yes it is a little heavy and big and the suspension could be better, but it will ride circles around all but the best riders on newer bikes if you know what you are doing. The engine has the torque you would expect from a big V-twin but it also has a great top end rush unlike most V-twins. When I worked at the dealership I was able to sample all of the used bikes and I rode almost everything out there. This is still my favorite bike to ride even compared to newer Ducatis and stuff like that.

NOW THE BAD NEWS:

I am in a hurry to sell this bike or I would have addressed these issues. It could use new front brake pads. I installed standard EBC pads and I don't like them. They are grabby but they will stop the bike as fast as you need them to. It will still stand up on the front wheel (I don't ride like that) if you need it to. I've been riding it like this for a few months and I'm used to it but you will notice it. The bike has 28,500 miles on it and there are minor rock chips on the face of the front fairing. The rear Michelin Pilot Power 2CT tire is getting there but you can probably get another year out of it depending on how much you ride. The matching front is in great shape. The clutch switch is wearing out so you occasionally have to release the lever and pull it back in before it will let the motor turn over. This part is cheap and it is a 10 minute fix. It happens about once every 20 rides and it always starts.