Ellington, CT– 7,800mi – $3,450 with Reserve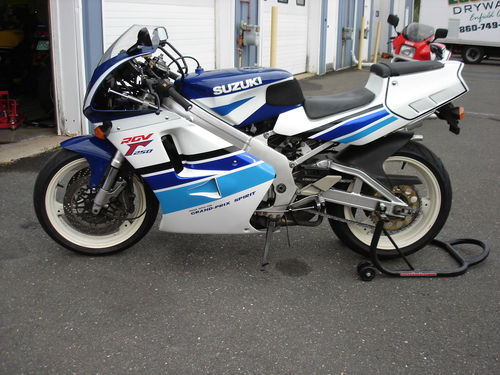 If the NSR250 featured last week isn't quite what you are looking for and you're more of a Kevin Schwantz fan than a Freddy Spencer fan, then check out this quarter-liter smoker. The VJ22 features a set of upside-down forks and the always call banana style swing arm, while proving a light weight package which drives the flick-ability of these 250cc two-strokes.
This particular bike looks to be in good and semi-restored condition. The seller states that a new set of plastics have been recently added and that a set of Lucky Strike fairings come with the sale as well. It also sounds like some solid general maintenance has been done to this unit as well with fluids and brake pads to name a couple. The oil injection has been removed in favor or running a pre-mix, but should you wish to go back to injection, the setup is included. There are some blemishes and a missing spring for the kick-start, but nothing outstanding that would raise a red-flag.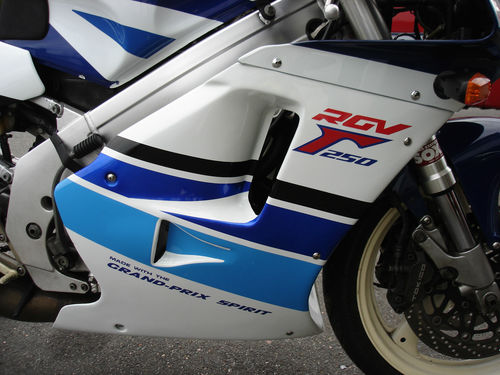 More from the seller:
1991 Suzuki RGV250. Bid with confidence as this is a fine example of this rare bike. I have owned this bike for a few years and it has always performed top notch. I am selling it along with a few other rare bikes to make room for more restoration projects. Since owning it I have installed new plastics, front pads, and tires. The bike has just had a complete maintenance with new gear oil, coolant flush, brake fluids replacement,, new plugs, adjust and lube chain. Tires and brakes are in excellent condition also. It is ready to ride right now. The bike starts easily, shifts through all gears smoothly, brakes perfectly, and handles as it should, which is excellent. All lights, blinkers, and horn work. The oil injection has been disconnected and the bike runs on premix as I like the smell of Blendzall as well as preferring the dependability of premix . The original oil tanks comes with the bike and it can easily be converted back to injection. There are some minor chips on the tank that are in the photos. There is also some slight discoloration on the Suzuki tank emblems from age but hardly noticeable. One muffler has some scuff marks from a tie down while on a trailer that are shown in the photos. The kick starter fold out spring is missing and I have been using a rubber strap to hold it in place. This is NOT the spring in the engine but the tiny one on the lever itself. It can be replaced easily but I have always just used the rubber strap. The plastics are new this year and are in perfect shape. The bike shows about 12,900 Kilometers on the clock and if my math is right should be about 7,750 Miles. The bike comes with the wheel stand shown in the photos, the side stand works perfectly I just prefer the wheel stand for storage. The bike also comes with a complete brand new set of Lucky Strike plastics still in wrappers in the box. The front fairing has been taken out of it's wrapper for the photos. I was going to do a Lucky Strike bike but never got around to it. The only thing that would be needed to make this a Lucky Strike bike is a tank repaint and emblems. This plastic set alone is a $500 value here in the States. Shipping is not included in this sale for the bike, but I will include shipping of the wheel stand and plastics to the lower 48. I will assist in shipping the bike, meaning that I will meet your shipper but will not crate or load.The bike is sold as is where is with a BILL OF SALE ONLY and a copy of myVermontregistration. For some reason Ebay won't let me enter "Other" in the Title space so the bike does not have a title.Vermont does not title vehicles under 300CC.
This bike looks great and seems to be in proper working order. Unfortunately, this one doesn't come with a title and only a bill of sale. But it is apparently registered inVermont. Recent maintenance is a plus and I am guessing that since the owner has had this bike for "a few years" that it isn't a bike that was bought rough and cleaned up in order for a quick flip. You can check out the auction here and place your bid today!
-JS