Unique TZ: 1980 YAMAHA TZ 350 NICO BAKKER SPECIAL
Update 5.7.2012: First listed in December last year, this TZ350 is back and now $2k cheaper at $16k. Links updated. -dc
Here is a little something to distract you for a few minutes from your holiday shopping. I can't say I"ve seen many TZ350's for sale and especially one with a Nico Bakker frame. The bike has some race history to it but the seller doesn't specify if it was recent history or back in the bikes prime.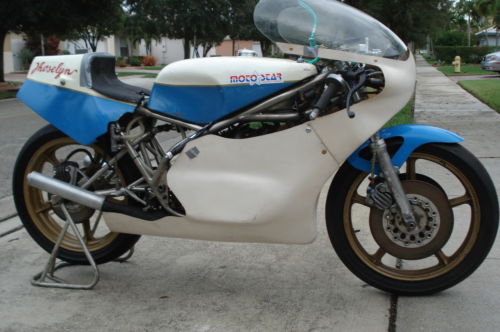 It sounds like the TZ350 was the sh*t back in the 70's depending on the model year. Here is an excellent site with some tidbits on the bikes history. Be sure to check out their page on all the companies that built frames. It is quite a list. Here is a link to the Nico Bakker website itself. Be sure to scroll down and check out their RMZ250 Moto3 bike.
The details on the machine for sale:
* FRAME " NICO BAKKER" MONOSHOCK//// HOLLAND MADE///SPECIAL; RACING FRAME MONOSHOCK.

* SPECIAL YAMAHA TZ 350 ENGINE,6 TRANFERS CYLINDERS,6 SPEED,DRY CLOCH,380MM MIKUNI CARBURETOS /PJ.

* ENGINE REFRESH NEW SEAL,GASKETS,RINGS.

* SPECIAL IGNITION KROBER///ELECTRONIC TACHOMETER KROBER.

* SPECIAL PIPES.

*SPECIAL YAMAHA BIG RADIATOR.

*SPECIAL FLOTING ALUMINIUN DISK BRAKES"ZANZANI" ITALIAN MADE///2 FRONT//1 REAR.

* SPECIAL YAMAHA MAGNECIUN BRAKES CALIPERS///BREMBO RADIAL PUMP.

* CAMPAGNOLO 18 WHEELS.

* VERY LIGHT BIKE MORE LESS 100KGS.///// 75 % TITANIUN & ERGAL SPECIAL SCREWS AND SOME PARTS.

* THIS BIKE WIN 4 LATINO AMERICAN CHAMPIONSHIPS.
The asking price is a hefty $18,000. I was reading a thread discussing the bike and guys were going back and fourth if the bike is worth that much. I think the best insight came from one poster who mentioned he has not seen a TZ350 for sale for less than $10,000. I can't confirm or deny. Maybe if it sits long enough the seller will open it up to offers.
Ian