Warning!
This post is in our archives. Links in this post have been updated to point to similar bikes available to bid on eBay.

Update 2.14.2017: We last posted this bike roughly a year ago, and bidding stopped at a little over $20k, reserve not met. Links are updated with the current auction. Good luck to buyers and seller! -dc

Here is something we have only had on RSBFS once before, a Bimota VDue Trofeo edition.  The Trofeo was a track oriented VDue produced by the factory that incorporated a host of changes which Bimota claimed fixed the problems that had plagued the VDue since its launch.
The VDue was supposed to be a game changer for Bimota; it would have not only the specialized frame and top-spec suspension components Bimota was known for but also have a new direct-injected 500cc two-stroke v-twin.  Pollution regulations in the 1990's were making it harder for new two-stroke models to get approved for street use. Bimota decided the solution was fuel injection; it would defeat a lot of the pollution and would place Bimota at the top of the sportbike-as-luxury-item category.
As regularly RSBFS readers know, despite the promise of the VDue design, the first VDue models had major problems, especially in the fuel management and engine areas.  These problems have been detailed in previous VDue listings here on RSBFS.  For anyone who is curious, an especially good explanation was done in a post back in December by RSBFS contributor Tad D which can be read here.
Suffice to say the VDue is now considered the bike that forced Bimota into bankruptcy and the last of the big/500cc two-stroke sportbikes.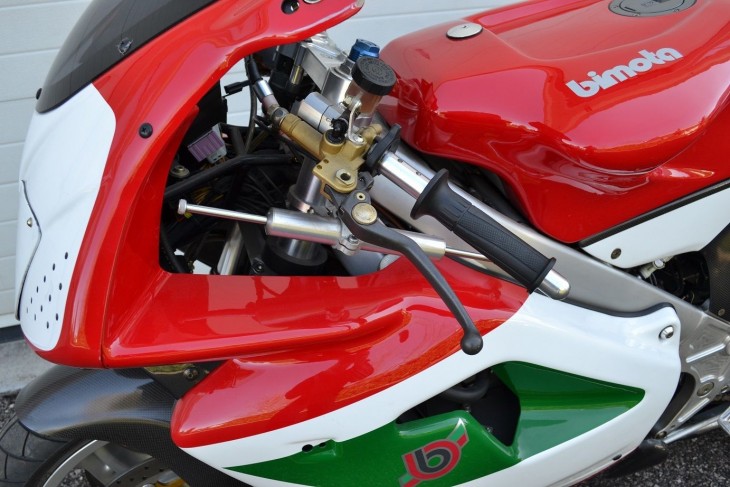 The Trofeo was an effort by Bimota to prove the VDue issues were resolved.  Built as a run of 26 track-focused bikes by Bimota and "leased" to racers by Bimota for a sponsored challenger/race series called "Trophy", the 26 Trofeo editions came with serious racing components, including race-oriented carburetors, a race-spec electrical harness and ECU and different exhaust systems.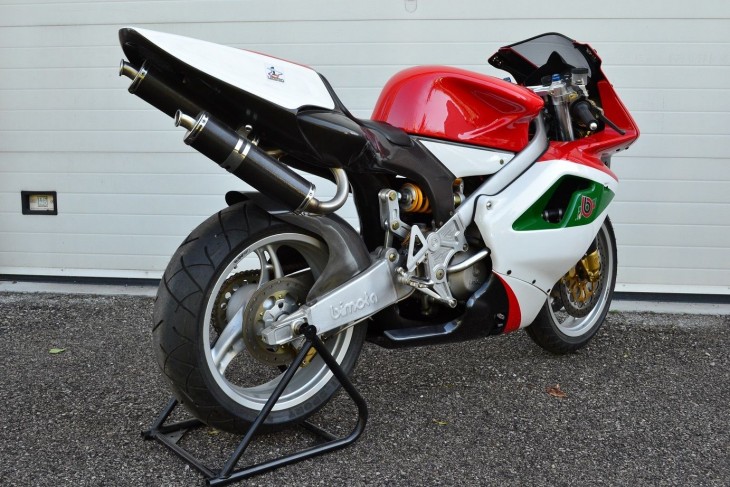 According to research, the Trofeo edition did not have the engine issues or peaky power delivery that had plagued the earlier models and the engine didn't suffer any major issues.   Another 177 VDue's were produced after the Trofeo version and those also seemed to have less problems but the initial reputation remained. and the VDue was one more nail in the coffin of Bimota.
Note:  I can't help but think what might have been if Bimota had taken the VDue racing first, identified and then resolved the engine issues and then made a street legal VDue version available to the masses.  Perhaps we would still be hearing stuff like this on the streets of the USA today.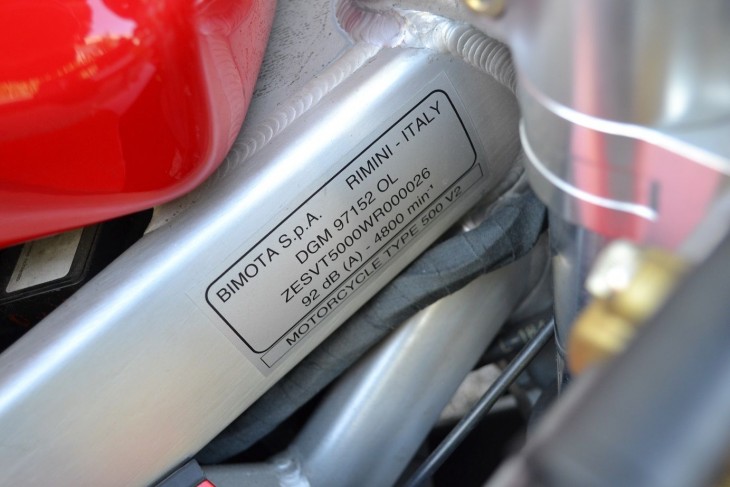 For this VDue Trofeo mileage is listed as zero and the bike has apparently been in a collection since 2003.  This bike shows a VIN# of 26 and the seller indicates this is the last Trofeo and the only one that is still in NOS condition.
NOTE:  According to the VDue.it website, the Trofeo models cannot have a numberplate for road usage.  Not sure what this means for any non uk buyer.
Obviously a full service (including tires) would be required before it went back on the street.
Here is what the seller has to say:
Not to be confused with the injection model or the later not factory built Evoluzione road model.
This is the

last

of 26 units the factory built in 1999 to compete in the Bimota 500 VDue Trofeo.
The bike is new unused/new san some small scratches in years of storing.
Unique occasion to own the most desiderable version of the only Bimota model with Bimota engine!
The only one of the 26 units still new
What is this "last" VDue Trofeo worth?   Well I have seen VDue's listed for between $22,000 USD to $39,500 USD and given their limited production run of only 378(ish) units an average price for a VDue is tough to pin down.  In the UK gently ridden fuel injected models seem to be offered around $24,000 USD while in the US prices seem to be about $7,000 higher .  This one is supposed to be the last Trofeo which isn't fuel injected and has zero miles so I would guess a price of $27,000-$32,000 USD. While that price is kind of steep for a 16 year old bike that had a reputation for engine problems and might not be able to be used on the street, I do think it would be a jewel in any collection.
-Marty/Dallaslavowner