The is a great looking ZX7RR N1 that we haven't seen since September!
Bike:  1996 Kawasaki ZX7RR N1
Miles:  6,998mi
Price:  $6,000 Starting bid with no reserve
Location:  Colorado Springs, Colorado
This 'RR is on consignment from the third owner, was fully serviced prior to being listed, and the bike is stated to be all original.  Some defects include light scratching to the ram air covers, front fender, some of the left fuel tank decal has been removed by a fuel spill (new one is included with the sale), the battery is dead and the forks have started to leak.  Not exactly what I expect when a bike has supposedly had "…detailed service work" and "…several different services including thorough carb work."  Regardless, this bike appears to be a very collectible piece with some light love–and front turn signals.
Doug had some very good observations when this bike was first spotted in September:
Downs:
1. Missing the front turn signals
2. Missing the side fairing reflectors
3. Doesn't have the Muzzy 7rr Special sticker on the tank
4. Butt pad is a little beat up
5. Seat has a gas cap stain – can see if you look closely at pictures
6. Needs a new front tire, but it's the original D204 Sportmax
7. Has a pencil sized dent in the gas tank.
8. Rims may have been painted at some point.

Ups:
1. It's a N1!
2. Better than average condition
3. Low miles
4. Has one original tire
5. It's priced right.
6. I like it a whole lot for the money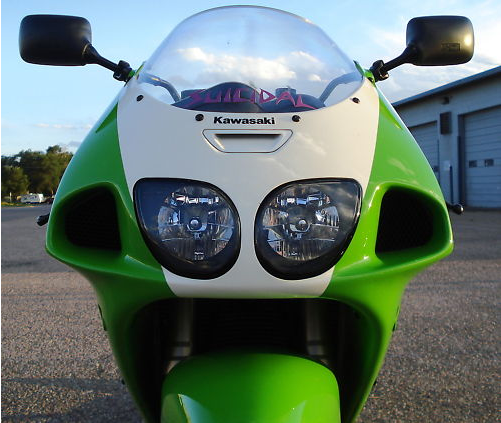 I'm going to have to agree with Doug, this is a very good–great–bike for the money compared to what we've seen other N1's going for.  If you wanted an occasional weekend bike with collector credibility this is a fantastic choice.  With a little work, I don't think anyone would be ashamed to have this in their garage.  See Doug's very thorough write up here.  See some of the other ZX7RR's we've posted .
AG