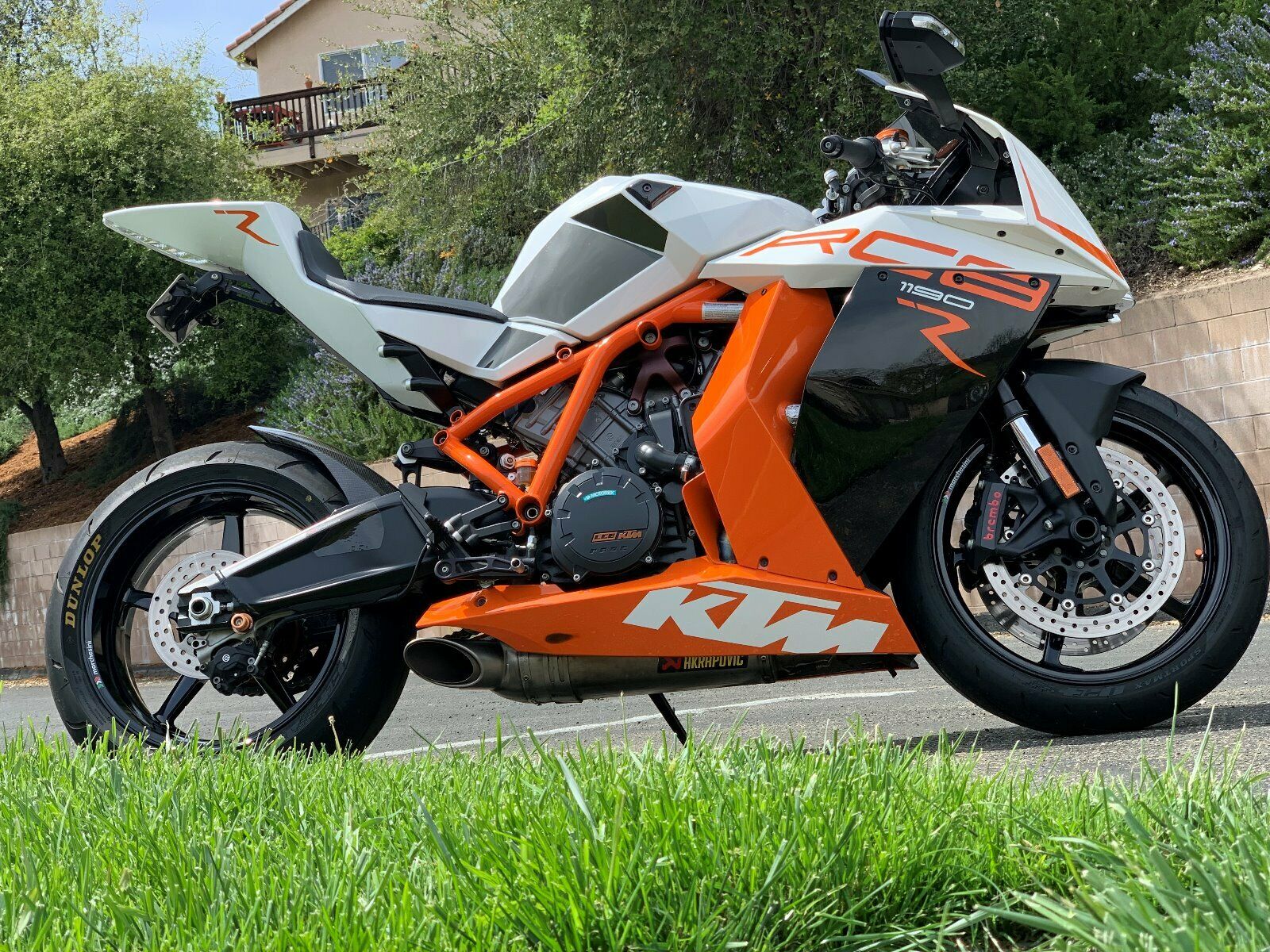 In the world of different strokes, there are Japanese sport bikes and Italian sport bikes. And for a short while, there was a rational choice out of left field – Austria – with the KTM RC8R. With a unique blend of high-quality components and features not often found on bikes in the range, the RC8R was powerful, potent, very competent and largely ignored. Not even the impressive results of factory racer Chris Filmore in AMA Superbike competition could make the RC8R a commercial success. Ultimately KTM pulled the plug on the RC8 line – in part thanks to the CEO suggesting they should not build machines that could not be used sensibly on the street.
Powered by a 1190cc v-twin set at 75 degrees, the RC8R offered up a very healthy 175+ HP. With Keihin fuel injection via 52 mm throttle bodies feeding directly into the twin spark, four valve heads, power was instantaneous – if not a bit abrupt. Coupled with a 6-speed tranny and nestled in a unique trestle frame, the RC8R takes convention to a new level. Adjustments abound: the RC8R provided for a vast array of adjustments similar to what you would expect on a race bike. From levers to pegs, suspension and sub-frame height, the RC8R was an open book for a rider who knew what they wanted. Even the swing arm pivot angle is adjustable. And with WP suspension front an rear, the rider is availed to a dizzying array of potential changes that can be made in order to maximize the handling of the bike. When it comes time to stop, radial mount Brembos are up to the task. The seller is the original purchaser of this one-owner bike, and has quite a bit to share. Read on: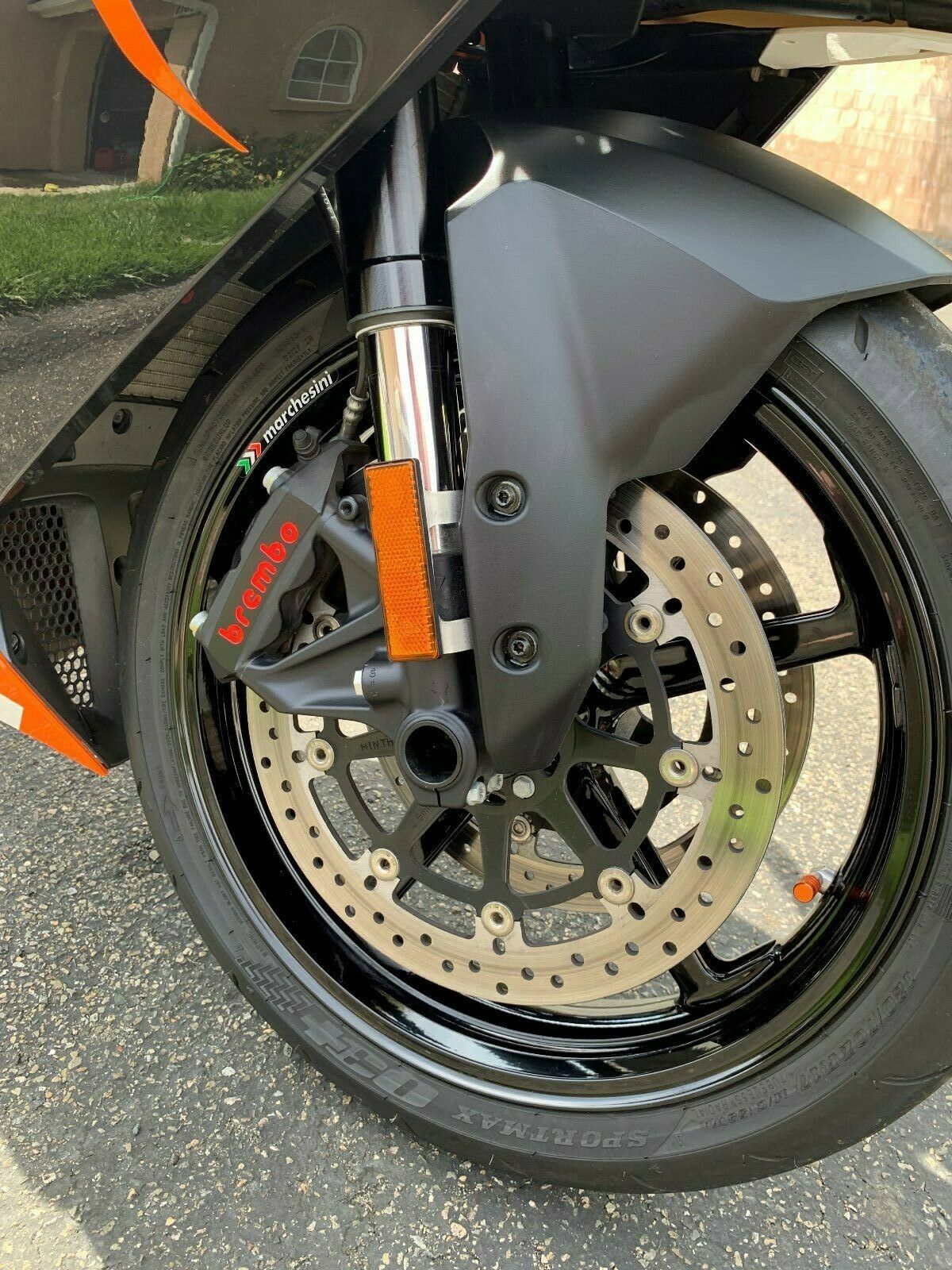 From the seller:
I am the original owner of this 2014 KTM RC8R 1190. I purchased the bike in March of 2014 from Thousand Oaks. The bike runs perfect and looks beautiful. I have taken excellent care of the bike keeping up on regular maintenance and always in my garage. Its always clean and waxed and has never seen rain. Never downed, raced, or abused, in like new condition and babied.

The fluids were changed last year including the oil, coolant, and brake fluids and have about a 1000 miles on them. I have only used Motorex Power Synt 4T oil in this bike per KTM's recommendations. It has never been raced and most of the miles are highway from road trips with my buddies.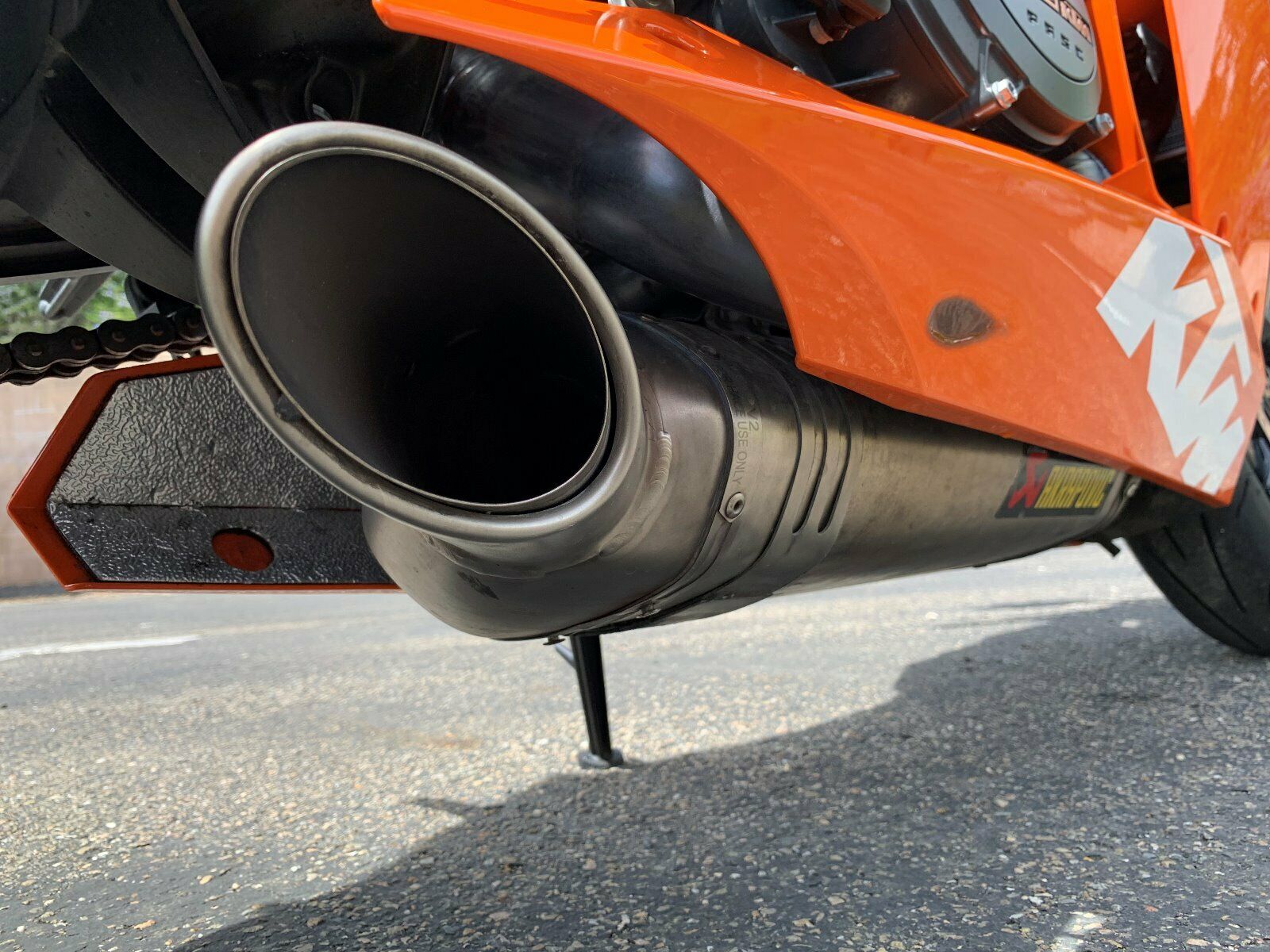 More from the seller:
I want to sell the bike with the accessories, but if somebody doesn't want them I would let it go for less money as stock. Here are a list of the mods:

-Akrapovic EVO 4 Full Titanium Exhaust ($4600 and over 20lbs weight savings)
-K&N Air Filter
-KTM Factory EVO 4 Tune
-CJ Designs Block Off Plates
-KTM PowerParts Reservoir Covers
-KTM PowerParts Tinted Wind Screen
-KTM PowerParts Rear Seat Plugs
-KTM PowerParts Supersprox Rear Sproket
-KTM PowerParts Swingarm Protector
-KTM PowerParts Tank Pad
-Bestem Carbon Fiber Tank Guards
-Bestem Carbon Fiber Chain Guard
-Bestem Carbon Fiber Rear Fender
-Evotech Fender Eliminator
-Brand new Dunlop Q3+ Tires
-Clear Wrap on Front and Rear Tail Panels
-Fuel Tank Anti-Scratch Protector
-HID Headlamp
-DB Silencer for Akra Exhaust
-KTM RC8 Indoor Cover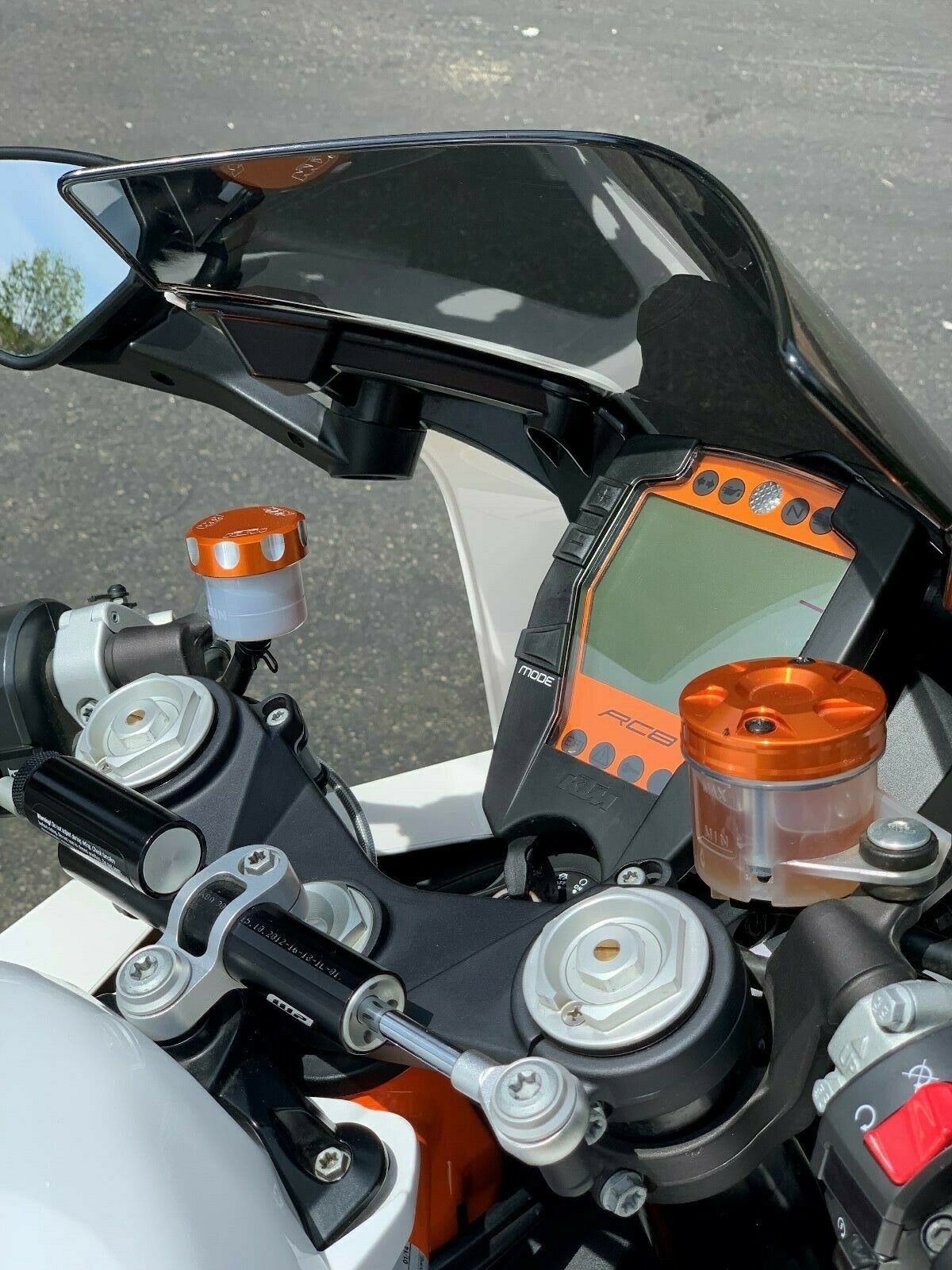 More from the seller:
Factory Wise, the bike is set up very well. It has many adjustments with seat height, foot peg location and height, and handlebar height. WP suspension is stock and very good, Marschesini Wheels, Brembo Brakes, and hydraulic slipper clutch. This bike is a blast to ride, has so much torque and power I can only explain it as violent. This truly is a riders bike as there aren't any rider aids and its all up to you. I am 6'1″ and 200lbs and this bike was comfortable for me on long road trips because of its adjustability and room to move around.

Only issue with the bike is a small burn mark I put into the lower right fairing when I installed the EVO 4 exhaust. The exhaust was missing a bracket, I was excited to ride the bike and the fairing was touching the header. But its fixed and only cosmetic. I was planning on replacing the fairing with the KTM race pan. The EVO 4 Headers also developed a crack at the intersection which was not uncommon. The crack was welded and is only cosmetic and doesn't affect performance. I have all of the stock parts to go with the bike too.

Otherwise, bike really is 10/10 and still looks and rides perfect. Any questions please feel free to ask.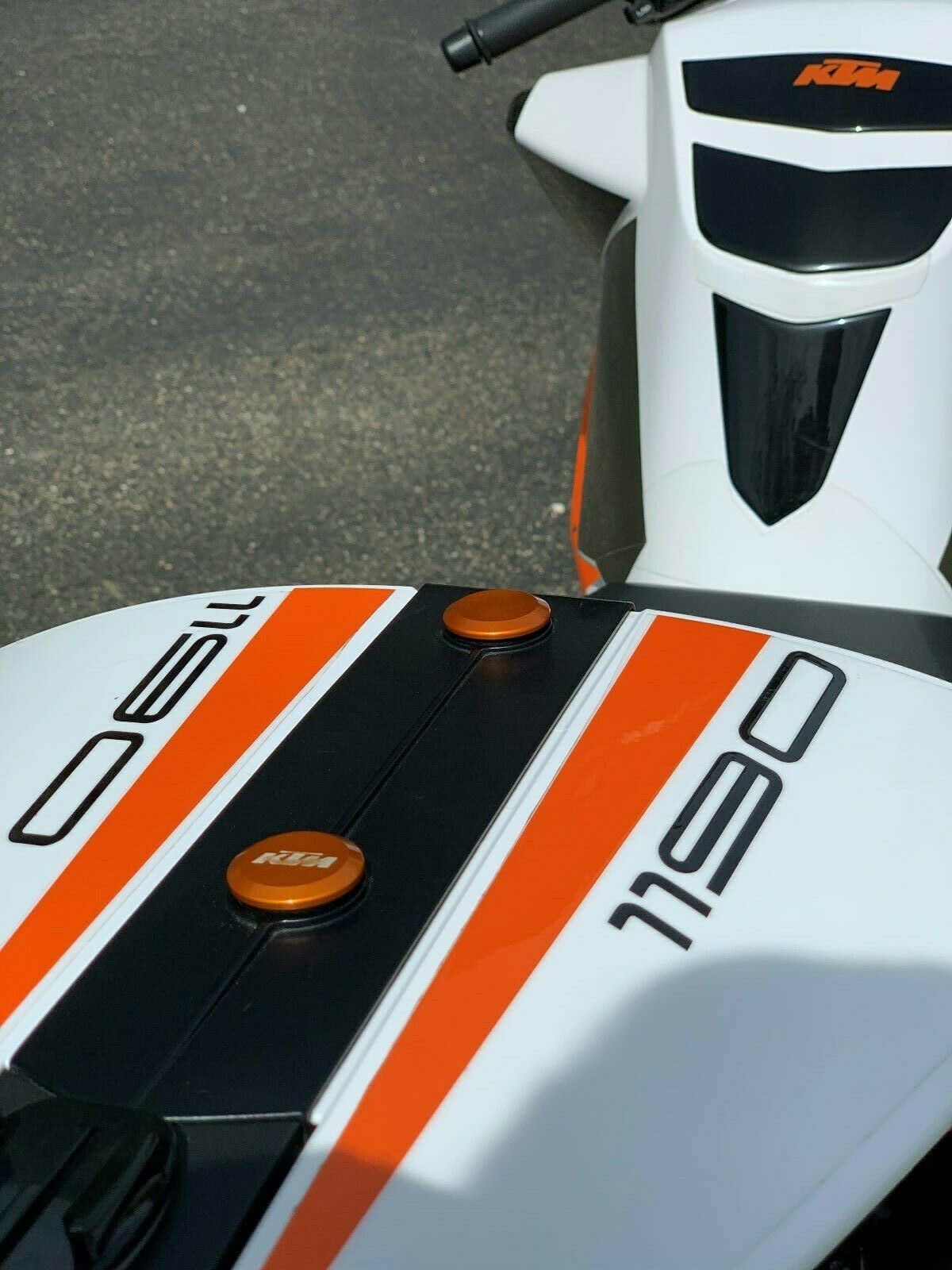 By then numbers, RC8 machines are relatively rare. Only a few hundred units were purportedly imported each model year, with the 2015 – and final – example being the rarest. But the RC8 is plagued by the worst of all collector bike syndromes; ambivalence. You see, these are great motorcycles swimming in a sea of lots of great motorcycles. The fact that the RC8 and RC8R failed to make a splash has more to do with economics and dealer reach than anything performance or quality related. No, the RC8R did not win an AMA Superbike race. Nor did one top the championship standings. But Chris Filmore was there and was close, and such speaks to the potential of this platform. As an out of the box offering from the Austrian manufacturer – their first big-bore sport bike – the RC8 was a refreshing alternative to the rest of the known crowd. And while the party ended too soon, there are plenty of good examples around. This particular RC8R looks to be well cared for, has some tasty updates, and fewer than 7,000 miles. The ask on it is a very strong $13k, but the seller indicates he is willing to entertain offers. The last few R bikes we have seen have been up in the $10k range – with exception units topping at $12k – but the dollars sunk into all of the KTM upgrades may bolster that price somewhat. It was a pity that the KTM street bike party ended too soon – it would have been fun to see what could happen at the WSBK level. Check it out here, and Good Luck!!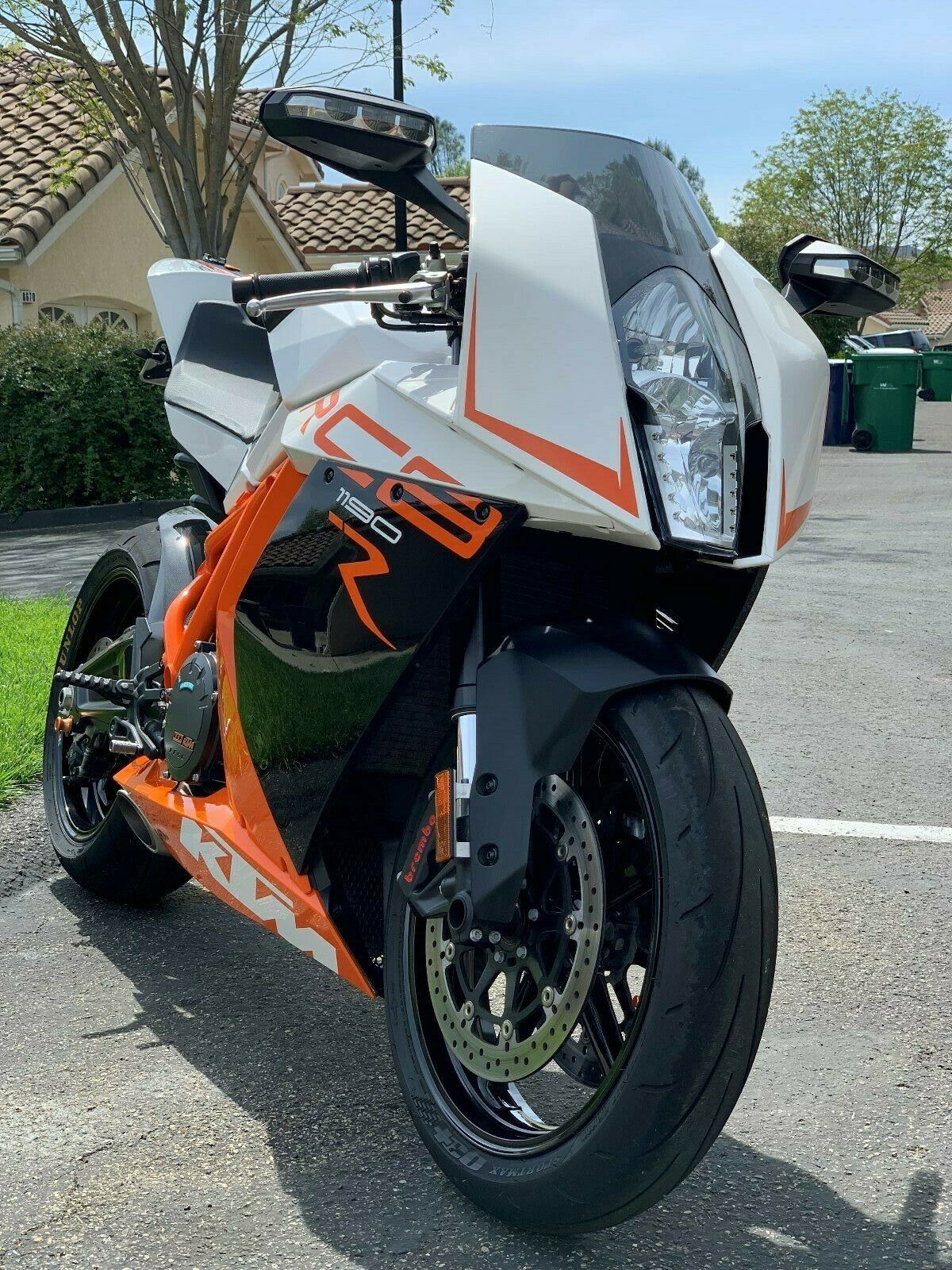 MI