Location: Greenville, NY
Miles: 2,139
Price: $2,498 ($3,000 BIN)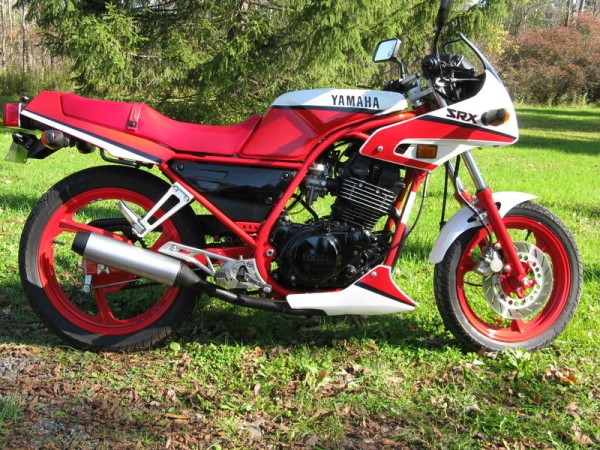 The SRX250 wasn't a bike that made everyone one stand up and take notice when it arrived on the scene. In fact, we only saw it here for one model year in 1987. All that aside, I still think these are cool little bikes that can offer up some serious fun in the twisties or just ripping around town with it only weighing 270lbs.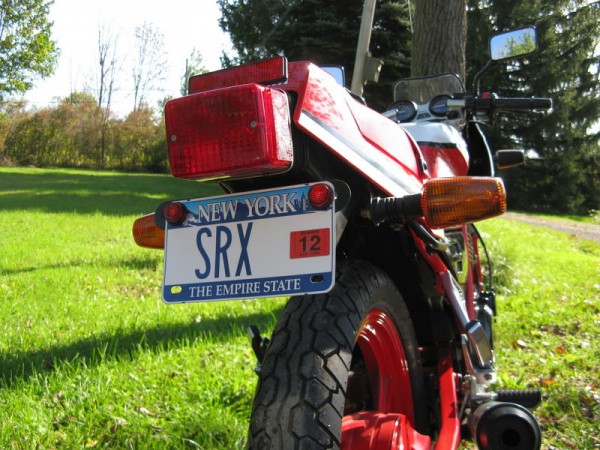 There isn't much to gripe about with this particular SRX. It has very low miles for its age. It hasn't been dropped or downed. There are no 'stories' and the only imperfection with it is a small crack on the underside of the chin fairing.
From the seller
1987 Yamaha SRX 250. With the exception of a new battery,
this SRX 250 is ALL ORIGINAL! Truly, "One-of-a- Kind!" It always turns heads
and attracts attention. I am the second owner. Those familiar with the SRX 250
know this motorcycle was only offered in the USA once, in 1987. Extremely rare.
Extremely collectable. The uniqueness of the SRX 250 is its single cylinder,
double overhead cam, dual header, dual carburetor, 6 speed engine. The bike was registered from 1987 to 1995, then stored until I purchased it and registered
it. Highlights: original tool kit, all rubber original including Dunlop tires,
original body work, 2193 original miles. No damage, no dents, no scraped paint.
The only item not perfect is the underside of the chin fairing which had a
crack and was not perfectly repaired. I have tried to show this in the photos.
It has a Clear Title and is currently licensed and inspected. Starts easily,
runs flawlessly. Although, it is a little cold blooded until completely warmed
up. A real pleasure to ride. Weighs only 273 pounds. Also included: Yamaha
SRX250 Factory Service Manual, Original October, 1987 RIDER Magazine with the cover story article on the SRX, YSR50 and FZR1000, and a copy of the 1987 CYCLE Magazine SRX 250 Road Test. In 2012 this bike can be registered as historical using the "Liberty Plate" in NYS.
If you're a big fan of the SRX250 or have been in the market for one, then give this one a serious look. We have seen a handful of these on the site over the last few months, and this one looks to be the cleanest and low-mileage one so far. The BIN price of $3,000 is definitely on the upper range if not a little above where I have seen these go for before. But, for a bike that didn't sell big and was only produced for one model year, I can't imagine finding more of these in this condition. If you think this bike would look better in your possession, then take a look at the auction here and place your bid!
-JS