New Year=New Toy: 1988 Honda CBR400RR NC23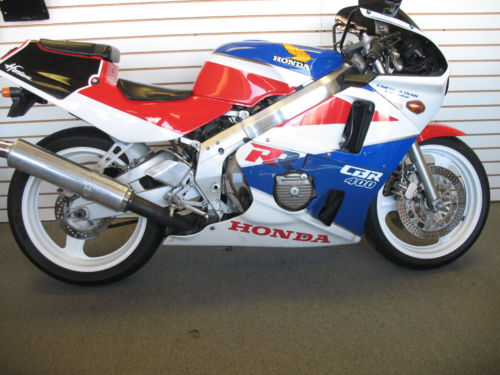 Is your new years resolution to add more toys to the garage? Or maybe you need to sneak one in before the new year. Here is your opportunity to get it done: a really sharp looking 1988 CBR400RR.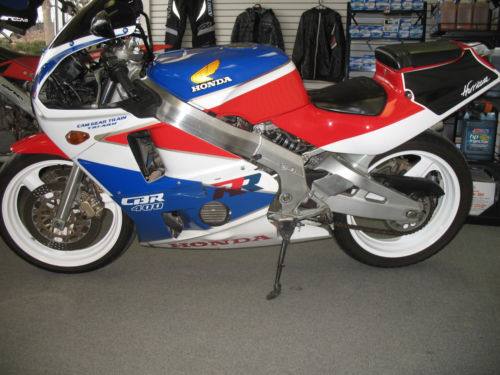 Maybe not as sexy as a VFR400 but the CBR wasn't neglected technology wise: gear driven valve train, 14,500 red line and a braced swing arm are among the goodies. The owner claims the engine whine is a thing of beauty. Here is a good read on the CBR with some technical details if you aren't up to speed on the RR. 400greybike.com is another good source of info and has a good forum.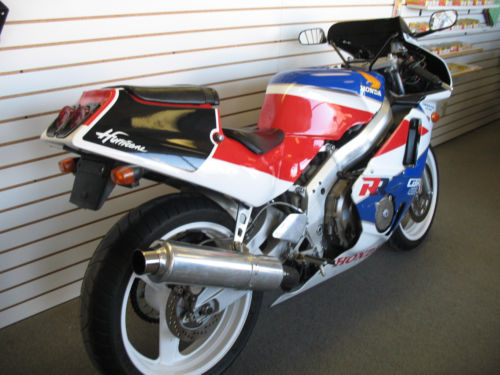 Remember the Hurricanes? The little CBR is titled and darn near stock. The owner says braided brake lines and a Works rear shock are the only changes. I am pretty sure the windscreen is an aftermarket item as well. The shock is probably a nice upgrade as the original would not have been set up for our fat asses. Now she does have some KM's or miles on her. The seller states 26,000 miles. As far as I know these were domestic market bikes only so I'd ask about the odometer being in miles. A lot of 400cc bikes were grey market imports to the UK so it is possible it may have started out with a mph speedo/odometer.
Here is what the Japanese buyers drooled over back in 1988:
The accessories you could get at the time:
The seller has a BIN price of $3,995 to go along with the auction on this beauty. 400's don't have the lust factor of 250 two strokes but that seems a like a reasonable price for a titled, clean, stock and rare little bike. I might be a little biased since 400's are my current passion.
If you are tempted, click here.
Ian