Update 7.4.2013: After selling twice to non-paying bidders, the owner of this bike has relisted it on eBay. Opening bid is $4500 and no reserve, so the first person with $4500 has a shot at winning the bike. If you want to snag it for sure before the auction ends, there is a buy-it-now option of $5500, which is $1000 less than when first listed. Good luck to buyers and seller! Links updated. -dc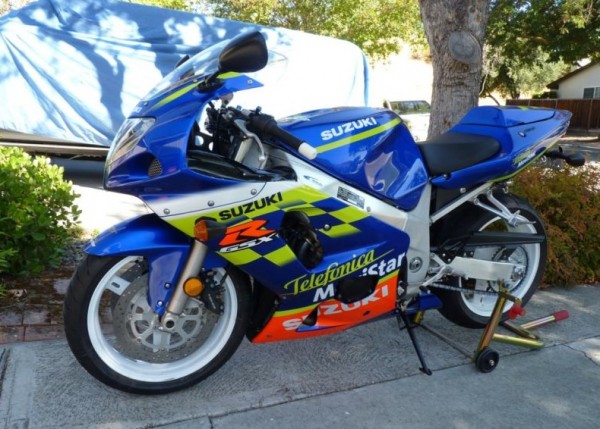 For all you Suzuki GSX-R fans, race livery bikes aren't as common as say what you get from Honda with the endless Repsol edition CBR's. So when a clean MoviStar Telefonica comes up for sale, it's an opportunity to have a limited GSX-R that you won't see in every Cycle Gear parking lot on Bike Night.
I'm sure you all know by now that the changes on the 600 for this edition were just cosmetic. The mechanical is the same as the other 600's offered that year. But it's a great looking bike so definitely worth seeking for cosmetics alone.
From the seller-
I'm offering an genuine Special Edition Suzuki 2002 Telefonica Movistar Edition GSXR 600 with low miles, it is in immaculate condition. I have in hand a clean tilted Pink Slip with current California registration which is paid through September 2013. It has a brand new battery, new oil was change and fresh (2010) tires with 90% tread left.

Bike runs crisp, starts cleanly and has no mechanical issues. I rode the bike for about 100 miles and confirmed the bike runs perfect. It is a powerful, light and extremely fun bike to ride.

Bike has never been tracked, raced, crashed, dropped or riden in the rain. Price $5,500.

This bike was produced to commemorate USA's rider Kenny Robert Jr. during the 2001 MotoGP Championship. 300-500 were imported to the USA and only 1,500-2,500 were ever produced worldwide. Very few remain today and in this condition I've only seen them as part of someone's collection. Although this bike would make a great daily driver, this bike is of collector quality and I give it a 9.6 out of 10. The only issue is this bike has some marks and such near and around the "M" on the right hand side. Owner tried to fit the bike between his car and a pilar.

The Back Story:
This bike belongs to wealthy Silicon Valley man who hardly rode the bike. The bike has always remained in a garaged and well kept (wiped down after each ride, never washed).

I can stage the bike and assit with your selected shipper of choice from my end (I do no ship or crate). Shipping fees are the sole responsibility of the Buyer. $1,000 is due at the end of auction. The remaining can be routed directly into my bank account. (408) 460-5208.
And pics-
Now this bike looks to be clean as a whistle judging by the photos. The seller says the bike was always garaged and well maintained and the photos seem the confirm that claim. The bike is decent in mileage and is described as running well. Outside of the Yosh pipe, it also looks bone stock.
This is a cool ride that would be a nice addition for any Suzuki fan or collector. To put this beauty in your garage (yes, you better garage it!) go place your bid!
-RN