The last one sold for, wait for it:  $22,400!   That particular Limited was basically a 850 mile, untouched time capsule from 1986.  This one doesn't meet those ultra high standards but it looks like a very nice example in it's own right.
1986 Suzuki GSX-R750R Limited For Sale on eBay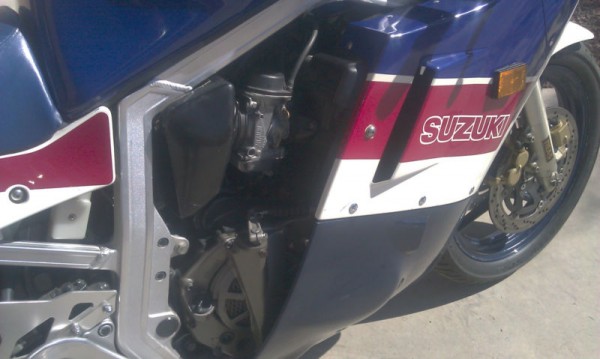 Sometimes I wonder if I should post any other picture of a limted than this one.  The carbs/airbox combo is one of the few mods.
The story:
This 1986 GSXR 750 Limited Edition has been in storage for over 20 years. It has had only one owner. The Arizona title shows MSO as previous record. Mileage is box A and original. The body work and all parts are as they came from the factory in 1986. If you know vintage sport bikes,you know that these were very rare and expensive bikes compared to their non Limited Edition counterparts. The only modifications that were done to the bike was the installation of GSXR1100 Carbs and air box. This was common during that period to maximize performance. The stock GSXR 750 Air Box comes with the bike. The original Carbs are not available. Lockhart Phillips Turn Signal Buds were installed at one time. These were removed and the original Turnsignals were installed. The Lockhart Phillips Turnsignals also come with the bike. The front brake lines were replaced with steel braided lines and the original rubber brake hoses also come with the bike. There are extra engine ignition point covers as well. The fork sprngs are Progressive Springs and the original springs also come with the bike. A Lockhart Phillips front Headlight cover is also on the bike. There are some scratches and chips on the paint. Overall,it is in outstanding condition and runs very well.The original owners manual and tool kit are also included. The values on these keep increasing. Bid now and own a piece of history. I reserve the right to end the auction early as this bike is for sale locally as well.
Looks just as clean under the bodywork.  One simple trick I use is looking for the OEM Suzuki zip ties.  If missing, well, things have come off the bike.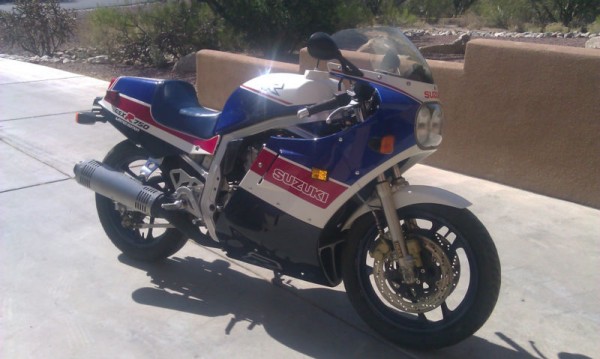 Well kids, she isn't going to be cheap but how high will the market drive the price?  Other than the missing stock carbs, it is all there.  I'd consider the mileage still on the low side for a bike built in 86.  Am I in the ballpark at $12,500?  Whatever the price they are one highly desirable bike.
If it does sell for way above average maybe it is time to start burying Limited's in my backyard instead of gold.
Ian