NOTE:  Previously listed back in September of last year, this TZR 250 sold for $7,7700 out of Florida.  It is now being offered in California with a Buy-It-Now of $8,800.   Links Updated – Marty/Dallaslavowner
This is a 1990 Yamaha TZR250SP and according to the seller, the 1990 model year TZR250 is from the 3MA generation of TZRs which were unique with their reverse cylinder design/carburetors in the front and exhausts out of the rear of the cylinders. This is also the much rarer Sport Production version of the 3MA, which included USD forks and a dry clutch along with some other changes from the standard version.
 The last time this was posted I asked the question whether this would be a good "starter" 250?   The standard TZR250 has a general reputation of being one of the easiest 1990's 250 to "get the best from". Chassis, brakes and power are all supposedly well balanced which will allow a rider to focus on the upcoming road.  I had also read that two of the main TZR competitors have some odd handling issues; the Suzuki RGV has a reputation for head shake under mid corner braking and the Kawasaki KR-1S is supposed to have weird front wheel feedback so the TZR seems like a good option.  Then again, this is the SP version so perhaps this a bit more temperamental?
Here were some of the quotes from reviewers of the TZR 250;
'it's the perfect mix of race technology and practical useability.'
'I really don't think you can fault it – you can slam it into corners with the brakes full on and it'll still go round, with the only protest coming from the tyres'
'More friendly than the others'
'Starts first time, the mirrors are useable and the seat is comfortable up to the first tank refill'
easy to clean, good pillion seat, luggage can be carried, lasts for ages.
'Bought by sensible people.'
Based on the comments that were received at the time of the original posting, picking up this bike as a first 250cc seems like a bad idea.  General consesus was that someone like me who is new to the 250 cc experience would be better off with the Honda or the Aprilia.   Of course this means this little bike will be available to other types of buyers such as a collector or someone looking to relive their 250cc riding days.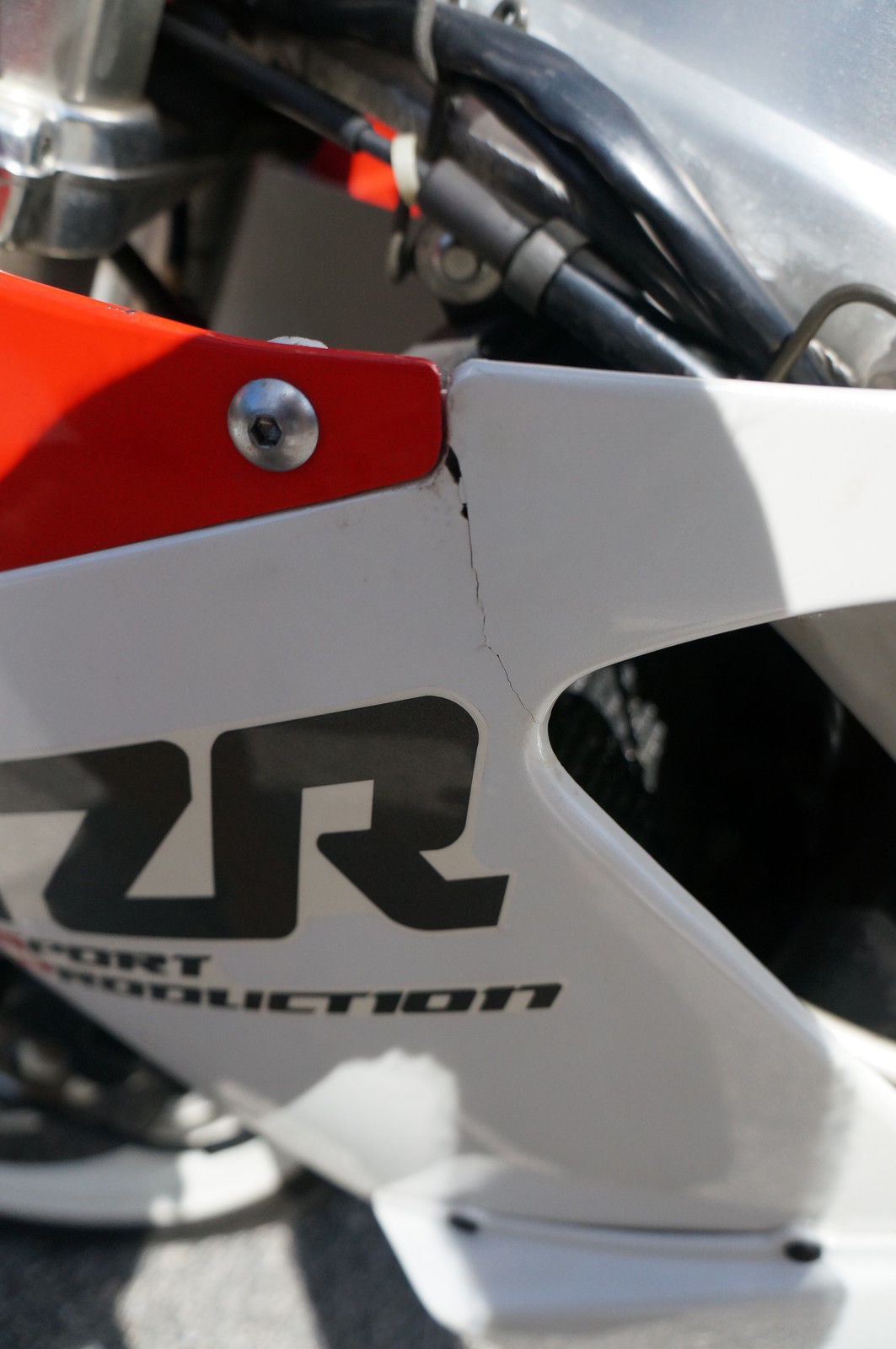 Overall this particular TZr250SP certainly looks to be in good condition and I think the bodywork is the best looking year for the TZR that I have seen.   The seller has posted a good number of hi-res pictures and it looks very clean, although some cosmetic defects are mentioned in the advert and I think I see some marks on the riders left mirror stalk.
– Marty/Dallaslavowner