Location: Seattle, WA
Miles: 3,658
Price: $38,000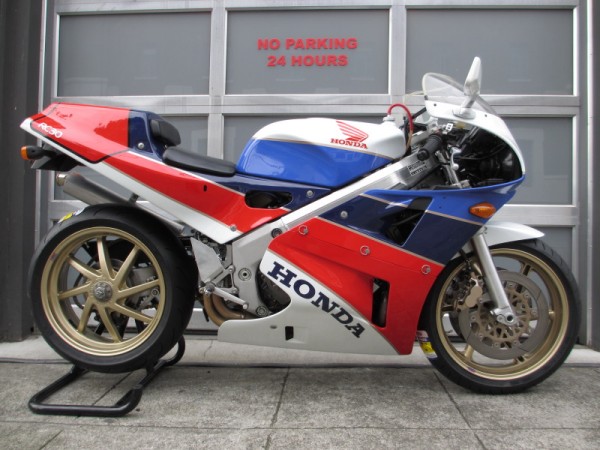 When it rains it pours! And if you live in Seattle you know that all too well. If you live in Seattle, you also have the opportunity to purchase an RC30 in your hometown. That is where the third RC30 to grace the pages of RSBFS is located. We hadn't had one of these come up in a few months then all of the sudden we have three in two weeks! I am all for it. First there was the near mint example that was pulled from eBay after it reached over $30k in a heated bidding war. Second, we have another one located in Canada that is still up for auction for a lot less than the previous one. Next we have another low-mileage and properly modified example in Seattle with a hefty price tag.
The RC30 in question here is the fourth one to be built for the U.S. in the 1990 (only year for the states) model year. It is also the 49-state model, meaning it is not one of the more congested California units. It does however feature some modification. But, I wouldn't consider these mods that would drive the price down seeing how most of them are HRC factory performance pieces. These include HRC ride height adjustor, HRC racing exhaust, HRC ECU, HRC carburetor jetting, and HRC 17'' wheels. If you so desire, you can turn it back to stock as all of the stock parts (wheels, exhaust, signals, and reflectors) are included.
From the Seller:
This RC30 has been with the 1st owner from July, 1990 until August,
2011 when it was traded in to my used bike store, Red Label Moto. This is a
49-state model that was sold new by the Brothers Honda to a local collector and former club racer who is also a good friend and customer. I've known about this bike since the late 90's when I met the 1st owner. I asked him politely about 200 times over the last 13 years to get a shot at the bike if he ever decided to part ways with it. A few months ago he decided that 21 years was long enough so he traded the bike in.
It is # 004 of the 300 sold in the US… JH2RC3003LM200004 with 3568
miles on the clock.
As far as condition goes, it is staggeringly nice/mint in every way having
never been damaged, tracked or abused. I've seen a few with even more stupid
levels of low mileage, perhaps some of those are just a tick better than # 004
in the cosmetics department. There may indeed be better examples, but in all
seriousness there are very few areas of this bike that do not present
"as-new" or even "perfect". It is just as nice in person as
in the pictures.
Mechanically speaking, the bike operates as well as it looks. Over the last
2-plus decades, it has always received the best of care. There have been a few
instances it went unused for a long period of time. Every time that happened
the owner woke the bike up by bringing it to the some of the best local Seattle area technicians/specialists to ensure there were no issues. Most recently (earlier this year) Alex at Max RPM went though the bike head to toe. Carbs, fluids, fork seals, engine tune, battery, etc. I just installed new Michelin Power Pure tires that have been ridden on 0 miles.

This bike has several upgrades that can all be reversed should some future owner wish to have the bike 100% stock. Some of these mods are now impossible to find.

~HRC magnesium racing wheels. 17″ x 5.5″ rear and 17″ x 3.5″ front. The gold paint and HRC decals on the wheels are original as these hoops have never been used for racing or needed refinishing. The 1st owner sourced these in the early 90's and even back then they were hard to come by. These wheels are very close to perfect condition and have only had tires levered on/off a few times.

~HRC ride height adjustor which is necessary or at least highly recommended for running a 17″ rear wheel.
~HRC full racing stainless exhaust system. Again, not something you are likely
to find on closeout at your local Honda dealer.
~HRC kit engine management ECU.
~HRC kit carburetor jetting and HRC diaphragms/needle slides.
~Custom aluminum open airbox/air filter holder. All of the stock airbox
bits/pieces are in boxes and included. This is a very nice bit of kit that was
custom made by a local fabricator. The bike is jetted/tuned to run pretty hard
with this setup and the fierce intake sound is a nice side effect.
~Tidier front/rear turn signals. No, there were NOT any holes drilled in order
to mount the front signals. There are clever little brackets behind the signals
instead of holes in the fiberglass.
~Deleted reflectors.
~Removed peg feelers.
~Removed kickstand rubber thing. FYI the kickstand does have a few scrapes from touching down a time or two during spirited cornering.
All of the stock parts that were removed are included. Includes both factory
keys, original tool roll, owner's maintenance manual, an HRC parts list set-up
manual (xerox copy) and the display stand.
In my opinion, this is a very special machine. A fantastic, fully sorted RC30
that is ready to ride, show or collect.
Well again, there you have it, another fine example of the greatest sport bike ever. The last go around, I honestly didn't expect the bike to go for +$30k, but I was wrong. This example is listed for $38k and I can see it going a good amount given its "desirable" modifications and collection of stock parts and documentation. It is not as low of miles as the last one, but under 4k is still pretty low. If you missed out on the last one, then you can check out the craigslist ad here and put this at the top of your Christmas list!
-JS