Location: Newport Beach, California
Mileage: 7,700 (approximate)
Price: Auction, $5,000 current bid SOLD for $7300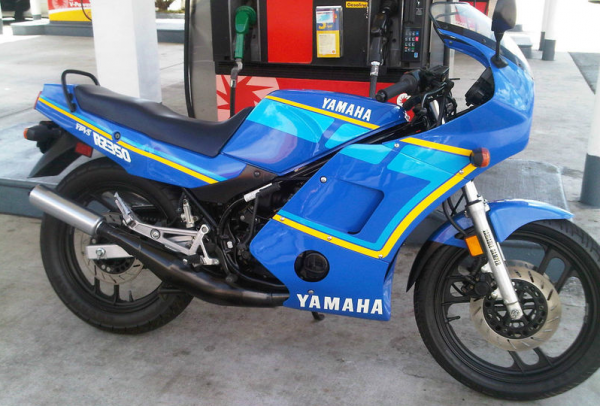 Even though the US didn't see many of the cool two-strokes that the rest of the world got, there was at least the Yamaha RZ 350. Introduced to the US in 1984 (costing $2,399 new), the bike was worked over by Yamaha to make sure it could meet emission and noise issues in the US. Sadly it was pulled from the Yamaha lineup in 1986 and never returned.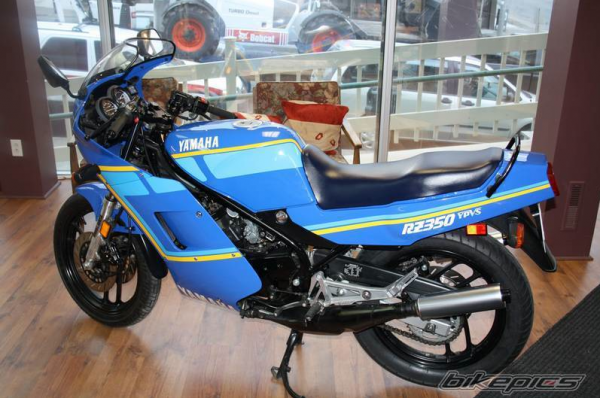 So this good looking RZ is a Canadian import that features the two-stroke, Yamaha Power Valve System (YPVS) liquid cooled motor with 63 bhp at 9,000 rpm and 32 ft.lbs. of torque. It also sports full fairing, something you didn't see on the US Kenny Roberts bikes.
Check out some more pics-
From the seller-
Time to thin down the blue smoke two stroke herd…up for sale is a fantastic example of an 1989 RZ 350 YPVS Liquid Cooled two stroke that will be sure to impress your friends on bike night! Mileage is in kilometers on the speedo so approx 7700 miles and counting as I still ride it around once a week.

If you are a vintage bike fan you know that it is very difficult to find an RZ 350 in near mint condition as most them have been raced, crashed and rebuilt several times already.

This model is a rare Elf racing Blue color full fairing model unlike the short fairing RZs that where sold in the States during 1984-85. Also, the bike has different instrumentation as well. It runs great and all lights and instrumentation work including brake lights. There are very little to no spider cracks on the fairing. The engine looks great as well protected from the full fairing from the elements over the years.

The bike has been in my collection for about 1 yr. I purchased it from a reputable vintage bike reseller who only deals in nice stuff. It was imported from Canada and now has a clear California title in my name which makes it even more rare. The Meztler tires have plenty of life and chain and sprocket are in good shape.

The brakes have been rebuilt and the bike was recently tuned by Mach1 two stroke shop in Costa Mesa, CA. It runs great and needs nothing but a new owner carry on the two stroke tradition.

Check out the recent youtube video taken a few weeks ago.  

Feel free to ask questions as I'm not a two stroke expert but I do believe this bike to be an original stock or near stock example. For sale as is with no warranty.

Also, I have a pair of Gibson Allspeed black expansion chambers in nice shape to wake up the full power of the RZ for an additional fee of $500. The bike is for sale locally so I reseve the right to end the auction early.
This bike look to be in good shape with mileage that isn't too high. It's also titled in California which is a bonus. The maintenance seems solid and there's a link to video of the bike in the seller's description. Current bid is $5,000 but the reserve has not been met. Hard to day where the price will settle, but it may be reasonable for this kind of bike. You won't see one these cursing the streets everyday, so it will turn some heads.
If you want to try a two-stroke and love Yamaha's and like to ride something that gets attention, take look at this auction!
-RN