2006 MV Agusta F4CC (#76/100) and 2000 MV Agusta F4 Serie Oro #281
If you have been looking for a way to start an awesome motorcycle collection, are a big fan of high-end Italian bikes, and have about $92k burning a hole in your pocket, then look no further than this MV Agusta F4CC and MV Serie Oro combo pack. It is essentially a buy one, get one free deal… kind of. If you use the Buy-It-Now option for the auction, then you get two bikes. Seems like too good of a deal to pass up!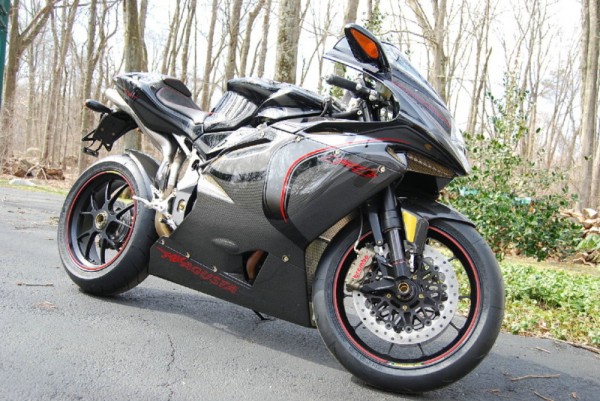 It can be hard to get things accomplished here in the RSBFS office with a bunch of bike nuts when it's the longest day of the year and sunny out. I was the first back from my ride and had these bikes sitting on my desk thanks to RSBFS super-fan Marty. Thanks! Marty puts it best when he says.
While some say the MV Agusta F4 is the greatest design ever done by Claudio Castiglioni, personally I think that honor goes to the 916/996. Sadly we will never see any more of his designs. Its been almost a year since his passing last august at the age of 64….

The F4 isnt a boy racer/thrash bike for the track, its appeal is typically more cerebral than that. Perhaps the best way for those uninitiated to the F4 is to thin of it as an iron fist in a velvet glove. If Ducati is the Ferrari of motorcycles, then perhaps MV is the maserati..

While the price seems high right now, this auction does include both a 2006 CC and a 2000 Serie Oro along with a bunch of extras so collectors take note.
Not only do you get two bikes if you use the BIN price, you also get a ton of extras that any MV collector would love to have. This includes a watch from the F4CC, jacket, rear stands, brochures, certificates of authenticity, bike covers, and even an Arai R7-RR Agostini replica helmet. There are some more things included as well. Some of which aren't included if the F4CC sells via the standard auction and the Oro isn't included. Be sure to check the auction and read the details carefully. There are a couple of ways the sale could play out.
Read all of the seller's description by clicking here!
These are some seriously gorgeous and collectible bikes. You could pick these up, then maybe see if the seller wants to sell that Senna in the photos too! Just need to add an Ago and a Mamba kitted F4 and you are set! You can check out the auction here and start you collection today!
-JS