With mid-size car power and somewhat lighter weight, BMW's K1300S jumped onto the bus headed for the dragstrip with the Hayabusa, ZX-14, VFR1200F, and Triumph Sprint GT.  The rare HP limited edition upped the ante with titanium Akrapovich exhaust, and everything that wasn't electronically adjustable was carbon fiber.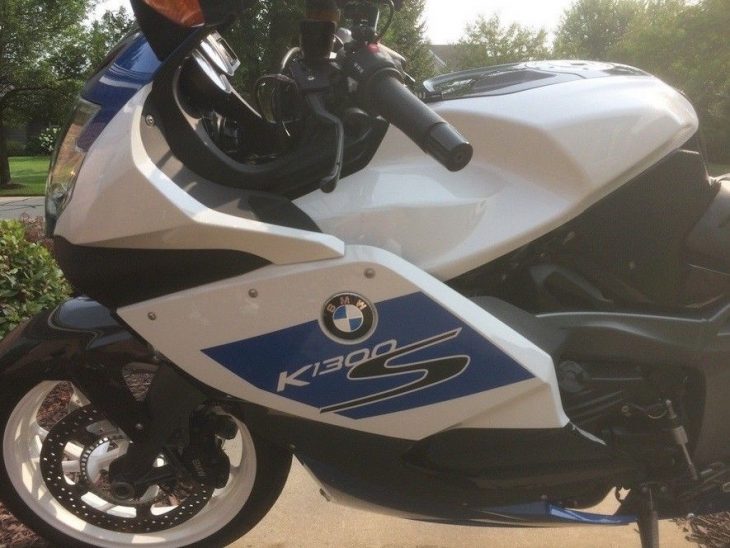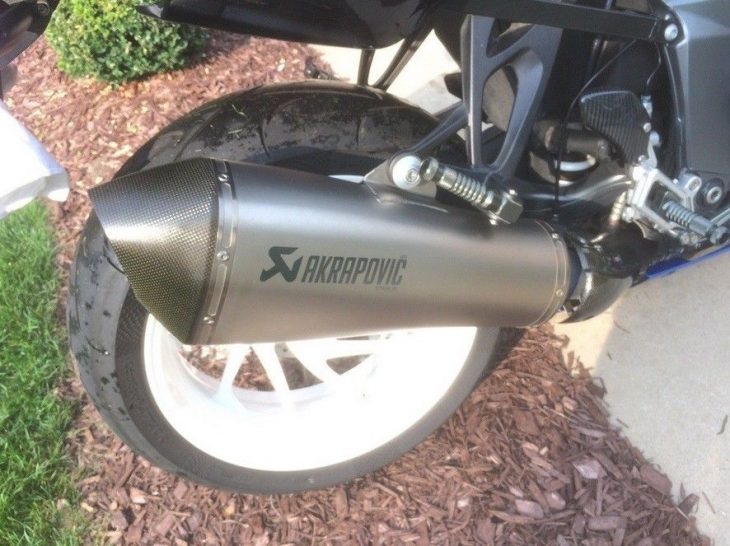 For 2008, BMW increased the bore of their almost-1200cc inline four to arrive at 1293cc.  Double overhead cams, four valves per cylinder, and digital electronic fuel injection conspire to make 173 hp, with 103 ft.-lbs. torque peaking at 8,250 rpm.  It's a long reach out to the adjustable handlebars, but the factory rear-set pegs are a help.  The Duolever front end and shaft drive are chapter and verse from the BMW hymnal, but you can select the mode for the HP's ESA electronically adjustable suspension on the fly.  ABS and traction/stability control are on-off only, and tire pressure monitoring completes the car-like spec sheet.  Carbon is there for the mudguards, airbox ( i.e. tank ) cover, clutch cover, and seat console.
Coming out of Brooklyn, this K1300S has relatively low miles, seemingly undamaged and stock except for a gel seat.  Starting bid seems competitive for a bike with an original MSRP of $20K-plus.  Tank bag and choice of windscreen round out the accessories, and though there's no BIN, maybe the rear stand and battery will come with.  From the eBay auction:
2012 K1300S HP limited edition number 215 out of 750 in excellent condition with only 9830 miles.  New Continental Sport Attack tires with 300 miles on them.  Comes with ESA, ASC and ABS.  Gear shift assistant-heated grips, BMW tank bag and clear and smoked wind screens.  Leather gel seat for those longer rides.  Akrapovic exhaust, radar detector (adaptive technology and the white powder coated wheels round out this great motorcycle.  Never been down.  I have the clean title in hand.  Buy it now and I will throw in a rear BMW wheel stand and a BMW battery charger.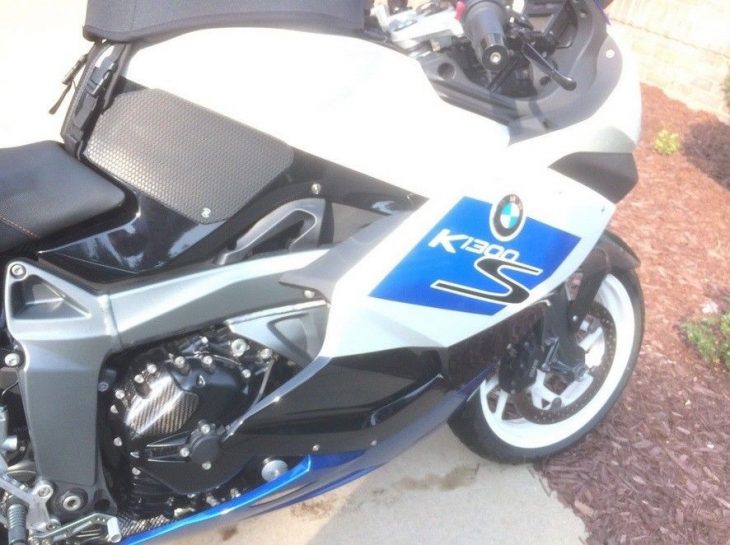 The HP reviewed well, most of its mass vanishing once under way.  Hard to imagine how the platform could be developed further, and it didn't find a home in BMW's line-up after 2016.  Like its heavyweight counterparts, it only needs access to a nice open road and a major hole in the schedule.  Maybe that rider is out there watching this auction, with just one day to run…
-donn