Update 11.04.2020: This bike has SOLD! Congratulations to buyer and seller! -dc
---
Accompanying bigger silver and blue Freddie Spencer replicas to the showroom, Honda's 1982 CB450T had nice performance for a mid-size, and brilliant looks.  RSBFS fan Bill has been around concours winners for a while now, and presents his just-about-perfect CB450T.

1982 Honda CB450T Collector For Sale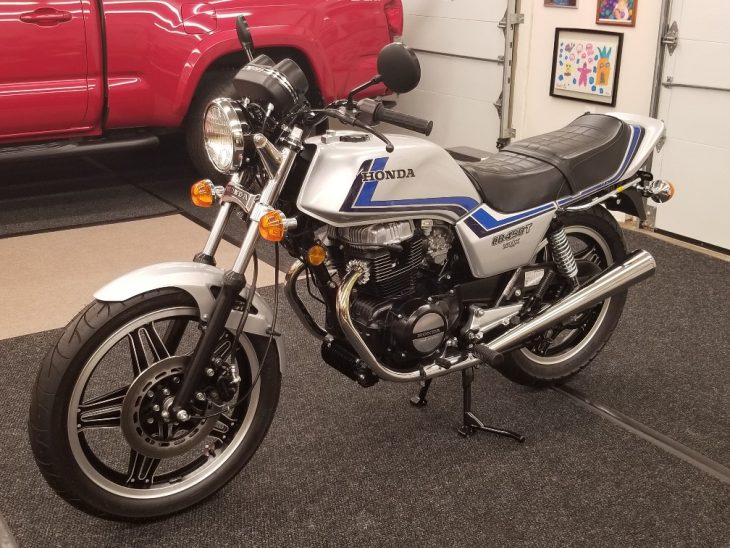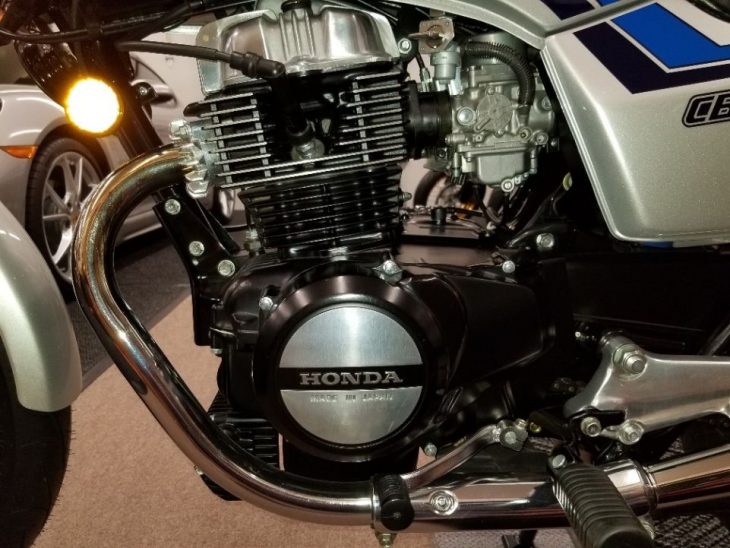 Since the Dream days, Honda has always made room for a middle-weight somewhere in their line-up.  The CB450T might be the ultimate parallel twin, with CB900F styling – a 9,500 rpm redline, SOHC and three valves per cylinder pushing 43 hp.  As Honda would do, engineers put some neat stuff in, 9.1:1 compression and a 6-speed transmission, while bean counters stipulated the rear drum brake and emissions-compliant 30mm Keihin carburetors.  Stylists carried the day with the Comstar wheels and stripes that flowed from tank to the upturned seat spoiler, and just needs a number plate to channel the number 19 CB750F AMA Superbike.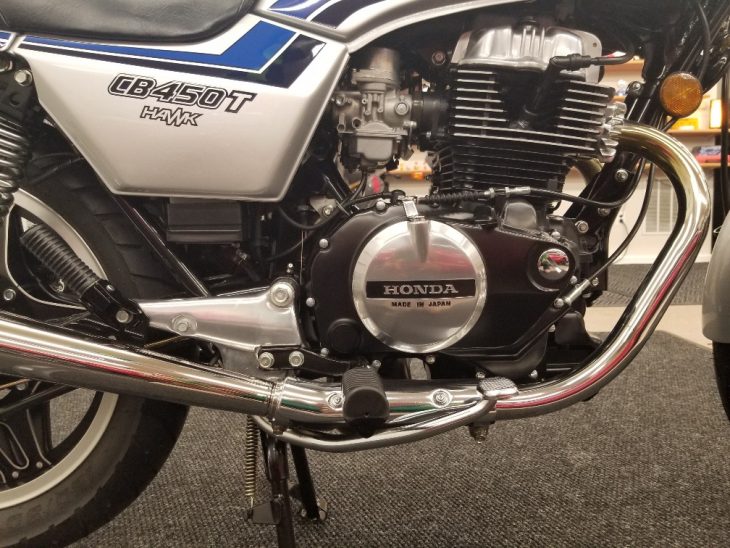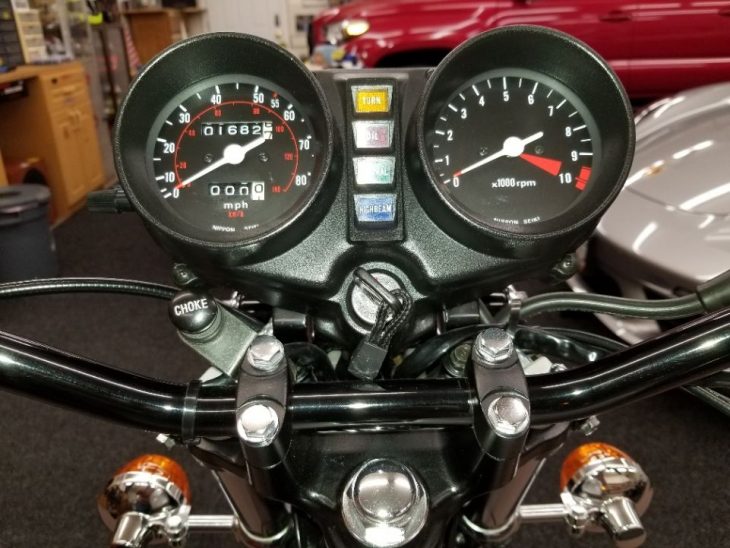 Bill has been following RSBFS since the early days, and knows his way around perfect, having placed Honda bikes in the AMA museum and cars in two leading Honda collections.  He wandered through many CB450T's before finding his example, several years ago now.  But best to let Bill describe:
MINT condition

One year only model. Honda made the CB400T for 1980 & 1981…but ONLY the CB450T [for 1982] got the extra 50cc and the Silver Freddie Spencer paint scheme, with the uber rare rear spoiler…like the bigger…and matching…CB750F and CB900F.

Last year for Honda SOHC

Honda made about 4,600 total production for US market, about 3,100 were made in the black paint with red and orange strips….only about 1,500 were in the Freddie Spencer Replica AMA Superbike race colors (Pleiades silver with 2 tone blue stripes).

Mine has: 1,682 orig miles from new, ALL fluids new with less than 25 miles including  brakes/ you can literally remove the brake pads and lick them…they are cleaner than your dinner plate, bike always kept in climate controlled, carpeted garage as seen in pics. No stories, no excuses, no rips, tears, no BS…it is FLAWLESS period. Even the chain is immaculate. Bike stays on battery tender 100% ready to go.

Bike has 1 mile on brand new tires..yes ONE (1)

I am second owner from new, I've owned since 2012, I am 60 years old, prior owner was 60 when I bought it from him.

Only mods to bike are PERIOD CORRECT K&N gloss black 1.5" lower handle bars and short stem black mirrors. YES, YES I have the original high bars and long stem chrome mirrors and they are 'as new' too.
Bill asks $4,500 is open to offers.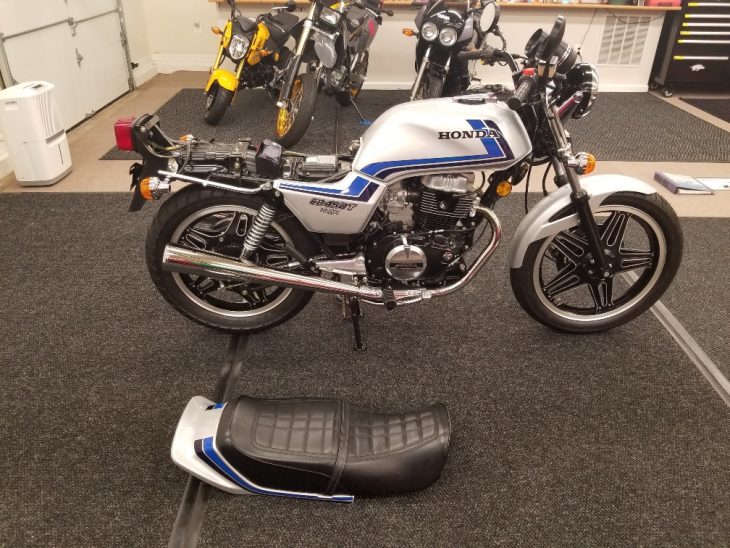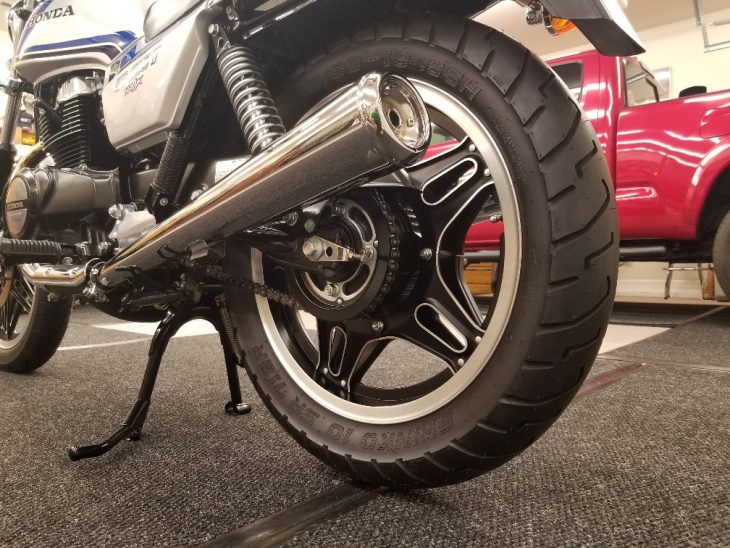 Freddie Spencer is certainly due a commemorative, having given the best part of his riding career to Honda.  Beside many AMA Superbike race wins, Spencer helped Honda develop the NR500, NS500, and NSR500, and took both the MotoGP 500cc and 250cc championships in 1985.  The '82 CB450T is a single year special, partly a technology demonstrator for the SOHC drivetrain, and a great tribute in silver and blue.  Bill has a lot of expertise around the brand, and has curated his CB450T to museum level.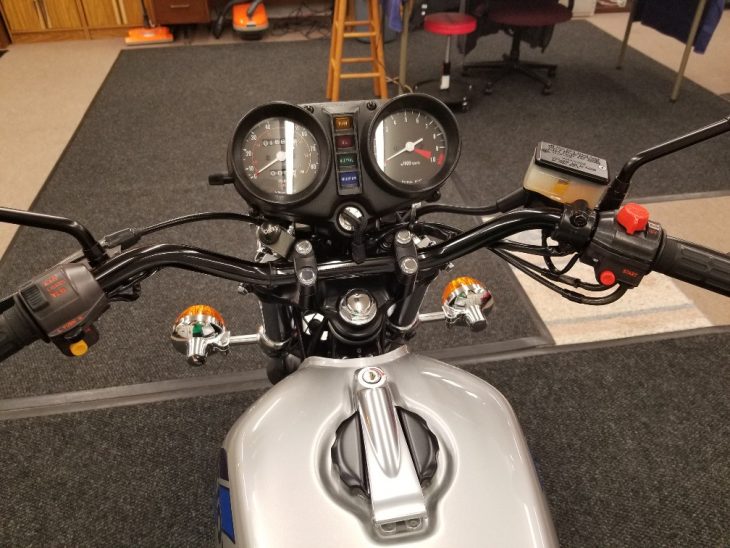 Bill has his CB450T in suburban D.C.
-donn