Update 5.4.2023: Relisted on eBay, now at $14,900 from $16k. Good luck to buyers and seller! -dc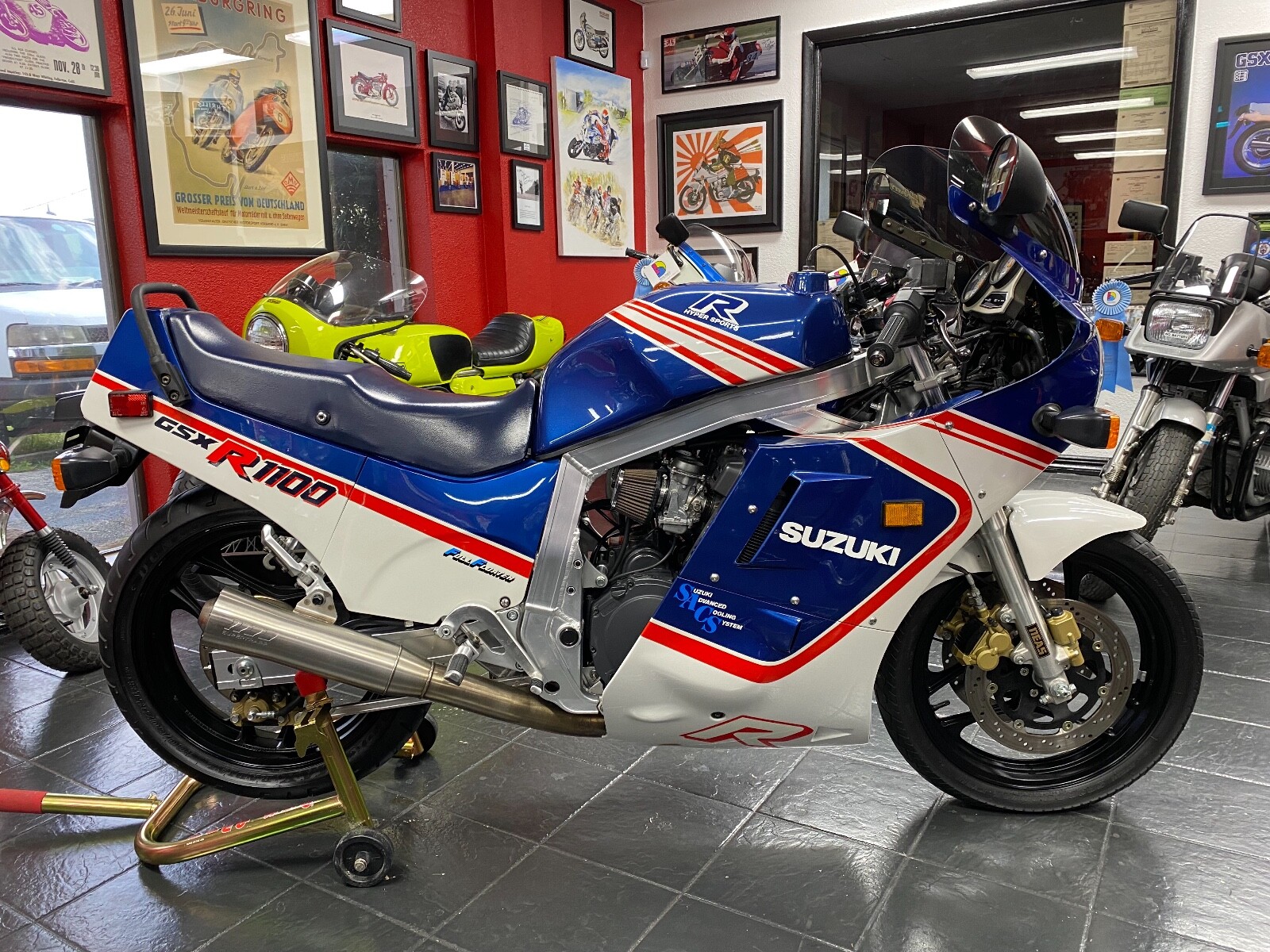 As RSBFS writers, we often get first dibs at some of the Featured Listings that we write up. Our meager earnings from the site keep our tanks full and the insurance man happy but they'll never stack high enough to take advantage of the first looks we get. Initially, it hurts a bit to watch a some of the excellent listings pass by but you eventually get used it. Then every once in a while a good man named Bob comes out of nowhere and dangles 3 dimepiece Zookis in front of you… So close yet so far. Thanks Bob!
Who is Bob? Bob Benyo is the Chief of Restoration at Globe Motorcycles, a private collector/restorer dedicated to bringing vintage motorcycles back to factory condition. Hopefully a future friend of the site as well. Bob has been stripping screws, busting knuckles, missing apexes, and eating chicken strips since the 80s when he graduated from the AMI. He's one of those cats who has forgotten more about the game than most will know.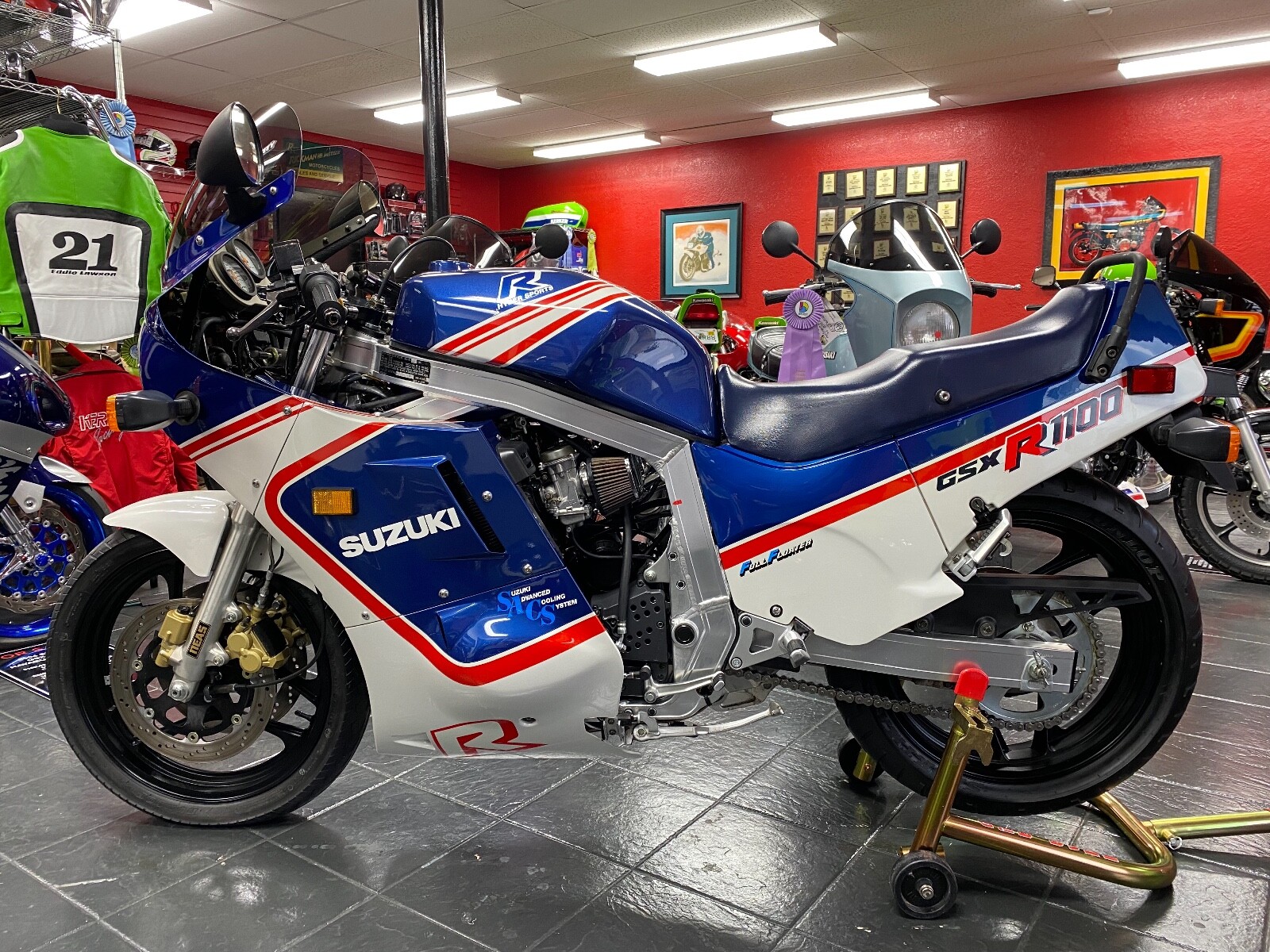 This GSX-R 1100 is one of 3 Zook's and one of two 1100s our seller is getting offload of this week. If you've been patiently waiting out the storm for the past couple years for a classic sportbike this is an opportunity worth exploring.
The GSX-R 1100 was a quick successor to the GSX-R 750 which needs no introduction. The big bore market in general was not new of course but the big bore sport bike market…well that was uncharted territory at the time. Suzuki quickly understood that certain markets had an appetite for big horsepower and they quickly developed an offering based on their 750 platform. A 1,052 cc oil-cooled mill generated around ~120hp and ~70 lb ft of torque at the crank. Throw that in a pot with a lightweight (for the time) chassis and you get to 160 mph pretty quick… That's surely far quicker than whatever the po po were using to chase GSX-R owners at the time. The powerplant was reliable as well. It became a favorite of tuners and drag rats as they could easily shove more hp through the engine without any issues. I suspect that the engine reliability played a big part in allowing the seller to offer this bike with a healthy engine today. Speaking of the engine, this one exhales into in a period correct SuperTrapp SS exhaust. Those types of bits are always hard to come by on the classics.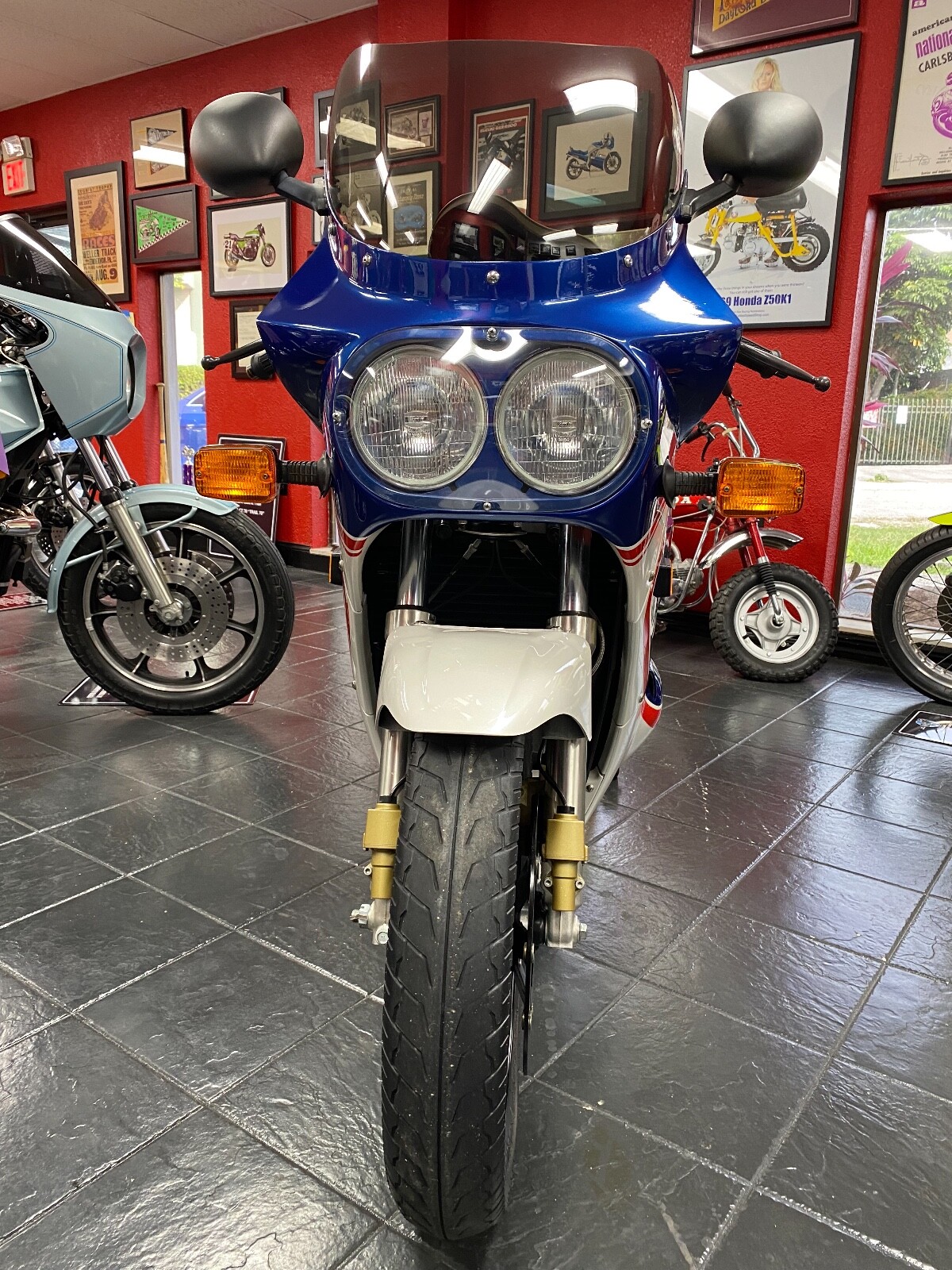 Motorcycles are pretty simple and direct. That being said, there are still multiple parts to the system and the motor is just one part that helps deliver the experience we seek from these types of machines. While I believe the motor is arguably the most important part of the system, it's only ever so slightly ahead of handling which is another strength of the 1100. Remember, the starting point for this was 750 which was a proper track bike. Much of the engineering that made the 750 great dynamically was carried over to the 1100. The 435 lb dry weight surely is the main character but steering damper, electronic anti-dive tech, and the cartridge-style suspension all carried their weight in supporting roles.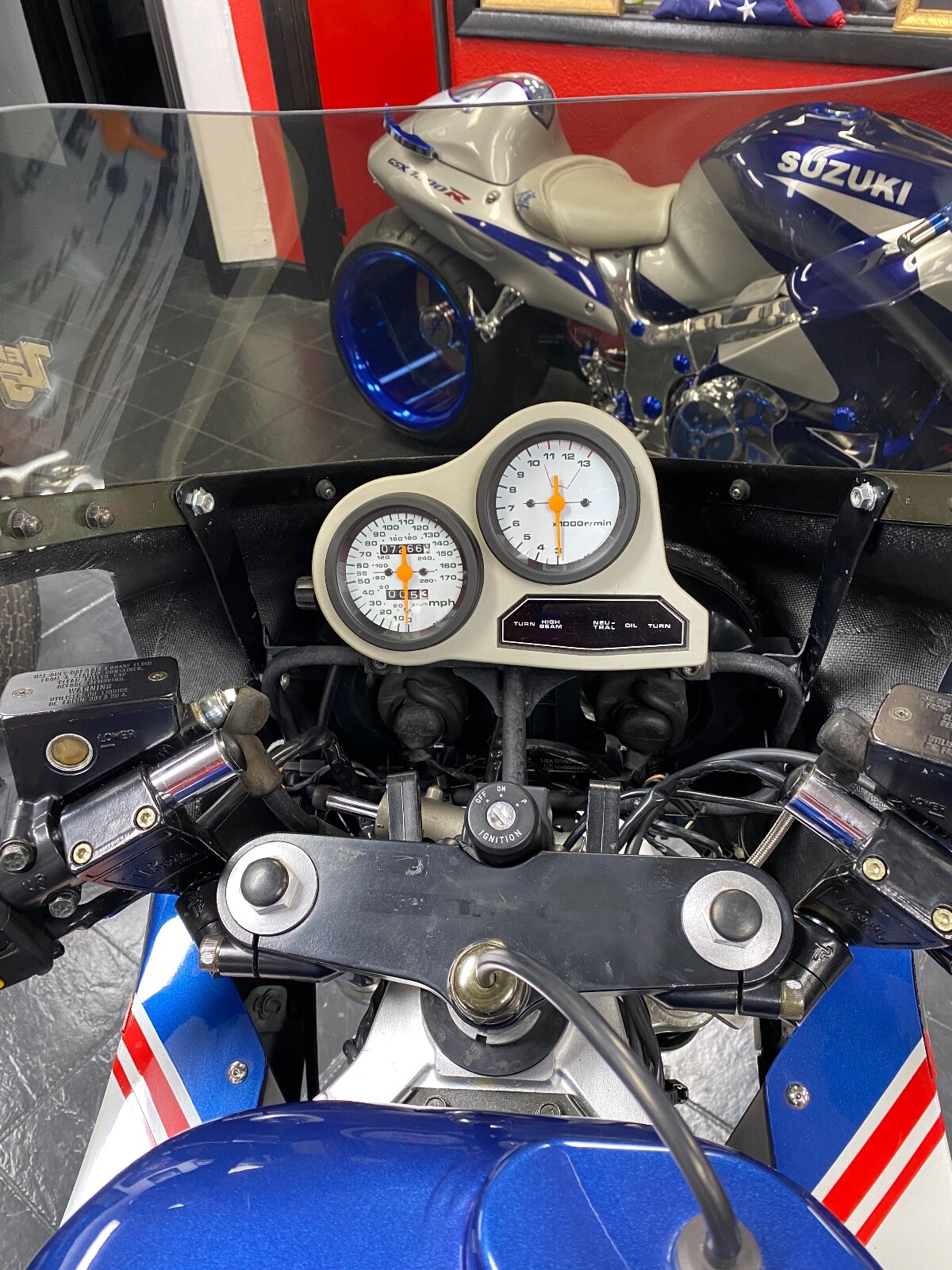 The other GSX-R 1100 Bob is selling is the stock, low mile one in perfect condition. This one seems to have been the evening cruiser of choice and has some mods that allowed inflexible Bob to enjoy his ownership. The main one of those is the bar riser kit. The 1100 is a loooong bike with a loooong tank and spending even 5 minutes at the helm seems like a test of one's physical fitness. A tinted Lockhart windscreen and upgraded brake lines come installed as well. A prior seller has painted the original bodywork in red/white/blue which actually looks high quality and stock.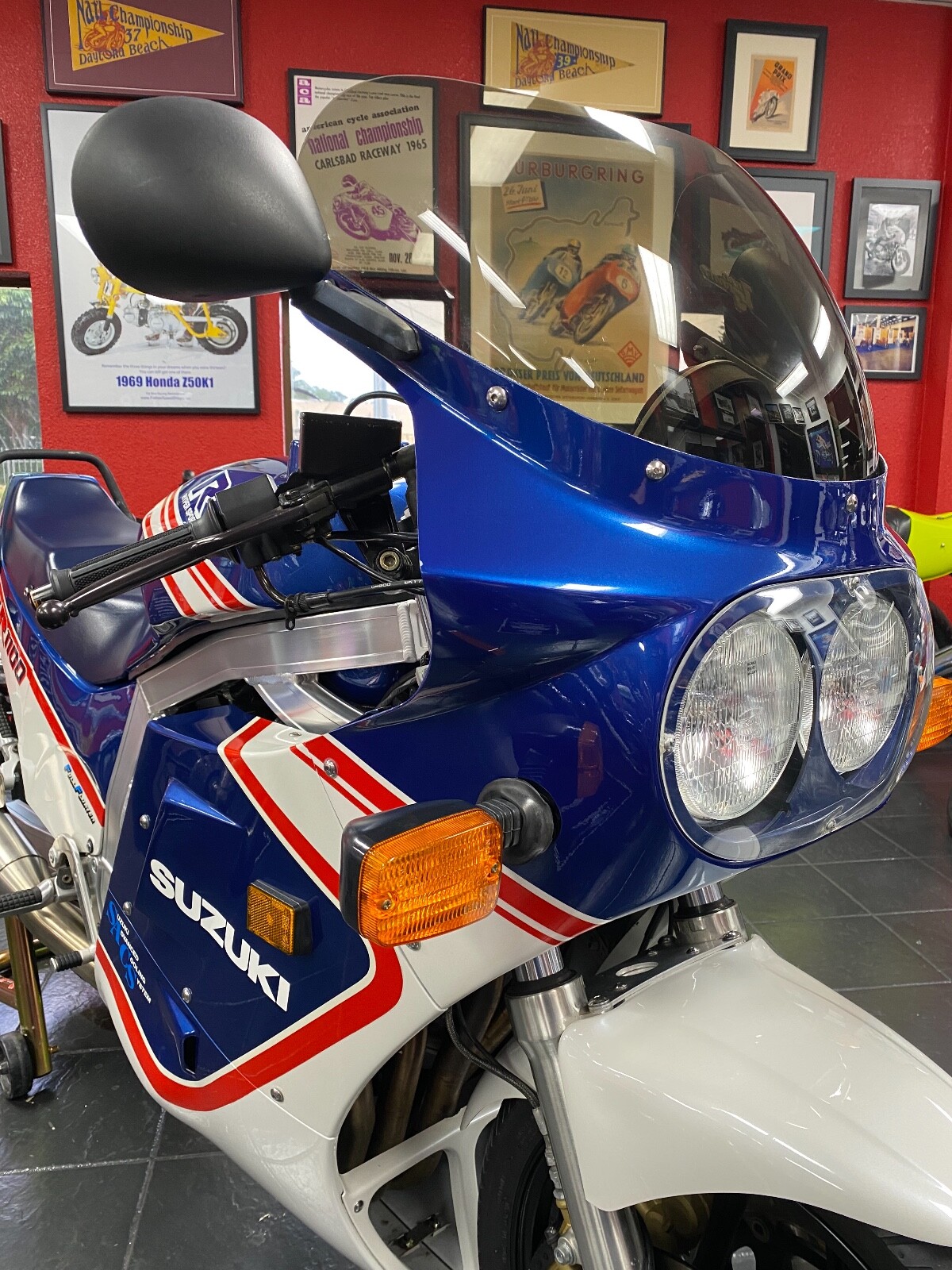 Even the inside front of the belly pan is clean… That's a surefire way to determine if someone is OCD about their toys…
All said and done, this seems like as good as an opportunity as any to snatch up an early ancestor of the Suzuki lineup. The seller has considerable experience in owning and maintaining these bikes so from a quality standpoint, I see very little risk. From a collector standpoint, status has already been achieved and value is a function of time at this point…and Jerome Powell. I think you should gather more details from the seller but it seems the bike has had an interesting backstory as well so there's your cherry on top.
The "Buy It Now" price is $16K and there have been 0 bids on the auction which starts at $10.5K. BaT sold an '86 1100 for $14.5 in July '22 and an '87 1100 for $11.5K in December '21. Reach out to Bob directly at skyad1@aol.com with any questions.
Thanks for reading and good luck!
Norm