As winter is upon us ( at least selectively ) and the sportbike scene takes a breather, RSBFS has a special feature or two in store, the first from across the pond. - dc
First week of December, my wife and I tagged along with another couple who were shopping antiques in southern France and Paris, and I took a couple of time-outs to explore the motorcycle scene, at dealerships in Avignon ( about 100 miles north of the Mediterranean ) and thanks to RSBFS, scored a media ticket to the big French motorcycle show in Paris.  Mostly pictorial, I have a couple of observations about the European bike market and our own, please enjoy...
Thurs. Dec. 4 - Searching for a Ducati Avignon shirt, I dragged my traveling  friends to a couple of bike shops yesterday.  No shirts save the same boutique we have in the states, but a couple of interesting stops.
Planete JMS Motors is a multi-line dealer with BMW, Ducati, Kawasaki, and Yamaha concessions and four locations.  We stopped at the Ducati branch and it was almost indistinguishable from a U.S. dealer, with a full display of 2016 models.  The accessories are a little different here, and though a lot of the gear here is available home, there are some funky items hard to see elsewhere, like a Stilo helmet with leather accents and a rallye driver's microphone, or a Caberg helmet with a sliding moonroof.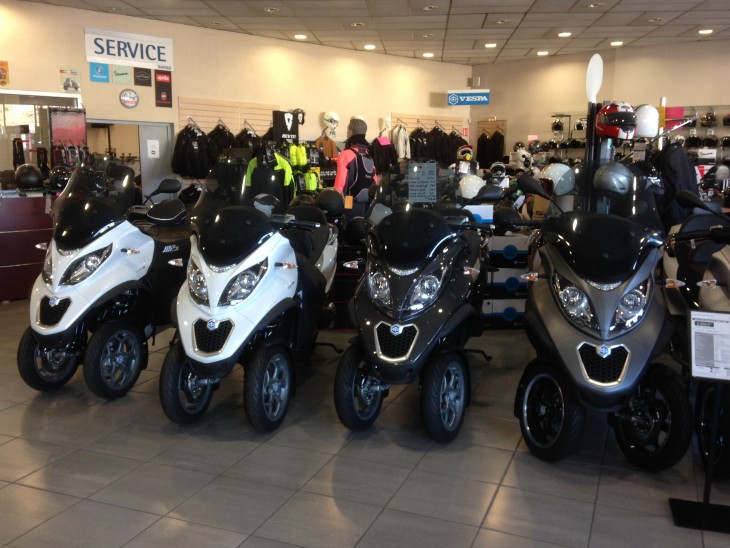 Considering their affection for bikes of all description, it's strange there is no French motorcycle manufacturer.  We popped into Masson-Richard, a Piaggio / Aprilia / Vespa dealer around the corner who had a few lines displayed, also a couple of offshore varieties.  According to Bike Magazine, Yamaha and Honda will introduce their leaning three wheelers this year, but Piaggio has had them for several years.  They're perfect for the urban market, standing at the ready but riding kind of like a bike.
The Avignon dealer had a full selection of accessories for the scooters, like this all weather tonneau with hippo hands.  The weather has been pretty changeable here, and though tourist season is over, we've had a few sightings of Harleys, a BMW K-1600 and GS or two, and TransAlps out on the road.  Dual-sports are predominant since roads can change to dirt just a mile from centre-ville.  Scooters of all description own the town.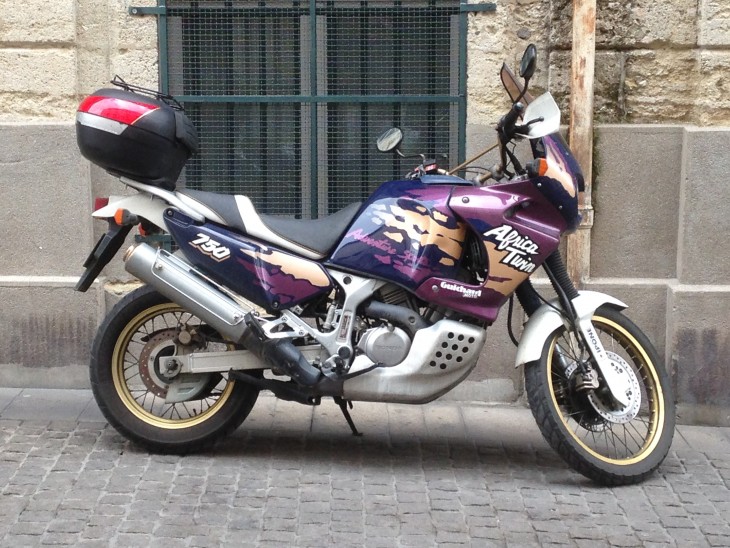 Cage-wise, we were prepared for all manner of tiny cars and preposterously small work trucks, but maybe not a 2.2 liter diesel 6-speed Ford Ranger pickup.  Looking forward to a train ride to Paris in the morning, and hope to make it to the Salon de Moto in the afternoon...
-donn