After it was started in 1976, the AMA Superbike Championship became a way to reach the sporty segment of the American motorcycle market.  The 1983 rule change reducing maximum displacement to 750cc was the catalyst for a new approach, rather than racing road bikes, Suzuki tailored their racing machine for public use.  Their light weight and simplicity won the championship in 1989 and launched a thousand privateer race teams.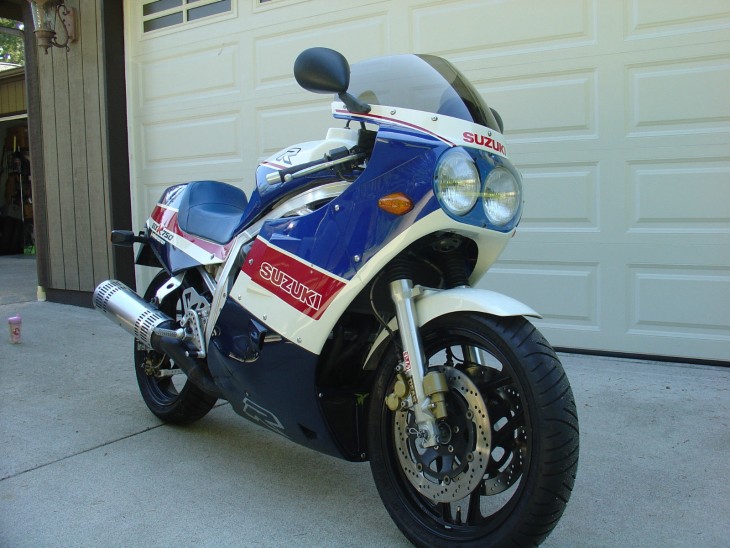 Introduced in 1985, the GSXR-750 had an innovative alloy frame, and the bike was noticeably lighter than the competition.  An evolutionary engine, the micro-finned inline-4 is primarily oil-cooled, a large oil radiator behind the front fender.  The full fairing recalls the Suzuki endurance racers, and the riding position is decidedly racetrack oriented.  Updates for 1986 include a more stable 25mm-longer swingarm and radial tires.  Intended to homologate some components for the AMA championship, the Limited Edition had an alloy fuel tank, dry clutch, 310mm front disks, steering damper, electronic anti-dive, and remote reservoir rear shock.  Special badging and colors, gunmetal grey engine paint and blue wheels distinguish the Limited Edition.
With quite low miles and very stock, the previous owner did not mess with perfection, apart from a pair of conformal front turn signals and a little de-reflectorization.  Intact headlight fairing and the absence of more than a couple of nicks in the bodywork is encouraging.
This is the bike that started the homologation wars. If you are looking for something special to show up at bike night on, this is it!
Bike is from my private collection and has been stored in a climate controlled environment being ridden only once or twice a year.
Everything works perfect and the motor runs flawlessly. Dry clutch functions as it was designed as well. This example is very close to stock with the exceptions of the windscreen and front turn signals. It does come with the stock from turn signals and three of the four side reflectors (one of the front ones is missing. It does have the front headlight bubble which is no longer available and is removable if you choose. The rear helmet lock is missing too, but still has the stock exhaust in great condition.
There are some small chips here and there but nothing major and the bike has no scratches on the lower fairing bubble which is a sure sign the bike has been dropped. The pictures should speak for themselves and if I were to rate this from 1-10, I would give it a solid 9.
A simple lightweight racer, this is the second year of the Gixxer dynasty, a no-nonsense star on the track, which became an undeniable movement on the road.