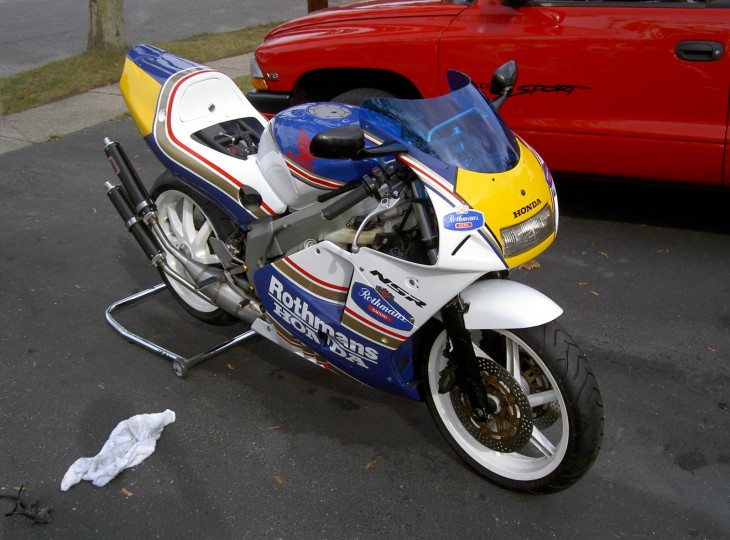 If you're a fan of two-stroke GP replicas, then this little Honda NSR250SP needs no introduction. Interestingly, it looks like there are two different bikes in the photos, but a quick read of the listing indicates that he's got two complete sets of plastics, one Repsol and one Rothmans, although the headlight configuration is obviously different for the two. Which is sort of cool: bored some rainy weekend when you'd rather be out riding? Grab some tools and swap your bodywork!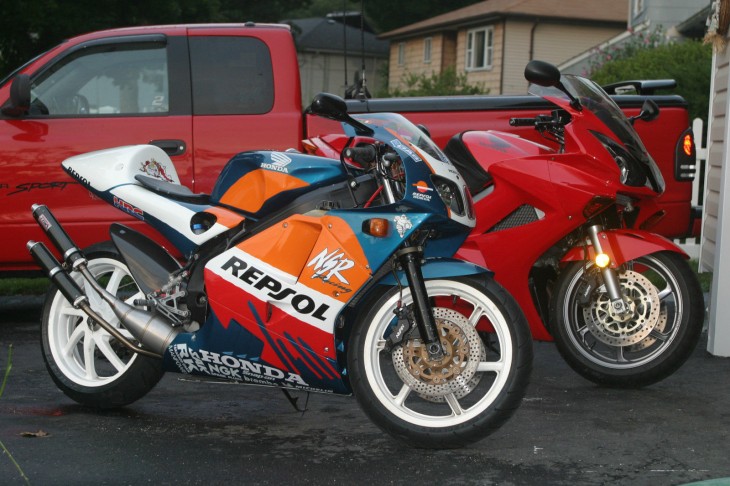 The NSR250R was powered by a 249cc, liquid-cooled two-stroke 90° v-twin that featured Honda's ATAC torque-boosting system to plump up the characteristically thin two-stroke midrange. The cassette-type six-speed gearbox is a nice feature, but probably not much use for anyone outside of a race team: designed for faster gearing changes trackside, it provides a nice talking point for the rest of us.
From the original eBay listing: 1992 Honda NSR250SP for Sale
 This is a very rare chance to own a piece of motorcycle history.
I am selling my NSR250SP
This is a no doubt head turner. This list of options on this bike is endless. 

The bike is registered on a MC21 frame with a valid NEW YORK STATE title with its 11 digit VIN number.
The motor is a MC28 dry clutch, with a fresh top end (Cyl, Pist rings Heads)and clutch Tyga performance exhaust.
The ignition system is MC28 credit card style, modified to work with standard or HRC card.
I have two complete sets of plastic and gas tanks: one Rothmans set and one Repsol set.
MC28 single sided wing arm
The bike has Tyga rear sets.
Custom Alloy triple tree
Custom Alloy fork brace
Mag Tek wheels
Fresh Metzler Tires
JHA Carbon gauge cover
Oil injection block off
Carbon fiber reeds
HRC jet kit
Carbon rear tire hugger
Tyge sub frame
Tyga battery box
Fresh Brakes
It will need a new battery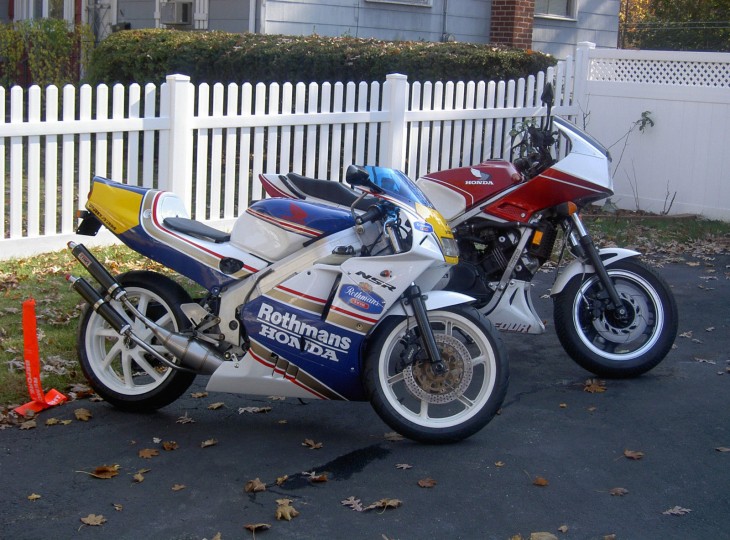 Although it's titled for road use in New York, with all the spare parts, this might make an excellent road and track machine, although you wouldn't want to risk that Rothman's bodywork. Or probably the Repsol! Fortunately, it looks like it comes with spare plastics as well…
Obviously, this thing's a bit of a mongrel, although it looks like it combines the best of several generations of NSR250's, so that's not necessarily a bad thing, unless you're a purist. Any experts want to weigh in on the choices the seller made in building this little monster?
-tad