Update 11.23.12: We love this look of this bike but it's failed to sell a few times. Having been relisted several times, the seller has now included a buy-it-now of $12500 in the latest listing on eBay. The highest bid we've seen is $7600 in previous listings. Links updated. -dc
Update 11.9.2012: Back on eBay. Closed last time at $6500 without meeting reserve. Already up to $5100 with 4 days to go. Links updated. -dc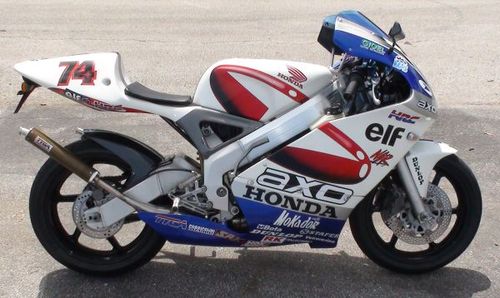 Love it! I'm a sucker for replica's and this Daijiro Kato replica doesn't dissapoint. I believe this would be a replica of the NSR250 Kato piloted in the 200o Grand Prix season, finishing third overall. Sadly, Kato was killed at the Suzuka GP in 2003 riding in MotoGP.
By the way, these pictures don't do the bike justice, you have to click on the video below to appreciate this machine. I think the word "wow" might come to mind a few times.
http://www.youtube.com/watch?v=82oH4ArV0Os
Sounds lovely, nice smooth idle.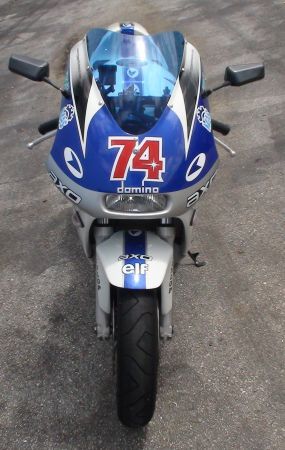 It is looking good from every direction.
Now that the pictures and video have sucked you in, here are the details:
1991 KATO GP REPLICA HONDA NSR 250 2-Stroke STREET LEGAL LIGHTS TURN SIGNELS ECT FLORIDA TITLE SUPER LIGHT 132 KG WITH ONLY 5820 KILLOMETERS . ABOUT 2300 MILES AWESOME ELF AXO RSW GP REPLICA BODYWORK COMES WITH TYGA STAINELESS EXPANSION CHAMBERS WITH KEVLAR STINGERS JETTED TO SUIT TYGA REARSETS RUNS LIKS A SCALDED CAT THE BIKE HAS A LOT OF $$$ TITAINIUM BOLTS CUSTOM BAR END MIRROR BLUE WINDSHIELD NEW EBC GREEN HH BRAKE PADS FOR SUPERIOR STOPPING REAR HUGGER FULLY DIALED IN AND RUNS PERFECT STAND OUT FROM THE CROWD THE SELLING THIS FOR A FRIEND
Low mileage and a title to go with the good looks. Moto2 is entertaining to watch but I still miss these bikes and their factory GP cousins.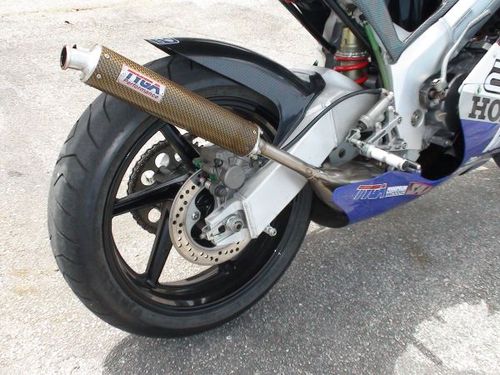 Not a thing out of place. They even went with a GP type brake reservoir set up.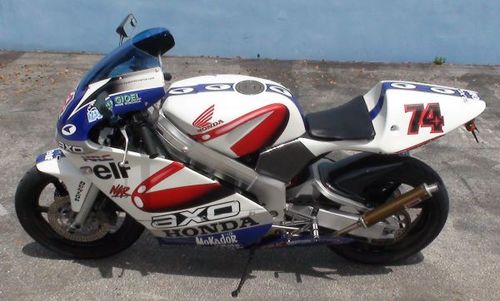 I really don't have anything meaningful to add. You either love the race replica look or you don't. If you do, this is one fine example. It looks like the seller is seeking top dollar from the info he posted on the WWW. The only problem with the reps, no matter how stunning, is finding a buyer who was in as much love with that GP machine as you were. Maybe more importantly, is his love matched by his willingness to open his check book?
The auction is up and running and I'm betting quite a ways to go before hitting the reserve. Here it is.
Ian