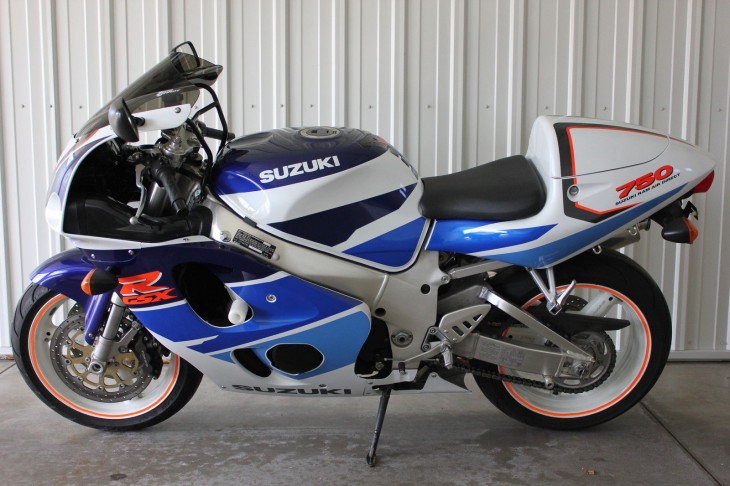 1996 was a "get serious" year for Suzuki's iconic GSXR-750.  The early 90s had seen Suzuki losing ground on the racetrack and in the dealerships to Kawasaki's ZX7 and Ducati's 916.  The 1996 "SRAD" was a completely new bike, with Suzuki abandoning their classic cradle frame and going to an aluminum twin spar frame and wrapping it in sleek new bodywork.  The frame and the appearance of the new GSXR were both based off of Suzuki's RGV500 GP bikes and the results were stunning.  A weight loss of nearly 75lbs and a new high revving engine now featuring a ram air setup pushed Suzuki back to the front of the class.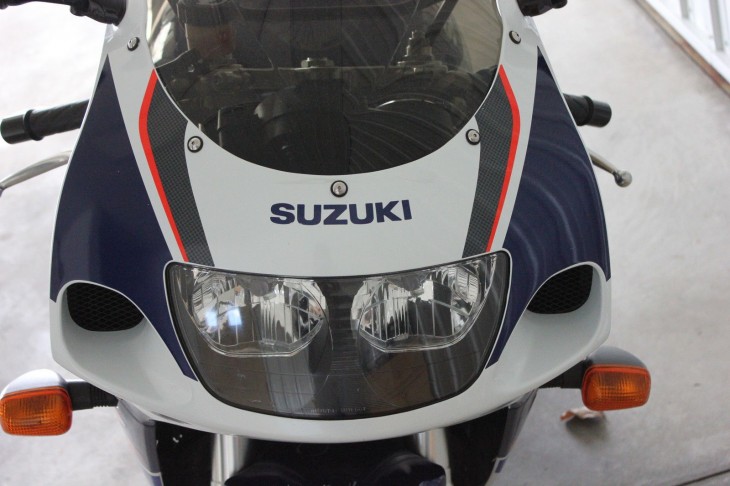 The GSXR seen here came one year later in 1997 and was largely unchanged from the 1996 model aside from slightly different paint schemes.  A red and black option now replaced the awful brown and carbon scheme seen in 1996…. but let's be honest, we all want the classic blue and white!  This one has been in the same family since day one and it's obvious that they cared.  Despite having a healthy 25k miles on the clock, you'd never know it by looking at it.  It appears to be bone stock aside from the D&D pipe (start looking for a Yosh if you're the lucky new owner) and some wheel tape.   You can check out the auction here 1997 Suzuki GSXR-750 on eBay.  I will be watching with great interest, as I think a minty SRAD might become the next hot commodity.
1997 Suzuki GSXR 750 SRAD in great condition . The bike has no issues runs and drives like new. has new tires on and is ready to enjoy. The bike has a D&D full exhaust and zero gravity wind screen. every thing else is all original. The bike has never been repaired never been tipped over or laid down. It has always been in the same family and adult driven.