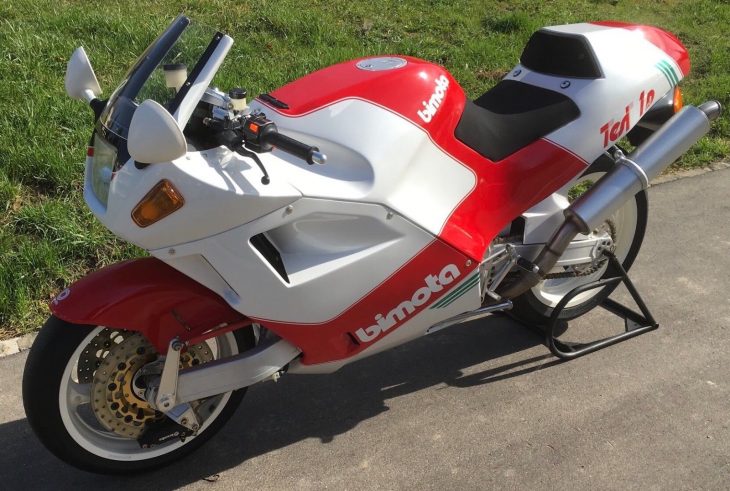 Throughout the history of the motorcycle, there have been many attempts to develop a superior suspension system, and the hub-center steered Tesi or "Thesis" was Bimota's attempt to radically alter the sportbike landscape and do something completely new, a shocking move for such a tiny company. The ubiquitous telescopic forks have a number of disadvantages, chief among them geometry changes caused by "dive" under braking: the fork tubes compress, steepening the steering. This can theoretically be used to your advantage, but the "stiction" or friction between the sets of sliding tubes certainly can't. But so far, telescopic forks have proved the best compromise and engineers clearly understand their limits, so they persist as the most common way to suspend the front end of a motorcycle.
The only manufacturer to really buck that trend recently, at least in significant volume, has been BMW. But their Telelever front end is being used less and less, owing to a different concern: radiator placement, since the front "A-arm" of the Telelever system takes up the space where one would normally reside. Bimota got around this issue by using an "Omega" frame that allowed the front swingarm pivot to be very low to the ground,  so a pair of radiators could sit easily above. The frame gets its name from the two Ω-shaped machined aluminum side plates that sandwich Ducati's liquid-cooled v-twin. Originally a stock 851 motor, it was eventually stroked to 904cc after the first batch of bikes was built.
Unfortunately, the Tesi's steering linkage was complicated and expensive to produce, and any improper adjustment or slop in those joints caused steering feel to suffer, something that seems to be an issue with alternative front ends in general. BMW's Telelever front is famously stable on the brakes, but has often been criticized for a lack of front-end feel, although a set of Öhlins shocks at both ends supposedly improves things. The Tesi had the same reputation: it was wild and exotic, and test riders could brake deeply into corners with confidence, but the bike lacked a bit of feel, even when everything was working as designed. Which took some doing, given the relatively complex system connecting the clip-on bars to the front wheel.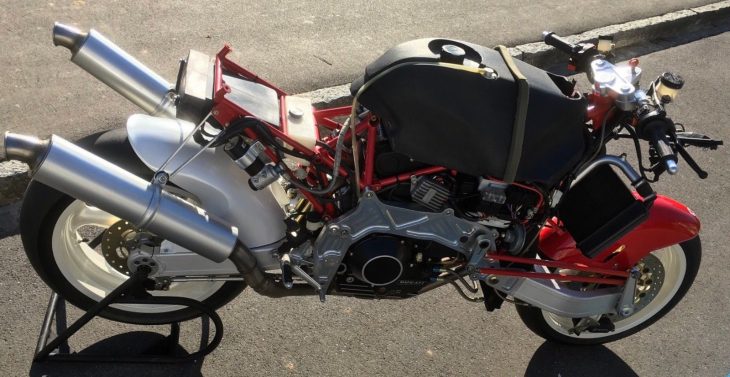 The other issue with the Tesi is a bit more theoretical: a swingarm front end should be much easier on front tires than a bike with a telescopic fork , allowing the Tesi to run a much softer compound tire without experiencing the same wear. But manufacturers design their tires to work with telescopic forks, so one hypothetical advantage is lost there as well, unless systems like this become more common.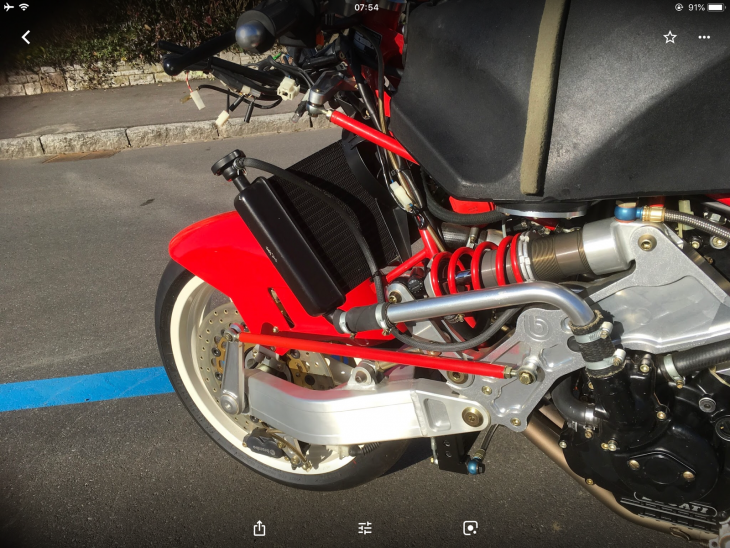 But the biggest issue with the Tesi was its high cost: for practical purposes, it was just a Ducati 851 with cool bodywork. All that engineering had very little impact on performance, making it more of a stylish statement of intent than an actual improvement. The Tesi name is very apt: the original bike literally was a graduate thesis project, and was built around a Kawasaki GPz 550 engine. Bimota's prototype was built around a V4 Honda, but that proved to be too wide, so the production model went to the narrow and powerful Ducati v-twin.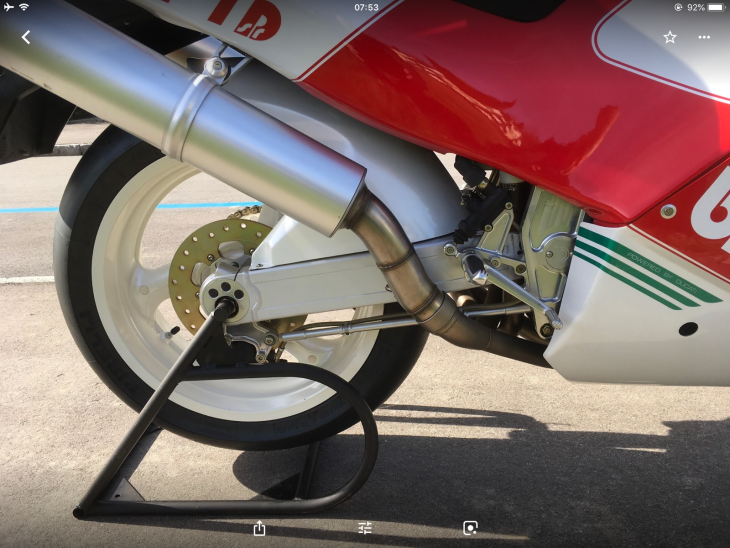 From the original eBay listing: 1992 Bimota Tesi for Sale
Somewhat challenging personal circumstances are forcing us to undertake this unusual listing and one-of-a kind sale, so we are now offering this, our lovely NOS 1992 Bimota Tesi 1D904SR starting at $1 without any reserve.

To be absolutely clear, THE HIGHEST BID will purchase this very rare and exceptional motorcycle, no matter the final value.

We had hoped to hold onto this gem for a few more years and wait until the worldwide Bimota market has improved and collectors and enthusiasts alike have come to realize how rare and exceptional some of these bikes and specifically the Tesi really is. Sadly health related problems and financial issues force us to take this step now and sell his rare and unusual motorcycle, hopefully to a likeminded enthusiast.

So there is no misunderstanding, please be so kind to have your finances in order and be able to pay for this motorcycle when the auction is finished, however high or low the final value amount may be. An immediate $500 deposit is expected from the winning bidder upon winning this auction, the remaining outstanding amount due upon pickup or prior to leaving our possession no later than 14 days from end of auction. Please prepare for this request by having your paypal account balance reflect the needed amount beforehand and be ready to complete purchase of the bike in a timely manner. Thanks so much for understanding…..

There will be a flat fee charged to have this motorcycle crated professionally and shipped fully insured to any location, worldwide. Of course: If you prefer to pick this motorcycle up in person, or have it picked up by any professional service or freight forwarder of your choice at our location here in Basel, in Switzerland, the entire packing and shipping fee will be waved.

Please look at the shipping details for more information. All else is explained in the description below in detail.

NOS motorcycle, never ridden, never run and properly prepared for long term storage on a pedestal when new in 1992. Specifically ordered and delivered from the factory in this condition. Original in every way as it was in 1992.

Pictured with and without bodywork mounted to show that the exceptional condition throughout is not just skin-deep.

All 3 cast iron Brembo rotors still have the yellow zink plating on the rotor-surfaces to protect the rotors from oxidation while sitting. This coating wears off on the first mile ridden and when the first contact of the rotor with the brake pads occurs.

Hydraulic system, cooling system and the original battery have never been filled with any fluids. The engine is filled with a light oil to preserve internals, seals and bearings. This motorcycle was kept in a climate controlled environment without UV light exposure its entire life, so there has been no deterioration of any rubber pieces nor any age related discoloration of any other parts

This Bimota comes with the original owners manual, warranty booklet, copies of the parts manual and workshop manual and 2 sets of the complete and original Tesi 1D toolkit. This Tesi also comes with both the mph dashboard and the km/h dashboard, both were ordered with the bike in 1992. The original early Bimota Tesi rear stand is also included with the bike

Please only bid if you are serious in your intent to purchase this motorcycle at the end of the 7 day bidding period. Obviously any taxes or duties the buyer has to pay upon importing this vehicle into the country of their choice is solely the responsibility of said buyer

This motorcycle is over 25 years old and hence is fully legal to import into most countries including the USA (EPA and DOT excemptions apply to vehicles over 25 years of age) as of last year!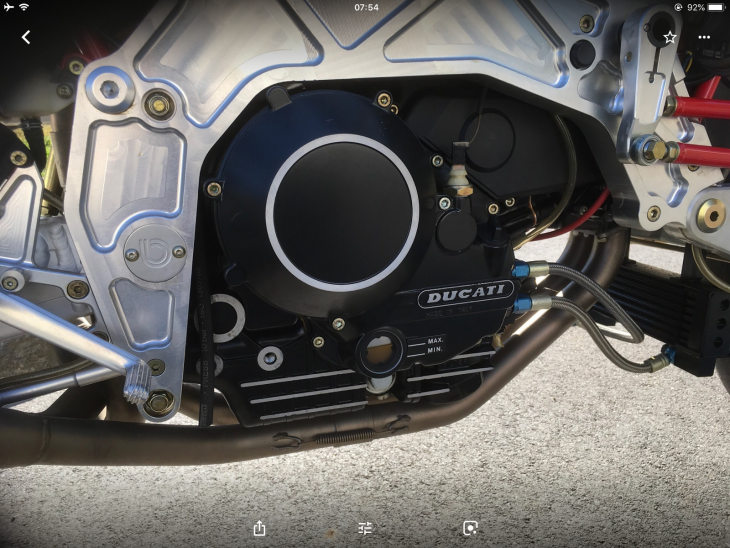 The bike is currently located in Switzerland, but I'd guess anyone buying this is looking to collect and display, not actually ride this Tesi: it's a museum-piece, but what a museum-piece! Happily, the seller has provided plenty of pics of the bike for us to drool over, since most of us won't be owning or riding one of these anytime soon: less than 200 of the 1D model seen here were built before the updated SR version was introduced. Even better, the bike is shown sans the fully-enclosed fairing that really only allows hints of the weirdness within to peek out, something rectified on the minimalist styling of the current bike.
-tad