Over the last 20 years Ducati seems to have focused on a 3-segment strategy for their bikes;  a tiny top segment of unobtanium level technical masterpieces such as the SuperMono or Desmosedeci, a big general segment of standard level bikes such as the Monster for the masses and in the middle, a segment comprised of limited edition bikes that are produced in small numbers and combine the standard bike with some of the unobtainum technology.   The limited edition bikes can range between mere paint schemes such as the Senna 749 to close to race replica "R" bikes with big technical differences between them and the standard bike.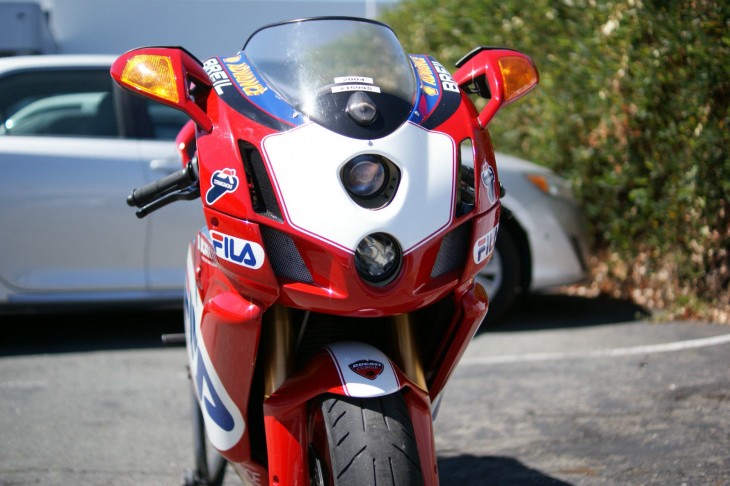 Here we have a 2004 999R FILA edition.  The FILA edition 999R was produced by Ducati in 2004 to celebrate its 200th win in the World Superbike Championship and was a limited edition production run of 200 special versions of the Ducati 999R in the official 2003 FILA livery. For anyone not familiar with the 999R, it had some big changes over the standard 999S, including full carbon fibre body work, lightweight engine internals, different injectors, a lighter crank and a bigger bore all which added up to about  another 40HP. The 999R also had lighter front and rear subframes, and Ohlins front and rear suspension.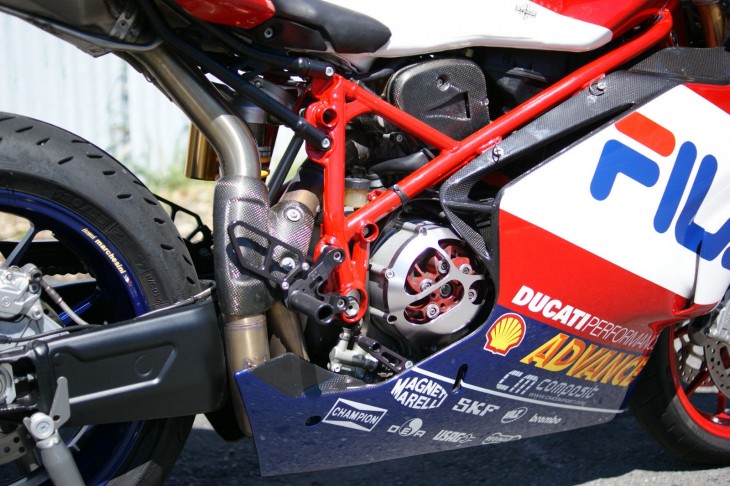 Now I know a  lot of people (myself included) didn't particularly like the 999 look when it came out.  Compared to the 916/996 predecessor it looked disjointed with full bodywork at the front and almost none at the rear.  Also, some said it was a case of overbranding and to be honest, Ducati has been known to make some odd branding/limited edition production decisions (such as this scooter). However, over the last ten years the 999R FILA edition seems to have won over most people. Comments on the Ducati forum and overheard at bike nights seem to confirm that most people think the FILA bodywork makes the 999R look great, although more than a few comments have been made against the two different wheel colors.
So what is this 999R Fila worth?  Well it only has 6050 miles,  it doesn't appear to have been modified, and its #80 of 200. The asking price of almost 15k seems to be inline with previous listings on RSBFS and KBB, although KBB seems less reliable for limited edition bikes.  So if a 999R is one your list for father Christmas and you are on the west coast of the USA, this might be a good opportunity.  Guess it depends on how naughty you have been… 🙂
-Marty/Dallaslavowner