You'd think that, with just 272 built during its run, the SB4 would be as rare as it gets for a production motorcycle. But no: Bimota actually offered an even rarer version of their Suzuki-powered race-bred machine, the even more limited-production-y SB4S. Just 34 of these thoroughbred machines were factory-built, with another 72 sold in kit form. That's right: Bimota used to make build-your-own superbikes!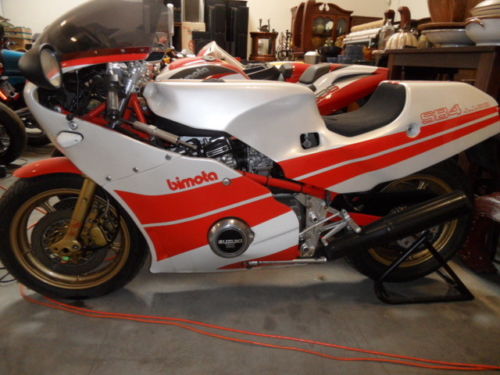 These days, Bimota makes moto-jewelry, high-end fashion accessories that just happen to be incredibly fast motorcycles. But their creations used to be some of the fastest, best handling motorcycles available at any price. Unfortunately, modern manufacturers' products are not only reliable, but offer handling and refinement Bimota can't hope to significantly better, considering their limited resources. So modern Bimotas offer an unmatched level of craftsmanship and exclusivity, but minimal performance advantages, compared to the motorcycles that donate their engines and transmissions. But that wasn't always the case, and bikes like the SB4 are the perfect example of what Bimota did to earn their respected place in motorcycling history.
The rugged, air-cooled Suzuki engine that powered the SB4 displaced 1075cc and came equipped with four valves per cylinder, along with their TSCC or "Twin Swirl Combustion Chamber" technology that improved combustion efficiency. It made plenty of power, so Bimota left it largely stock. Instead, the Bimota's performance advantage came from improved suspension and much lighter weight: the SB4 shed almost 140lbs off the Suzuki's 535lb dry weight. The lightweight, one-piece tank and tail is attached by just a few bolts, and can be easily removed for maintenance.
The frame is a masterpiece, and a major contributor to the bike's improved handling. A hybrid construction of chrome-moly tubing with gorgeous machined aluminum side plates, it's a shame it's mostly hidden in the photographs. Wheels were modular 16″ and fitted with radial tires, which were a relative rarity at the time.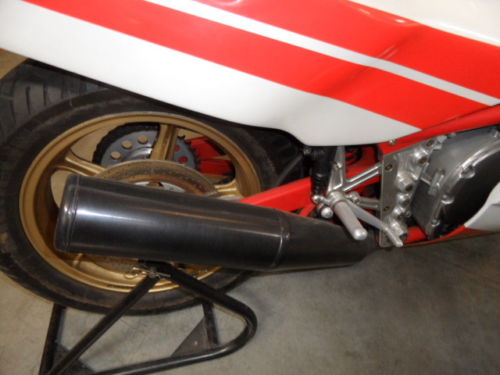 So what made the SB4S more exclusive than the regular, pedestrian SB4? Well supposedly we'd be looking at a four-into-one exhaust, although this bike seems to have the regular SB4's dual exhaust. The S should also have an oil-cooler as well, but it's hidden behind the fairing in the pictures, if indeed it is present. This machine also features some pretty ugly turn signals fitted to the fairing, which is unfortunate as the stock bike would originally have had none. Not very safe, but much nicer-looking. Given the dual exhaust, I'm not even sure if this is actually an SB4S, so I'd be happy to get any input from any knowledgeable readers. Either way, it's still a very rare and exclusive Bimota, and bidding is pretty active, with several days left on the auction.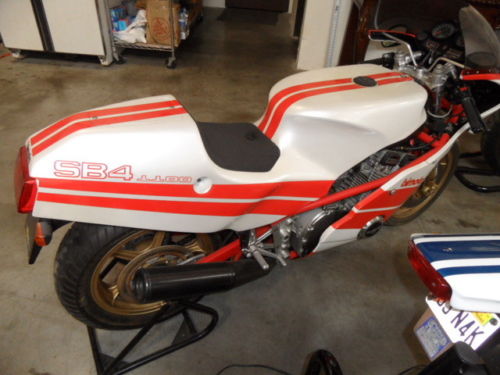 From the original eBay listing: 1984 Bimota SB4S for Sale
1994 Bimota SB4S, mint condition, very rare and beautiful, pearl paint, Campagnolo wheels, no issues, we at buyer's expense can ship worldwide.
As always, I'd like a bit more information about this motorcycle in terms of maintenance and history. It's a bit dusty in the photos, and it'd also inspire more confidence if the seller got the year right: it's listed as a 1994 model but I'm pretty sure Bimota, in spite of a pretty weird production history, wasn't still making the SB4 in 1994…  At the end of the day, a mechanical restoration shouldn't be too hard, as long as the frame, suspension, and bodywork are all intact, since the Bimotas of the era used many components, including the gauges and switchgear, from the donor Suzuki GSX1100.
-tad