Honda's V-Four development team found a sweet combination of chassis specifications in the mid-eighties, and the resulting VF500F was a legendary handler.  As nicely as the carburetted double overhead cam engine ran up its 70 horses, the air-assisted dampers at both ends of the Interceptor soaked up the realities of the road and allowed the frame geometry to work.  Recently serviced but showing only 1,593 miles, this collector looks new but unlike the current owner, the winning bidder might ride it home.
Developed from the domestic market VF400F, the 498cc V-4 is seriously oversquare and revs to 12,000 rpm, with maximum power at 11,500.  The compact crank and chain-driven cams transmit just a little burble to the bars and pegs, comfortable at sane cruising speeds.  The Showa forks incorporate Honda's TRAC ( Torque Reactive Anti Dive ) controlling compression under braking, and the Pro-Link rear uses a cast aluminum swingarm and Kayaba monoshock.  Brakes are triple 255mm disks, great for the day with four-piston front calipers.  Fairings are limited to the frame-mounted upper and chin scoop, though the tank/side panel/seat combination is very well done.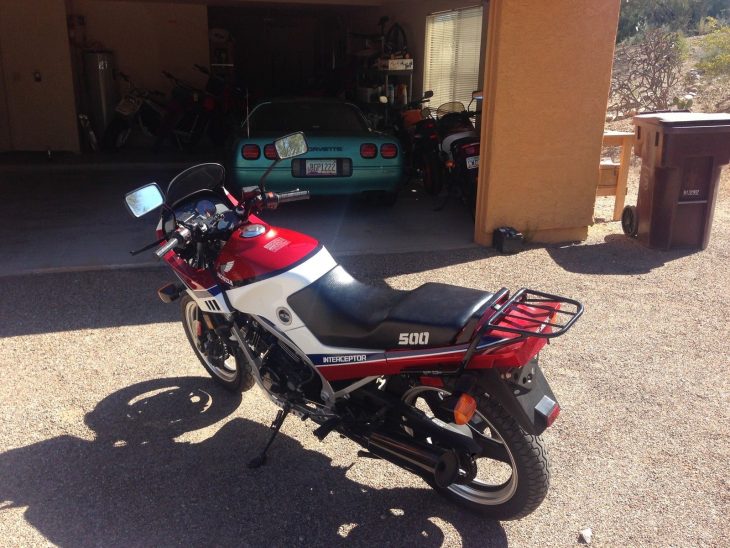 Very collectible without even break-in miles, this VF500F hasn't been ridden by it's present owner ( he has another ).  The right side engine cover was scraped somehow, and the right footpeg console could be re-finished, but otherwise it looks more than excellent.  From the eBay auction:
This is a very low mile , near mint condition Interceptor. I have never rode this bike. It has been in my collection for about 4 years. It's in near mint condition except trans cover and rear frame piece that could be repainted. Damaged in shipping at one time. See pictures. Other than that, she is in fantastic shape.

I just spent $1K at Honda cleaning the carbs, oil change, new battery, and inspection to make sure she is ready to ride. Starts right up, sounds fantastic! I have a second 1985 Interceptor that I ride, so I now how much fun they are to ride.

The manager at Honda rated it at 98.5. I'm more picky so I would give it a solid 96.

This bike also comes with the original tool kit (very hard to find), owners and shop manual.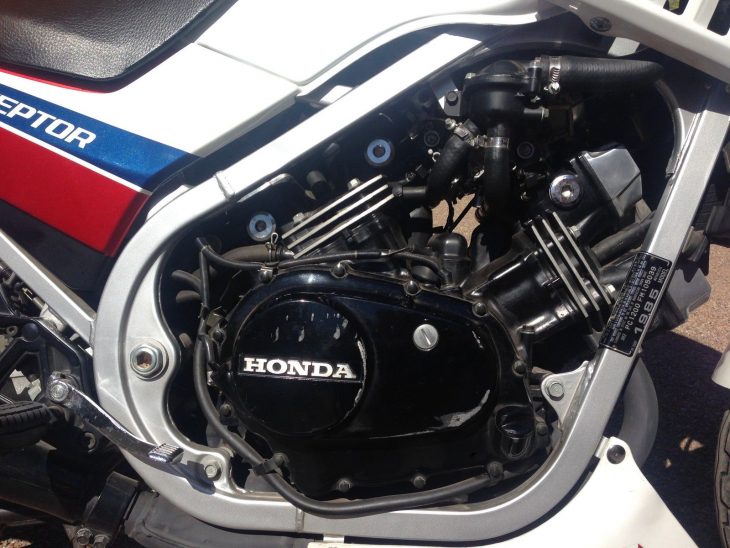 The Interceptors used steel frames and beefy crankcases, so it's hardly even a middleweight for a mid-size.  Some interesting compromises were made, like the  front 16-inch wheel which helps turn-in.  The high pegs allow big deck angles though it's not a long distance riding position.  But the lead story is handling, the low center of gravity helping the rider find the fun in racking the bike over.  This VF500F has been saved from street riding and low-speed mistakes, and with a nice detail could be even more special than a thirty-plus year-old bike that's run only five tanks of fuel…
-donn