We have posted about the ZX11/ZZR several times previously, about how Kawasaki's monster machine still gives us flashbacks to the scene in Spaceballs where they go to Ludicrous Speed.   The big Ninja was and still is a true "hyper-tourer", a 604lb monster machine with a cruise missile engine.
When it was launched in 1990 the big Kawasaski (known as the ZZR outside the USA) was able to hit top speeds of over 170 and was immediately the king of the hyper-touring market segment.  It ruled the segment for 6 years until being displaced by the Honda Blackbird and then finally, the Suzuki Hayabusa.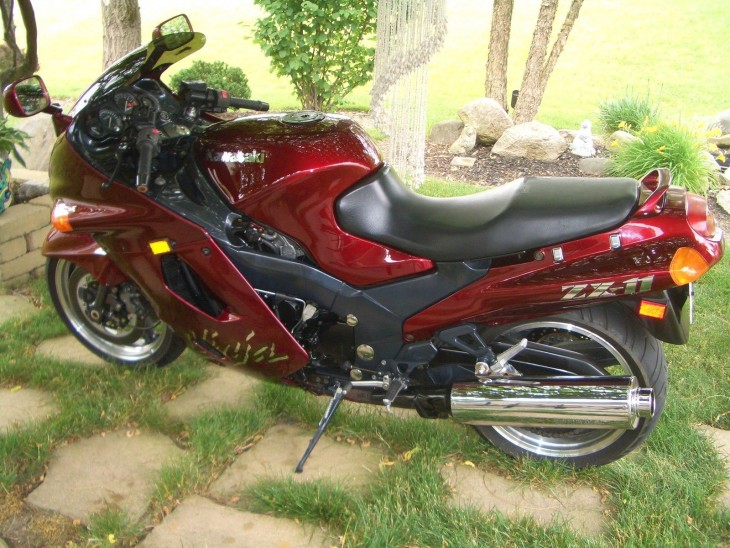 A large reason for the ZX11's phenomical speed was due to the use of a new concept (to most riders); a ram air induction system.  Although ram air had already been widely used in automobiles, the ZX11/ZZR was the first production motorcycle fitted with such a system.  Unlike other "fresh-air" systems of the time, the ram air system was sealed and produced a constant flow of pressurized, cool air to the carbs.
A technical description of the function and result of the ram air function can be found here.
But the Big Kawasaki wasn't just about top speed.  It was very civilized, with comfortable seating and convenience features such as luggage hooks, a full dash including a clock, outstanding fairing/wind protection, and even a centerstand!   Of course it kind of needed a centerstand, given that the ZX11/ZZR weighed a full 604lb/274 kilos when fueled.
I tend to think of the big Zed as an Aston Martin Vantage coupe of the same period; big, fast, civilized but still capable of blowing the door mirrors off most other things on the road.   And like the Aston Martin, I think the ZX11/ZZR's design, with its integrated turn signal indicators and monocromatic color scheme bodywork has aged particularly well.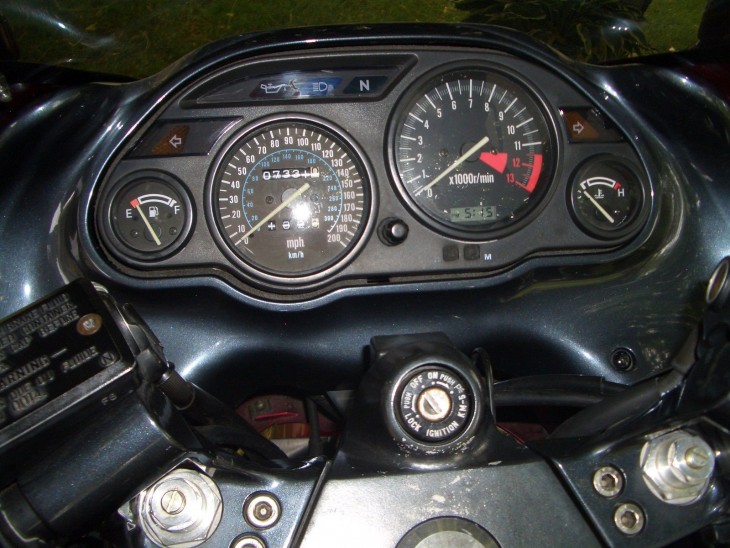 This particular ZX11 has a truly astonishing low mileage of only 7331 miles….yes you read that right, only 7331 miles.   It looks to be complete stock except for an aftermarket windscreen and I see no sign of it being down at any time.   The only issue I am seeing is some some small wear/tears on the main seat which could easily be fixed or upgraded with a corbin replacement.  And I have to admit, I think it looks fantastic in my favorite color scheme of Candleberry wine red, much better than the other stock options (black, green, and dark purple).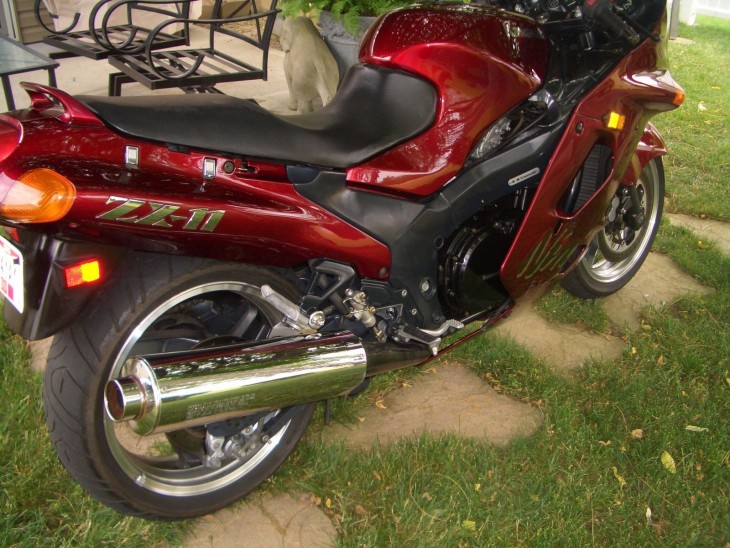 Is this ZX11 worth the opening bid $3,000 USD price?   Yes, Yes!  YES!!!!….provided you understand what it is…a tall, heavy, powerful hyper tourer.   The ZX11 will never be described as "flicable" and it wont be a collectible but finding one in this condition is pretty much unheard of.  The last one of these we posted was down in Australia went from a bit more than this one is listed at and that one had which much higher mileage.  This big red Ninja seems to be a screaming bargain even when basic maintenance of fluids and fresh tires are factored into the price.
I think this is a great opportunity for someone who is wants something tasteful that can also do high-speed touring …but I would advise that people under 5'8″ consider carefully before acquiring this big beastie.
-Marty/Dallaslavowner