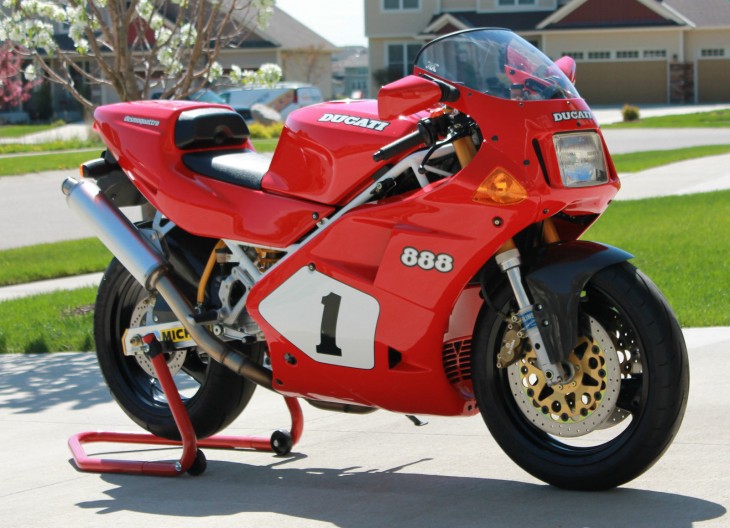 In the states, Ducati offered us the Ducati 888 SPO, which was very similar to the SP5 global offering. This "sport production" offering has a warmed over engine and full Ohlins suspension to name a few of the upgrades over the SPO. This particular example has been on our site before in 2012 and at the time I commented that the bidding had passed $13k with reserve not met. This time around it's over $20k with reserve not met. Having only covered an additional 200 miles in that time, it currently reads 1521 miles in total. With only some minor storage damage, this is a very sharp example.
dc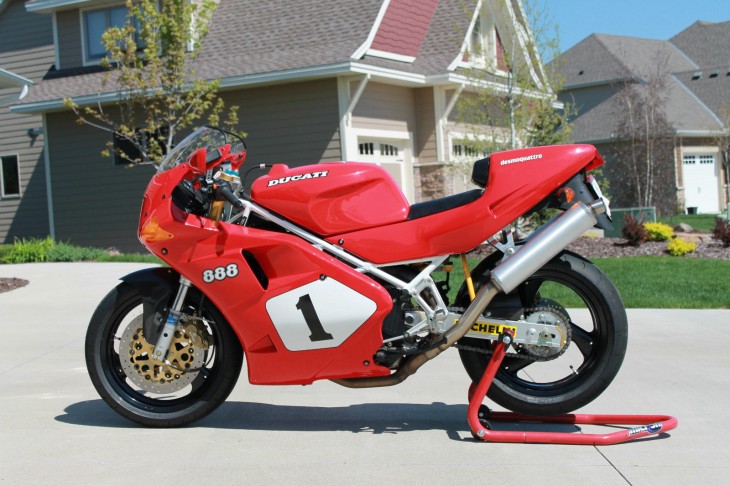 from the seller's listing:
Selling my very rare 1992 888 SP4, #465 completely original, with a clear MN title, in perfect running order with 1,511 miles on . Short of coming out of a crate this must be the lowest mile SP4 in existence.

It is believed that there is only 4 in the US, so this is one of the rarest of Ducati's in the country, to put it into context there are more than 150 Desmosedici's for every single SP4!! In the USA. This is one of the rarest collector Ducati's you can find. There were less than 600 made globally in 1992, many raced, crashed or modified, very rare to find an original one. And this is by far the lowest mileage most original SP4 I have ever seen.

The bike comes with all the original sales paperwork and toolkit, the bike was ridden for about a year by the original owner. The owner didn't get on with the bike and dropped it off the side stand, he didnt gell with the bike so he then stored it for over 17yrs, preferring to ride his BMW.

It was then purchased by an 888 collector, who kept it for a while. I purchased it off him. The bike is in total original condition (except for new tires and front pads, still have originals), not modified and no parts missing, it even has the Db killers still tack welded into the cans!

Since buying the bike I have done the following:

1. Full service, belts, plugs, oil and air filters, fuel filter and tank gaskets.

2. Full brake service, stripped and cleaned the calipers, new pads and new fluid

3. New Dunlop Q2 tires, I still have the original fitment Michelin Hi Sports

4. Fork and shock refurb including new fork seals by Ohlins USA,

My plan was to get the bike running and then restore it to perfect OE condition, as it has a small crack and scuff on the RH fairing from the original owner topple over as noted above, and some of the engine bolts and finishes are showing some corrosion from age. I got the bike in perfect running order and rode it a little last year and really enjoyed riding it, the bike is a beauty and anyone that knows Ducati's knows how special it is. I just don't have time to ride it.

So it's up for sale, I'd like it to go to someone who will care for it and keep this classic on the road. Not interested in lowball offers, don't need a quick sale. I've been watching these bikes for a long time and I have not seen a more original, lower mileage SP4 anywhere in the world.

Take a look at the photo's the bike is in perfectly original condition, it is not concurs, it shows some signs or age related patina from it's 22 years. For true collectors this originality and patina is very desirable, as the bike is exactly as it was when it left the Bologna factory in 1992.