Today's find is almost legendary. Just one year later, the GPZ900R was rocketed to a superstar status as it was blessed to be straddled by the infamous Scientologist extraordinaire, TC. While TC has ebbed and flowed throughout the years, the GPZ has remained one of the more significant bikes and marks an important time in sport bike history. While this example is just 1 year shy of being one of the most recognizable bikes of the 80s, it still has the same mechanicals that brought folks directly from movie theaters to showroom floors.
Of course, the raw speed of the GPZ900 is the highlight of the bike. In 1984, this motorcycle was pumping out 115hp which could take you up to 151 mph. 40 years later, the current gen Z900 makes 111hp. It's not that Kawasaki can't make a more powerful 900cc bike as there really is a limit to what makes a bike usable on the street while also making the entire package make sense. Big power means more cost in the chassis to make a bike really work and feel right. The funny thing is that in 1984 Kawasaki decided to say screw it and tried it anyway by bringing a GPZ900 while their unsuspecting 750 sat quietly on showroom floors.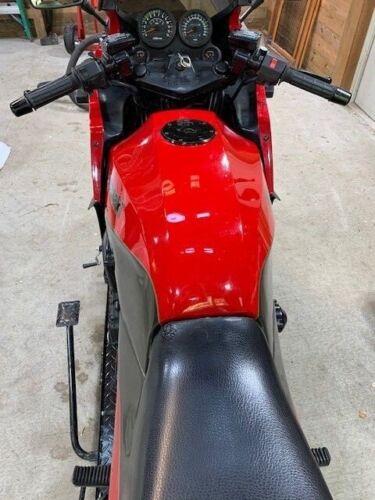 Making the 900 work was not as simple as just taking a cylinder hone to the bore of the 750 for a few hours. The 900 brought liquid cooling and 4 valves per cylinder with a higher compression ratio as well. Furthermore, the engine became a stressed member of the chassis which allowed Kawasaki to axe the downtubes on the steel frame. While the GPZ used a simple steel frame, it did come with triple drilled disc brakes and an anti dive suspension. Check out how their system works here.
 "…I have tried to detail in the pictures the worst places on the bike. It is actually beautiful original paint bike that could be wet sanded and be awesome. Fun to ride. I have ridden the bike three or four times and it runs wonderfully. Thanks to Kaplan. The bike is now 38 years old and there are some scratches and chips through life. I would expect that. Please let the pictures tell you what you need to know. I feel I'm a little too old to ride the bike now. I live on a dirt road. I would guess the bike has been dropped but not significantly just a few little scratches here and there which I have tried to point out in the pictures to the best of my ability. You could just about take it anywhere and it stops the show. You can read about top gun. I have a cold start video that I can send upon request. I have and can take additional pictures upon request."
The owner seems to have got this one from Captain America, Ken Kaplan, which means it should be in pretty good working condition. Kaplan Cycles has an in house mechanic who tidies up everything that comes through the door before it hits the floor. I definitely appreciate the seller's honesty towards the cosmetic condition and willingness to detail that out in photos. Not a show piece but an opportunity to get a deal for sure.
There seems to some action with 13 bids up to $3,750 and the reserve has not yet been met. Good luck!
-Norm