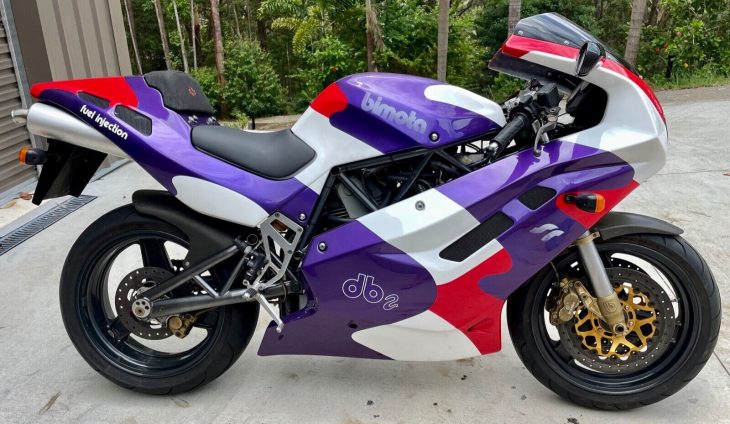 I can't say I've ever seen these colors before on a DB2! I'm really digging this purple variation of the tricolor, urban camouflage looking application. But when I did a little research to find out what separates an SR from a standard version, sure enough, there's the purple.
With just 4,300 miles showing, this looks like an honest example and deserving of a full detail. These are powered by Ducati's 900SS V-twin but feature their own bespoke frame, tubular swingarm and significantly upmarket Paoli forks and Ohlins monoshock. The SR designation adds fuel injection over the standard Mikuni carbs. With 85hp and just 375lbs dry, this was a great fit between Ducati's Supersport and Superbike.
From the seller's listing:
1994 Bimota DB2SR showing 11907 km and in stunning original condition, the paint is near faultless and colours are as vibrant as the day it left the factory.
Bimota launched the DB2 in 1993 powered by the air/ oil cooled Ducati 900 Super Sport engine. The SR came in two years later but now fitted with fuel injection in an effort to boost power and mid range torque and only 157 or so are said to be built, this one has been very well looked after and has just gone through a full service including timing belts.
This would be the most sought after model after the DB1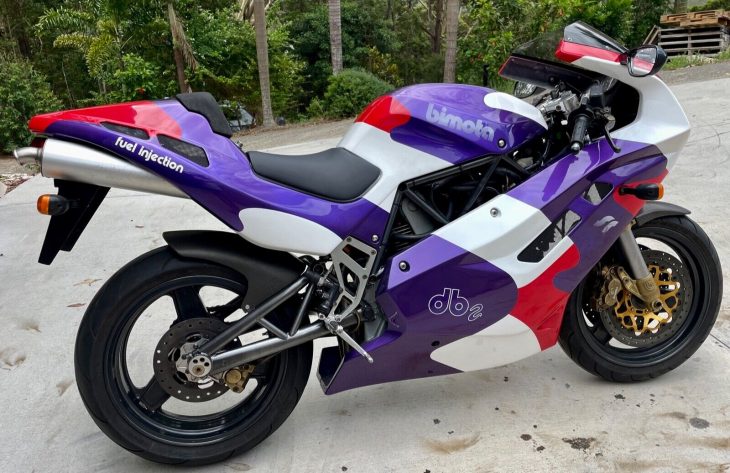 At today's conversion rate, the asking price on this is roughly $17,600 USD. With shipping and importation it will cost a bit more and require some effort and patience to get the job done. To the right collector though this color and the SR specfication may be worth it.
dc