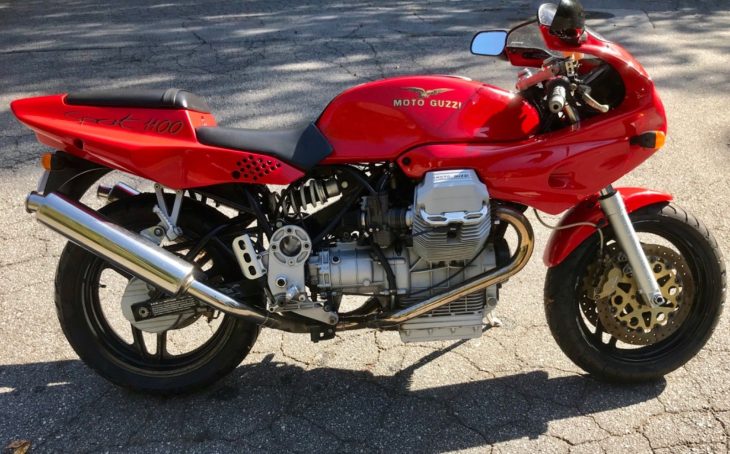 With all the 2.3 liter inline triples, 1200cc V4s, and 2000cc v-twin cruisers running around in recent years, 1064cc of pushrod v-twin doesn't sound like all that much muscle. But back in 1996, when you could buy a Moto Guzzi Sport 1100 new, that was a pretty huge motor, especially for a sportbike. Although many might argue that we're stretching the definition a bit here for the Guzzi…
Really though, it's just a different kind of sportbike, one oriented more towards fast road riding and long sweepers than track day scratching or tight canyon thrashes. A more mature sportbike, carrying just a bit extra around the midsection, along with plenty of high-quality components and racing history. I don't just mean ancient history: the Sport 1100 grew out of the bike developed by Dr John Wittner for his privateer racing efforts in the 1980s. A variation of the resulting Daytona 1000 was released powered by Guzzi's two-valve pushrod twin, the Sport 1100 seen here.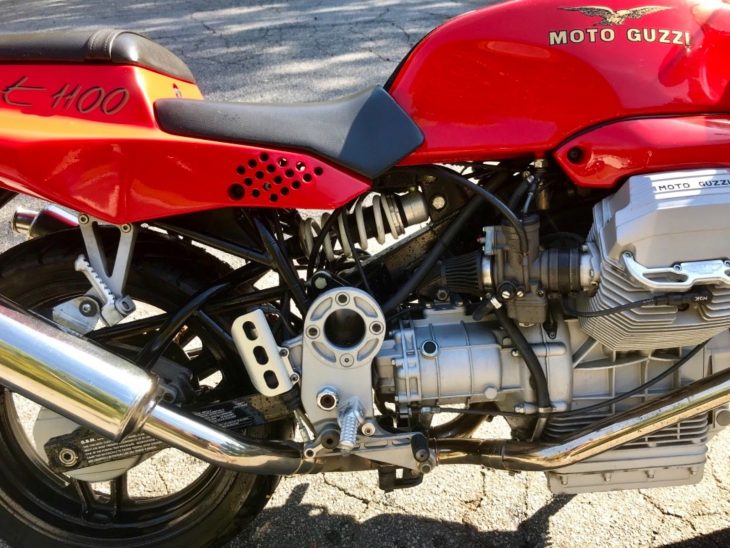 Earlier versions used a pair of Dell'Orto carburetors but the bike switched to fuel injection around 1996. WP suspension means the bike has stable handling, once you get used to the mild shaft-drive effect and the longitudinal crankshaft. Triple goldline Brembos lack Guzzi's earlier linked system and haul the 487lb machine down from speed effectively, although you're still fighting 500+ pounds of beefy Italian sportbike with fuel and oil.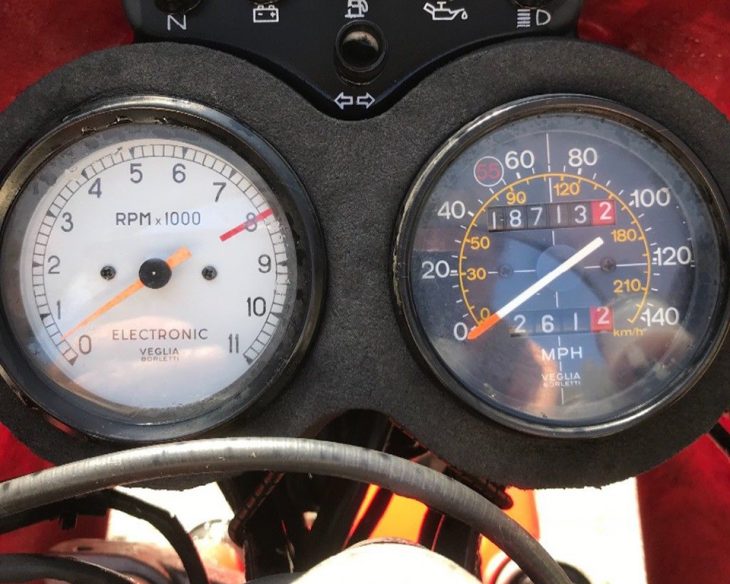 From the original eBay listing: 1996 Moto Guzzi Sport 1100 for Sale 
This is a beautiful and rare collectible Moto Guzzi 1100 Sport in true Italian racing red. Carefully maintained through out its life. This rare collectible is part of a private collection and is being sold as is to thin out the heard in the hopes another collector will snatch this elegant red head and love it just as much as I have. 

Australian made Andrews exhaust pipes fitted makies this Guzzi sing. Rev the throttle and this 1100 sport will give you that heartwarming feeling of a by gone era of motorcycling. These bikes rarely come up for sale especially like one in this condition.

Great condition with low miles makes this the one to have. Small ding in front of tank with a loss of paint can be seen in pictures but in all honesty it barely shows unless your looking hard for faults.
18,713 miles isn't even broken in for a Guzzi: these things seem to rack up some pretty high mileage, considering the aggressive riding position.  This one looks pretty clean and complete, if a little scruffy around the edges and is missing the airbox, opting for exposed filter elements instead. The $7,400 asking price seems a little bit high, considering other 1100 Sports we've seen recently here on RSBFS, but not outrageously so. If you're looking for an appreciating, practical classic, look no further. The Moto Guzzi Sport 1100 isn't really any kind of track bike, but it's a great road bike, with stable handling, torque, and good parts availability to keep it running.
-tad