Unable to compete with the ruthless, technological march of the Japanese manufacturers, Laverda's SFC 1000 was an attempt to capitalize on their past endurance racing glories, a last gasp before they went under, prior to their relatively brief resurrection in the 1990's. To be honest, I didn't even realize that Laverda was still making bikes in 1988, so I'd imagine this was bike was built 1985 and sat untitled for a couple years.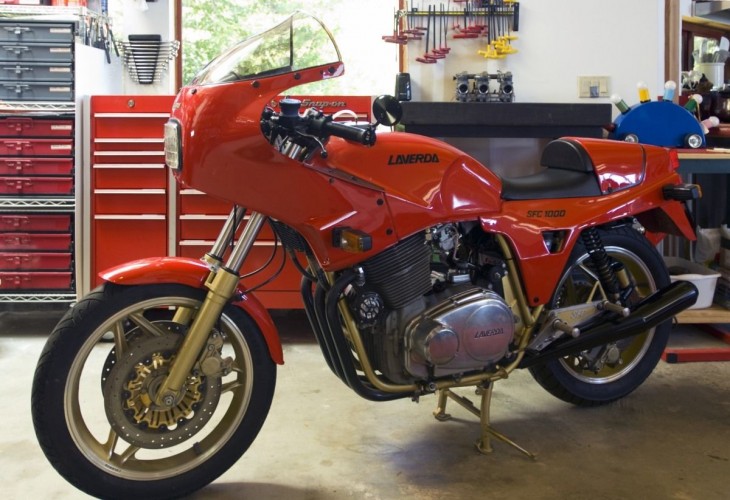 SFC originally stood for "Super Freni Competizione", basically "super braking competition" a reference to the huge drum brake on the front of the very first SFC twins, later replaced by a pair of discs. Powered by a 750cc parallel-twin , the original SFC was produced in very limited numbers, the epitome of a "racer for the road" and many were quickly stripped of their street-legal lighting for track duty. This was probably for the best: the SFC was fast and very brutal, and probably didn't make a good road tool for casual riders.
Not so with the SFC 1000, which was basically a renamed and slightly restyled version of the "executive express" RGS, the SFC1000 was a far more street-oriented bike built around Laverda's charismatic three-cylinder engine. Earlier triples had a 180° configuration that ran like a four-cylinder with a miss, but later examples like this one used a smoother 120° engine that lost some character but was much more user-friendly.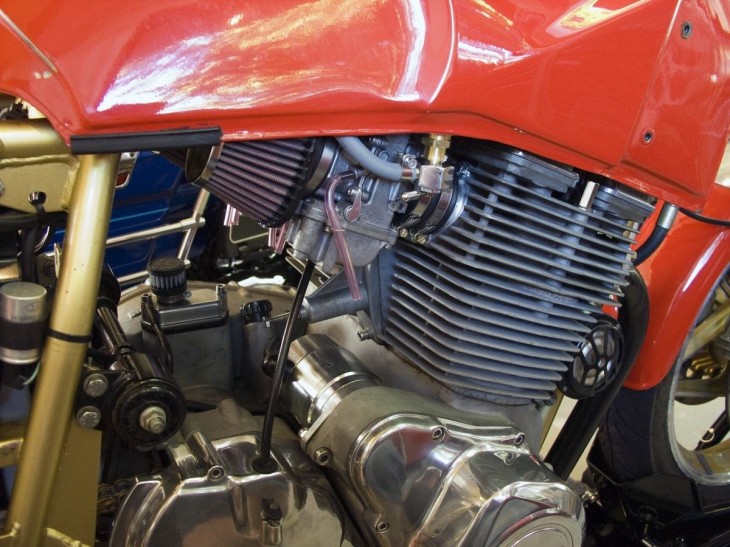 And while the big triple had evolved into a more conservative machine in terms of its mission, don't think it couldn't hustle: on track, you could lean these over enough to grind the generator cover into dust.
From the original eBay listing: 1988 Laverda SFC1000 for Sale
Very clean, with upgrades–all easily reversible to full factory-original, if desired.
Imported by me from New Zealand in 2010.
Never dropped, raced, or mistreated.

I am the second owner since new.

New coils, wires, plugs, timing chain, electronic ignition, custom slanted intake manifolds, Mikuni carbs, lubricants, bar-end mirrors, battery, throttle cables, grips, windshield, air filters, tune-up, rear brake caliper rebuild, sprockets, X-ring D.I.D. chain.

Valves meticulously adjusted.
Custom Mikunis by Mike Nixon.
Custom manifolds by Red Cawte.
They may have been obsolete at the time they were sold new, but these Laverdas actually represent an opportunity to buy what amounts to a classic bike at the pinnacle of its development: in 1988, this may have looked like a dinosaur, but today it just screams "useable classic"!
Which might explain why this particular bike featured over on our sister site not too long ago: Classic Sport Bikes for Sale 1988 Laverda SFC1000.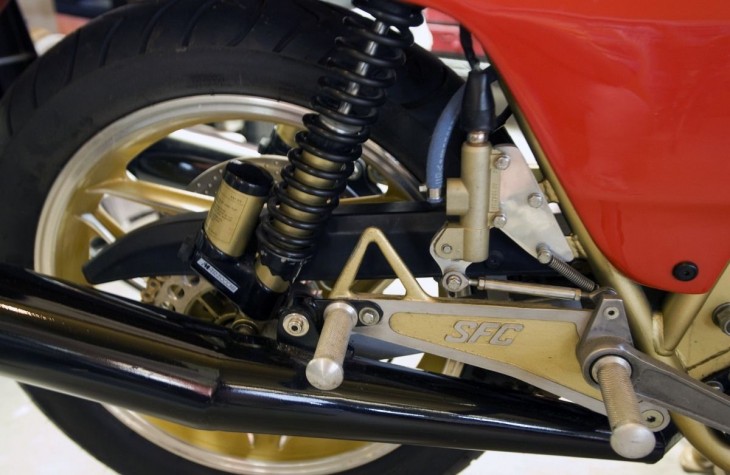 Overall, this example looks to be in excellent, very orange condition. One caveat: the bike was originally imported from New Zealand, so make sure that you check with your local DMV to make sure there won't be any issues with registration before you park this in your garage. Or living room.
-tad