Looking like a downtown version of Reg Pridmore's 1976 Superbike, today's Beemer is surprisingly rare if not the sportiest.  In classic black with white pinstripes, it presents beautifully and seems like a great fan statement.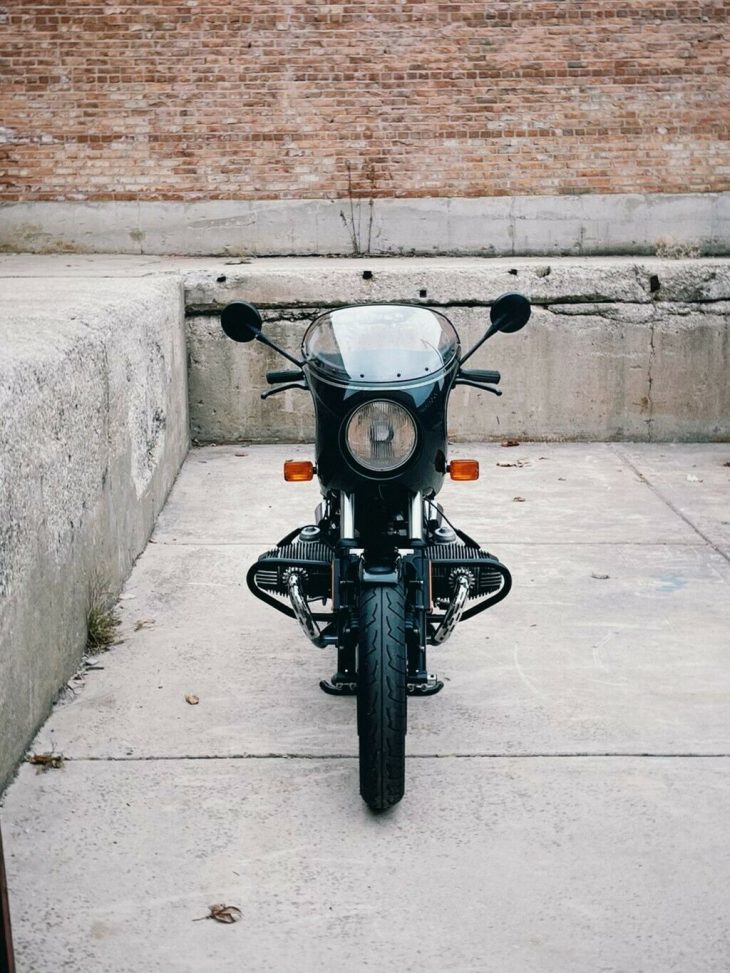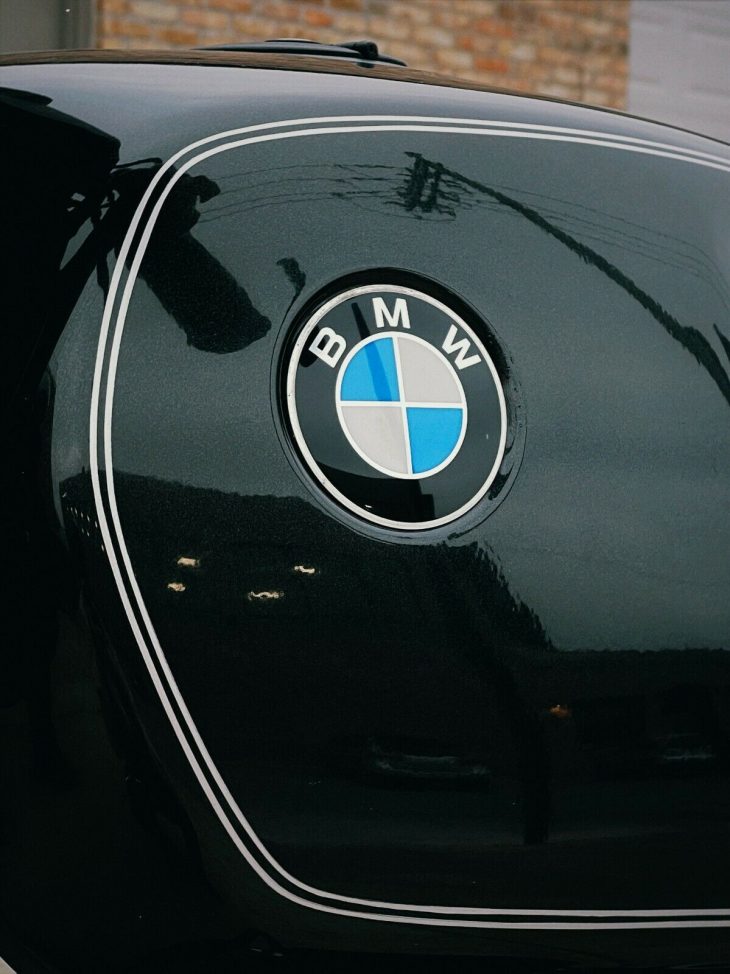 So rare most sources indicate few than 200 were made, specs for the R100 Classics often show a less classic shape for the tank and front fender.  980 cc's of air-cooled twin are in front of your knees, with its 60 sea-horses made up for by the low peak-torque rpm of just 3,750 revs.  A bit hard to verify, but 40mm Bing carbs appear to have been used, as on a few other R100 variants.  All BMW's of the era had 5-speeds and shaft drive, and it's reportedly the last year for the Monolever rear.  Triple discs haul the mid-500 pounds back from the brink, and early cast alloys have a spare clean look.
BMW also had "classics" going in the RT and GS segments, and many pictures show the older style rounded valve covers, rather than the newer finned covers here.  This owner say they are just the second caretaker, and both appear have done a nice job protecting this R100 from the ravages of time.  Like the rest of this understated example, even the engine guards are hiding in black paint.  The factory seat looks too new but could be installed while the Corbin gets a new cover.  Notes from the eBay auction –
I'm very proud of this bike. It's been ridden across the country, has been well loved, and has a neat history.

 

This one has been immaculately cared for, new Michelin tires, a fresh Duracell Ultra 30LA 12V 400CCA AGM Battery, and was just detailed from top to bottom. 

 

Lives up to the reliable airhead engine reputation. Always starts the first time and has been exceptionally reliable over the past six years. 

 

It's the last year of the naked R100 monolever suspension. The engine is the 980cc boxer twin good for 60 horsepower and 58 foot-pounds of torque. 

 

Second owner, originally purchased 31 years ago from a local Chicago BMW dealership.

 

New engine cover/fairing (both OEM parts—notice the matching custom pinstriping on fairing).

 

Comes with original toolkit roll, Corbin seat (small scratch shown in photo) and passenger backrest along with mint condition original seat.

 

Color matched cockpit fairing, pinstriping and gauges, plus heated grips and engine guards. Two original hard saddle bags included—one needs a new latch which can be purchased for $35 on eBay.

 

Exclusively garage stored, always covered. Rock solid, always reliable.
BMW was just about to launch their oil-cooled four-valve R1100, and the classics may have been a case of parts bin engineering.  But there's almost always room for one more of a popular model run, especially when you can plan on mostly home maintenance and a riding career's worth of trouble-free miles.  The black with white pinstripes was retro thirty years ago, and should really reach back when garaged with a splashy new BMW or two.
-donn