Here in the US, the entire class of 250cc two-stroke sportbikes was long nearly impossible to come by and, let's be honest, probably not much missed by the majority of the riding public. In a land of GSX-R1100s being ridden by guys who considered a mullet and wraparound shades to be adequate protection, the market for 45hp two-strokes was always going to be pretty limited. But if you were just the right kind of motorcycle enthusiast, it must have been excruciating to read about bikes like today's Kawasaki KR-1S in the pages of Fast Bikes and other European magazines of the period.
It's easier to get a number of these formerly forbidden fruits here these days, now that they're legal to import. After all, the Honda NSR250R was in production from 1987 until 1996 so, if you're not too picky about which particular NSR you get, it's not really all that rare a bike in its home market: nearly 100,000 were built in total. But Kawasaki's entry into the class is rare, even in Japan, and was only rarely seen outside its domestic market. And even then, just 10,000 were built between 1988 and 1992, the bike's entire production run.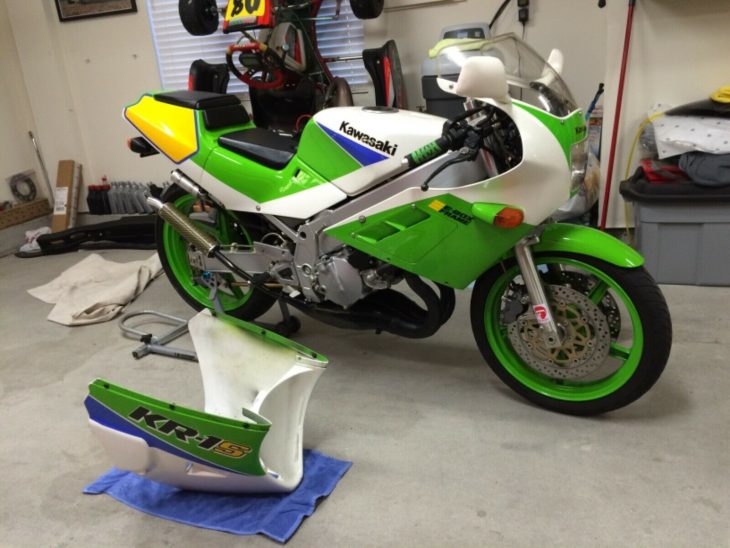 By the time the 90s had rolled around, Honda, Suzuki, and Yamaha had all shifted to v-twins, but Kawasaki stuck with a parallel twin configuration, with the engine hung completely beneath the typical aluminum beam frame of the class. Like every other two-stroke two-fiddy, the KR-1 was light, agile, and involving to ride. Technology in the hotly contested class was cutting edge, and Kawasaki brought their KIPS powervalve and a slick six-speed gearbox to the party. Power was officially limited to a government-mandated 45hp, but the bike was naturally capable of much more when derestricted.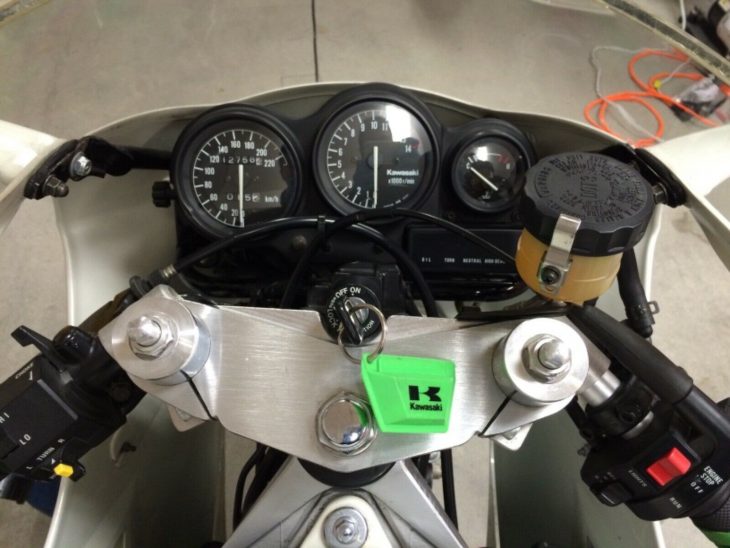 There were three versions of the KR-1 available: the base KR-1, the KR-1S seen here that included wider wheels at the front and rear, and a few hundred examples of the KR-1R that featured larger carburetors and a close-ratio gearbox. Top speed was a frankly incredible as-tested speed of 139mph!
From the original eBay listing: 1991 Kawasaki KR-1S for Sale
A Very rare 17 digit frame (Australia) CA titled 1991 Kawasaki KR1S 250 two stroke bike. Bike is in excellent condition. Bike will come with a lot of NOS parts and engine parts as well. Feel free to message me if you have any questions thank you very much.
The price for this two-stroke unicorn is a steep $17,900. Is it worth it? Well that's hard to say: if that Cali title is easily transferred and if that cache of parts is extensive, I'm sure it will be to the right buyer. You may have heard that there are lots of well-heeled enthusiasts here in California with more money than sense… If you're interested, move fast: there's just about one day left on this auction!
-tad