Update 9.27.2021: SOLD IN JUST 4 DAYS to an RSBFS Reader! Congratulations to buyer and seller!
If you have a bike for sale that would benefit from this kind of exposure, contact us for a Featured Listing. -dc
There are sport bikes, there are track day bikes, and then there are full on GP racers. Today's stunning Featured Listing is one of the latter. In fact, this RS125R represents the final build of the Honda 125cc two stroke bikes before the GP world turned to four strokes. And unlike some privateer machines which have been run hard, crashed often, rebuilt and thrashed again, this example is clean, complete, and rash free. If you are looking for that perfect man cave centerpiece, or if you fancy yourself some Valentino Rossi moves at your next track day or club racing event, you just might want to check this out. When you compare a kitted out street bike set up for the track, this 2006 Honda RS125 will stop quicker, handle better, and basically run rings around most non-race bikes for the same amount of coin.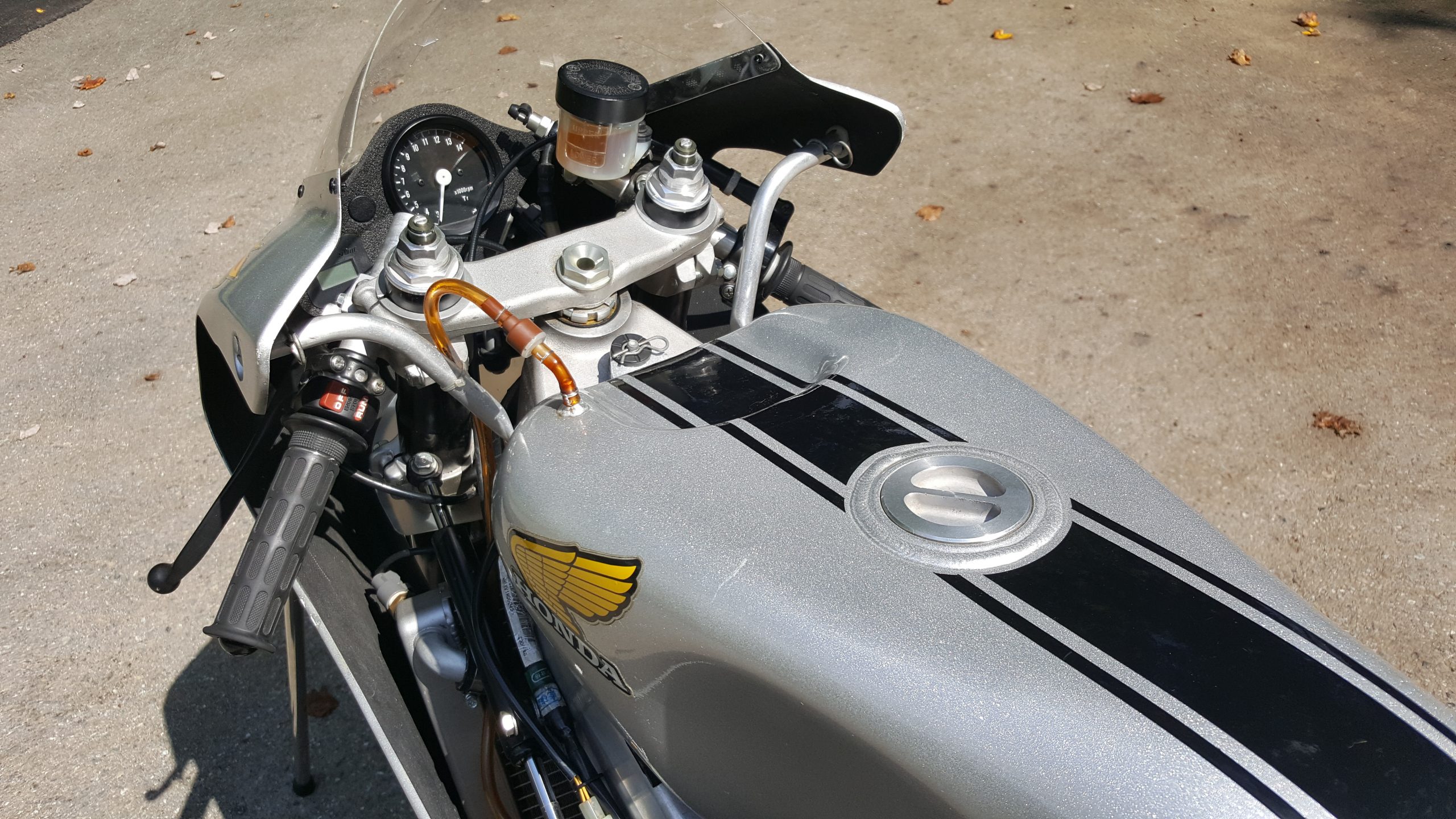 From the seller:
Last of an era. About the model..
Factory HRC RS125R Grand Prix racer. These bikes ended production in 2004 but were assembled and sold until 2009. The bill of sale I have lists this example as 2006. It was superseded in 2010 by the NSF250R which was largely the same save for the 250cc four stroke engine and beefier swing arm. Overall power was down on the 250 compared to the 125CC but torque was up, so was weight…

SPECS
bhp 45
Weight 158lbs dry (yes you read that right)
Fuel 100 octane minimum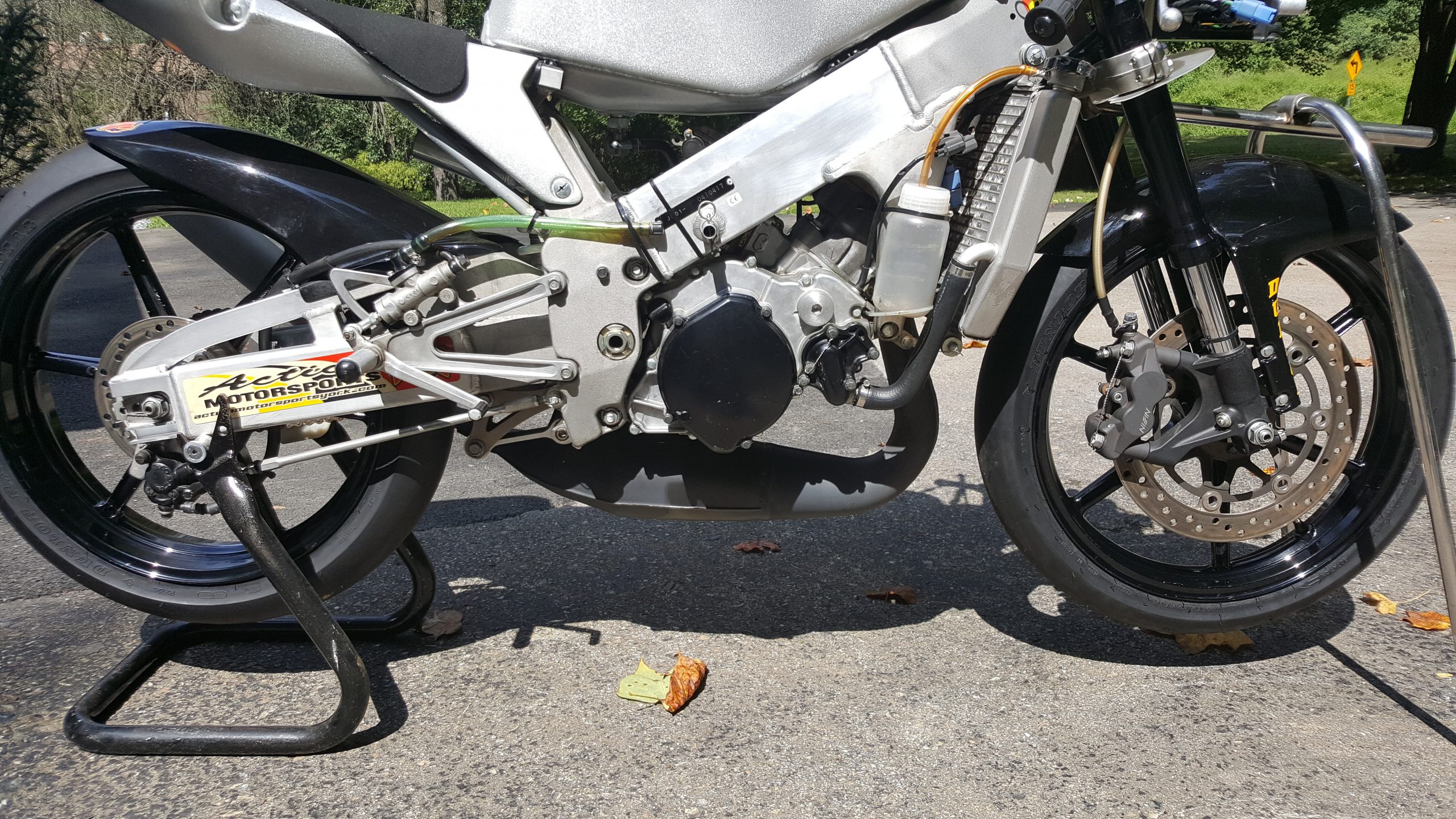 More from the seller:
Hello, you are viewing the last factory production two stroke Grand Prix road race motorcycle Honda ever made. These ended production in 2004 and were assembled and sold until sometime in 2009 without changes. It has a 125cc engine that makes 45hp and total bike weight of 158lbs dry. It requires premix fuel of 100 octane minimum. The engine was fully rebuilt at the end of its last racing season prior to my ownership. The only non-factory items are a VHM head, Moto Tassinari V Force reed valve, and Ceramic Wheel bearings. The bike is fully safety wired, and spares are readily available through several vendors in the USA.

I purchased this bike from a local dealership owner several years ago. His son had campaigned it briefly in the USGPRU series before outgrowing it and moving on to 600's. As you can imagine being owned by a dealer it has been professionally maintained. I can see no evidence that has ever been down. It has been properly stored on display by its two included stands in a heated garage. The included stands are an OEM rear, and Battle Factory Front. This is the nicest RS I have seen in the US that is not still new in the crate. If your intent is to collect, display and occasionally fire it up its good to go. If you plan to track day or race it competitively you will need a new set of tires, as the Dunlop slicks that are on it though brand new, are at least seven years old.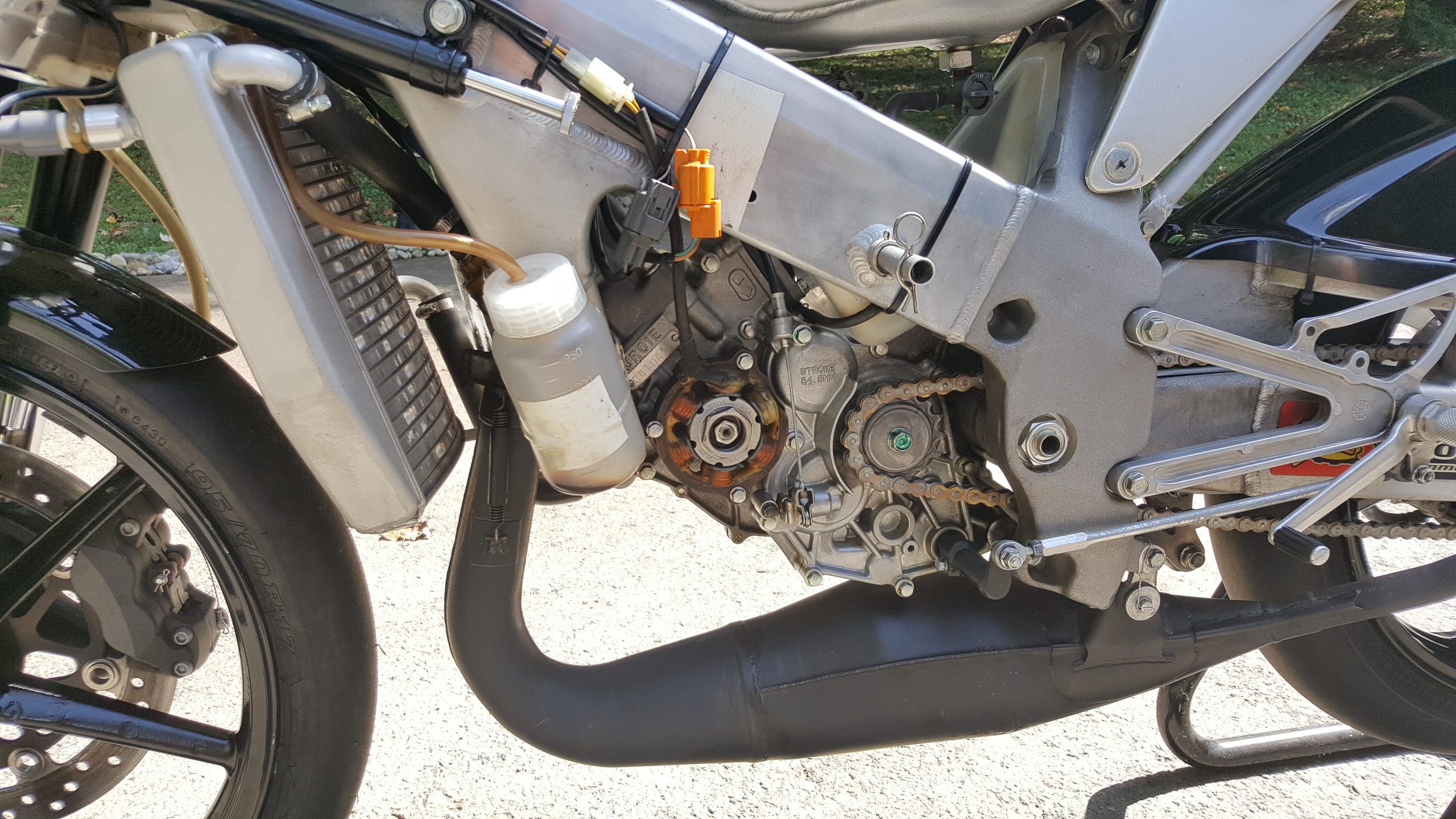 More from the seller:
The extent of my ownership has been display and yearly warming up, function checks, then back to storage.
I would consider there to be two flaws on this entire bike, one the OEM windscreen has a crack which was drilled to stop the spread, and is missing a chip in upper left the corner, two it has a quarter sized hole in the upper fairing where the front stand was incorrectly placed into the bottom of the steering head, which fell off and punched through. This is not visible from above. If your seriously interested I can provide more specific pictures or schedule a time to view this piece of history in person. My price is negotiable in person within reason. I would work with you if you wished to ship it within the USA at your expense. A bill of sale will be provided as these motorcycles were never issued titles. Bring a gallon of VP C12 if you want a ride!

Asking Price: $8,000
The Honda RS125R is a pretty special machine. A factory-built racer intended for the sharp end of the GP grid, the RS125R was a weapon in the hands of heroes such as current stars Andrea Divizioso and Tom Luthi, or past multi-time winners like Dani Pedrosa and Loris Capirossi. Today these bikes are relatively rare (especially in this condition), collectable, and yet still very usable. The aftermarket has taken care of the concerns regarding spares, meaning that this is artwork you can fire off in anger a few times a year without fear of irreparable damage. And as the seller states, being previously owned by a Honda dealer certainly helped with the current condition and setup. For an asking price of only $8k you get history, speed, and a seductive silhouette – a bargain even before you fire it up! Good Luck!!
MI