Introduced in 1989, the Cagiva Mito was restyled in 1994 by… Well you get three guesses. If, after a quick look at that front fairing and headlight arrangement, you guessed "Massimo Tamburini", you win a cookie! Either that or you're quick with a Google search…
Looking for all the world like a miniature, aluminum beam-framed Ducati 916, the Cagiva Mito was powered by a water-cooled 125cc two-stroke single that put 34hp through a 7-speed transmission. So it was a genuine miniature sportbike, not some feeble learner's tool: this baby 916 actually gave Valentino Rossi his very first title, in the Italian 125cc championship.
With no power to mention below 8,000 rpm and a redline at 11,400, it needs all seven gears to keep the power flowing. The bike is extremely narrow and your knees can nearly touch. Like riding a very angry mountain bike…
With the typical American aversion to anything two-stroke or under 1000cc's, these are exceedingly rare on these shores. In fact, the seller claims that only 25 were imported to the US, although I assume he's referring to this specific model year.
From the original eBay listing: 1995 Cagiva Mito for Sale
Designed by the late Massimo Tamburini is a pearl white 125 Cagiva Mito with an Evo1 motor (7 speed). It's powered by a 2 stroke racing engine that makes it a light, fast and a extremely nimble bike with a California pink slip and registered with custom CA plates. The mito was rebuilt from the ground up, every bolt, nut, and part is either brand new or professionally refurbished to better than new.

1 of 25 imported to America!
CA plated and current registration
Italian made using the best European race parts available.
Digital dash
Aluminium frame
Steering damper or dampener
Upside-down Marzocchi forks
Four-piston Brembo front brake caliper
Super light race fiber glass bodywork
updated Evo 2 wheels
De-restricted from Europe
Engine has been tuned and serviced by CN racing
As the seller mentions, he's updated this bike with Evo II wheels. This is a very cool little motorcycle, although why a bike from 1995 needed a "ground up" rebuild is something to ponder. These aren't the sort of bikes one does big miles on… The pearl-white bodywork with minimal graphics looks great: the original featured a good bit more badging and racy sponsor-decals. And that Vapor digital dash is very slick-looking.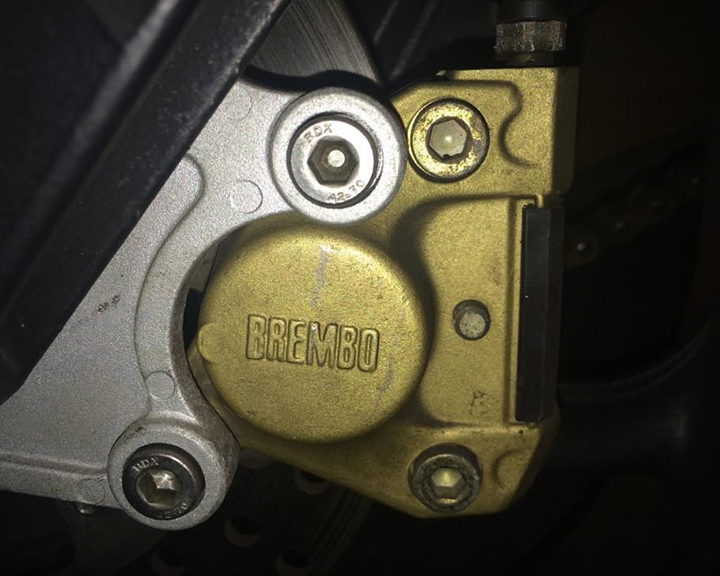 But it does beg the question: why? Was it crashed? The title is listed as being "Clear" so that increases confidence somewhat, and the bike does feature a California title and registration, also big marks in the "Plus" column.
There's a nice start-up video as well:
Bidding is active, although remains a bit low, and the Reserve Has Not Yet Been Met. There's a couple days left on this, so jump in if you've had a hankering to wind through seven gears and aren't put off bit a bit of cosmetic updates to your miniature masterpiece!
-tad