Warning!
This post is in our archives. Links in this post have been updated to point to similar bikes available to bid on eBay.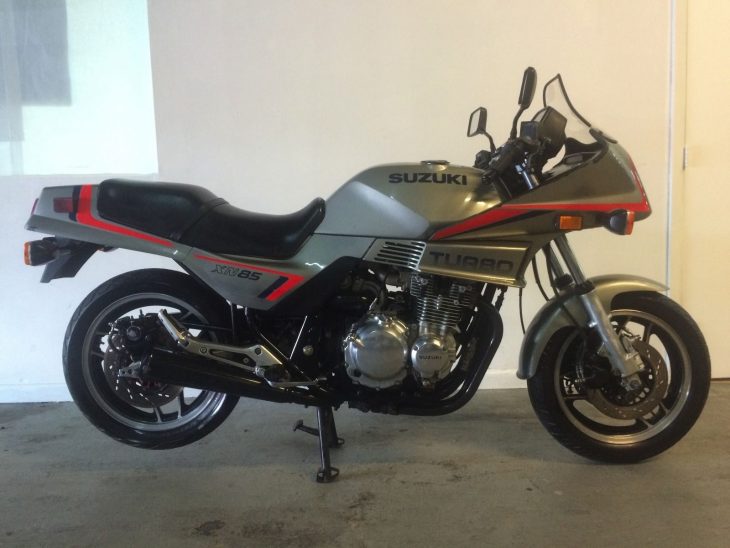 The Eighties were a wild time in terms of motorcycle development. Manufacturers experimented with all types of engines, suspensions, chassis, materials and design. Like Darwin's theory of Natural Selection, those bikes best suited to their environment survived; other, less fortunate machines fell to the onslaught of progress. This 1983 Suzuki XN85 Turbo is one such casualty. Offered only in 1983 (in the US at least – the model actually survived 3 total years of worldwide production), this rare bird is the rarest of the factory turbo bikes, and offers a terrific glimpse at how hard Suzuki was working at evolution.
Powered by an air-cooled inline four-cylinder displacing a mere 650cc, the addition of fuel injection and an IHI turbocharger maxing out at approximately 12 PSI of boost upped the ante considerably. Still, the XN85 is not the most powerful of the turbo set; while the "85" in the name is supposedly the horsepower figure, that was optimistically taken at the crank. Real world numbers are closer to 70 ponies at the rear wheel. Notably, the XN motor incorporates oil injection on the backside of the pistons – a feature that was enhanced to become the SACS system on the air/oil cooled first generation GSX-R750 models.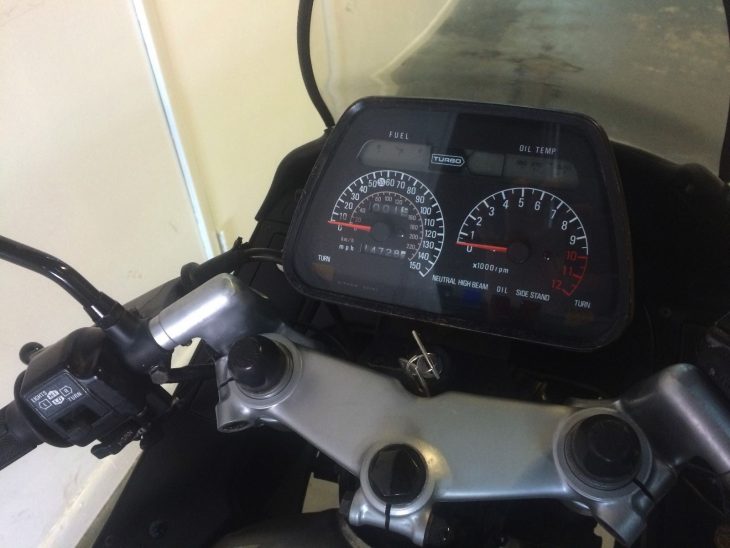 From the seller:
1983 Suzuki XN85 turbo. 14800 Original miles. The motorcycle has just come out of long term storage. All fluids changed and fully serviced. Runs beautifully. A few marks and dings on the tank, because the previous owner stupidly piled items haphazardly around and on the bike.
Outside of the novelty of the Turbo setup, the XN85 was also the first US street bike to incorporate a 16″ front wheel. This GP technology was based on the fact that the smaller diameter wheel developed a smaller gyroscopic force, enabling quicker handling. While this fad was later reversed due to better suspension, tires and frame geometry, the XN85 was considered one of the best handling sportbikes of the day. Wrap it all up in futuristic-yet-minimalistic bodywork and you have a rare piece of ride-worthy sculpture.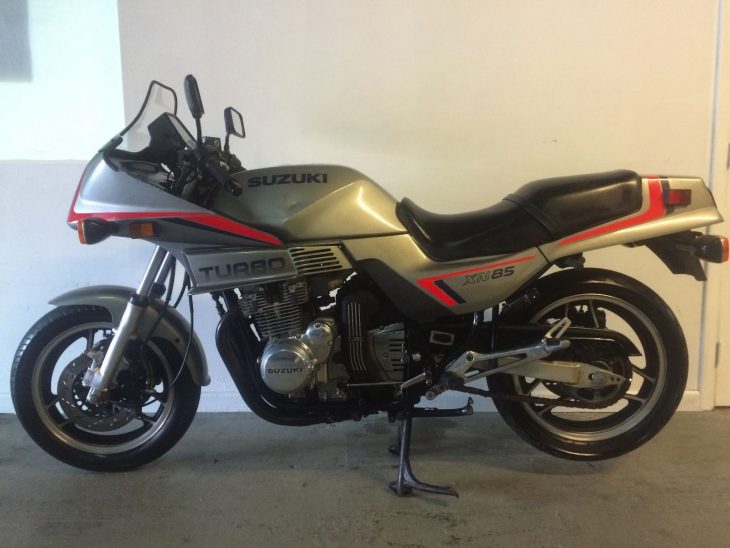 This bike is located in Florida and is looking for a new home. XN85 machines are not like other Suzuki products; parts are hard to come by, with many no longer in stock/available. If the foundation is good, the cosmetics can be repaired. Tire selection is quite limited these days due to the 16″ combination, but they can still be found. The Suzuki XN85 Turbo is an interesting machine in concept, a great looking bike in person, and a terrific machine to ride. Prices really have not risen much over the years, so this may be a future collectable as well. Check it out and let us know what you think!
MI