Warning!
This post is in our archives. Links in this post have been updated to point to similar bikes available to bid on eBay.
Every post will be sent right to your inbox every morning when new posts are made. We will never sell our list or spam you. Plus you can click links to bid or buy right from the email and skip the site entirely. Subscribe to Rare SportBikes For Sale today!
Here is a 1st gen CBR900RR/Fireblade with the desirable blue and red bodywork.  Although these were produced in large numbers, they 1st gen has started to appear on a lot future classic lists and collectors are starting to snap them up.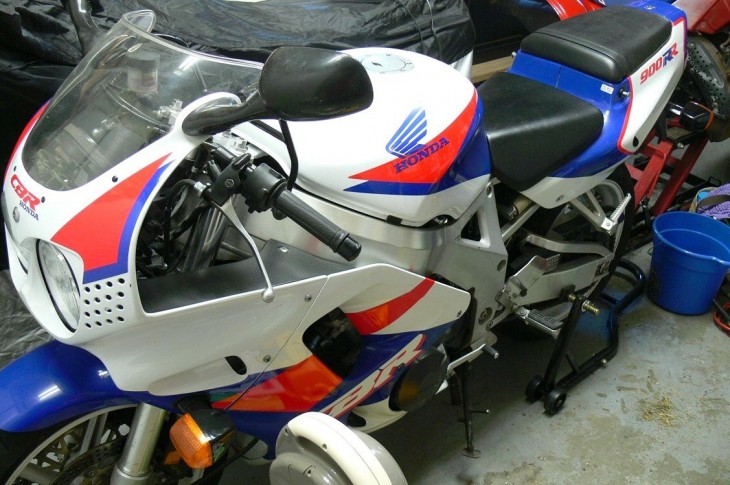 As noted in the ZX-9R post earlier this week, when the CBR900RR/Fireblade came out it was a hammer blow to both the 750 and 1000cc market segments. Led by design chief Tadao Baba, Honda created something not seen before;  a ultralight 899cc inline 4 powered motorcycle that weighed no more than the competitions 750cc models.
NOTE: For anyone who is interested/unfamiliar with the story behind the genesis of the CBR900RR/Fireblade, there is an excellent write up of the development history of the CBR900RR at sportrider.com.
The CBR900RR/Fireblade not only made a lot of 750cc bikes look slow, it also made most 1100/"big-bore" bikes look overweight.  The CBR900RR/Fireblade was 75 pounds lighter than the Yamaha FZR1000, 114 pounds lighter than the Suzuki GSX-R1100 and an astonishing 144 pounds lighter than the Kawasaki ZX-11.
Reviewers gushed about the CBR900RR/FireBlade, naming it bike of the year in 1993.  The bike won reviewers and riders over not by excelling in one category but in almost all categories; more power than a 750, more comfortable than any other "repli-racer" currently on the market (especially when compared to the GSX-750R), lighter and more agile than anything in the 1100cc class, and typical Honda excellent build quality
This particular CBR900 has a fairly low 13,000 miles but isnt perfect and has had multiple previous owners.   Also it would be good if more pics were available but the seller indicates he can provide these to interested parties.
Here is what the seller has to say:
Not in off the showroom condition, has some marks on the plastic

2 small cracks one behind the seat and one on the right rear

would have the carbs cleaned if you win the bike

the stator cover has some marks on it as well-the owner before me said it was not down but I can not say for sure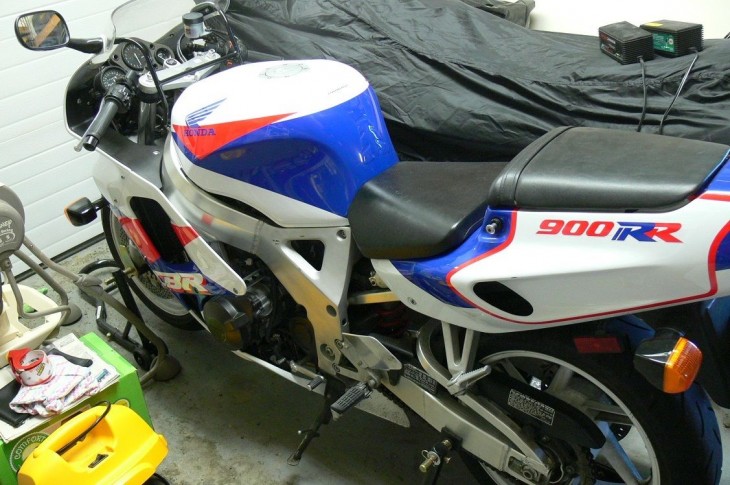 Previous posts for these on RSBFS seem to show a price hovering between 3-5000 USD right now and given the condition of this one, I would think somewhere in the middle of that range will get someone this bike.  Carbs would need to be cleaned, and probably fresh fluids, pads and rubber too but the seller indicates they will include a fresh battery.
I know some RSBFS readers will say that the CBR900RR/Fireblade bike isn't really a rare sportbike due to the high number produced.  But people used to make the same argument about the 1st generation Suzuki GSX-750R and now thats considered a classic rare sport bike.   Like the GSX-750R, the CBR900RR/Fireblade really shook up the motorcycle world when it was introduced.  It wasn't that many years ago that you could get a 1st gen GSX-750R really cheap but thats all but impossible now.  1st gen CBR900/Fireblades seem to be another bike that is starting to climb quickly in value and desirability for collectors (there is even one at the Barber museum).  This may be a rare opportunity for collectors and/or fans to get one in the desirable blue and red bodywork while prices are still pretty reasonable.
-Marty/Dallaslavowner