By now the Formula USA / Xtreme race series of the late 1990's is a distant memory, when factories and privateers brought pretty much their wildest dreams to the track and went head to head.  Rob Muzzy was merely a legendary race tuner and team manager back then, and after many year preparing Kawasakis for AMA Superbike icons like Scott Russell and Doug Chandler, Muzzy developed his own ZX-7R-based machine.  Expanding the displacement to 835cc and making substantial changes to the chassis, the Muzzy Raptor was made in homologation quantities only, instantly successful, and now almost unobtainable.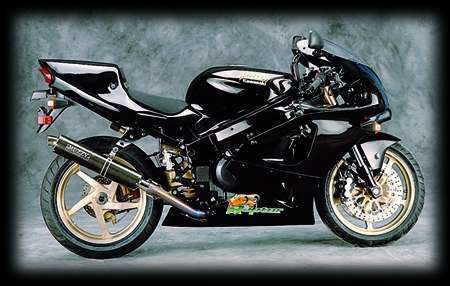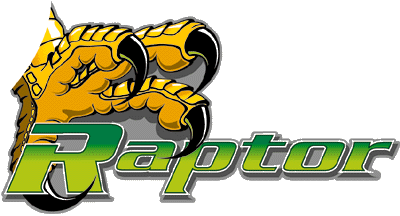 A brand new ZX-7R disassembled at the Muzzy facility in Bend, Oregon, the bike would be treated to gear-driven cams, titanium connecting rods, and a lightened crank.  The bespoke engine made in the vicinity of 165 hp.  The Kawi swingarm was replaced with an adjustable single-sided magnesium casting, and Ohlins shock added.  Up front Muzzy's own adjustable triple clamp held 48mm KYB forks, again tuned by Muzzy.  Brakes were updated to 320mm A-P disks with 6-piston calipers in front, 270mm rear.
Borrowing the reptilian expression of the ZX-7R, Muzzy's design for the carbon bodywork improved the ram-air inlet and reduced drag.  The Marchesini magnesium wheels are wide, 3-1/2 inch in front and 6 inch rear.  Exhaust was replaced by a 4 into 2 titanium system into 1 carbon muffler.  Without fuel the bike weighed only 355 lbs.
The auction has only one photo, and states that this is chassis number 0001, and the bike has been on display since 1,200 miles.  From the eBay auction:
This is a great opportunity for a motorcycle collector. This machine is the first production MUZZY Raptor and was featured in many magazines and television shows. It has been kept in Rob Muzzy's private collection and now available for the first time. This bike features the adjustable swing arm pivot and steering head pivot as the race bikes. It also features the Magnesium single sided swing arm. The engine is the full kitted 850cc. Don't miss out on this opportunity.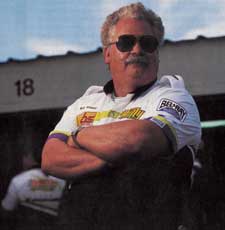 Not really for the road and certainly not for a less than expert rider, this is the real deal, requiring more of a team concept to set up and run seriously.  While better documentation would have been nice, the mechanical basis is well known, and this unicorn has been in so many of our bedtime stories that we have a good idea what to expect.  Hard to say how many of the possibly 50 bikes have survived, but the company is collecting information about a possible ZX-12 based Raptor here.  Rob Muzzy's next project was drag racing, a no-nonsense arena brutal on the equipment, where his teams have won multiple championships.   An appreciable amount of information about the Raptor is available, but any collector seriously considering this bike will likely send his mechanic out to Bend to take a look.  And maybe come home with a trophy, numbered 0001...
-donn