6.29.2019: This bike has SOLD! Congratulations to buyer and seller! -dc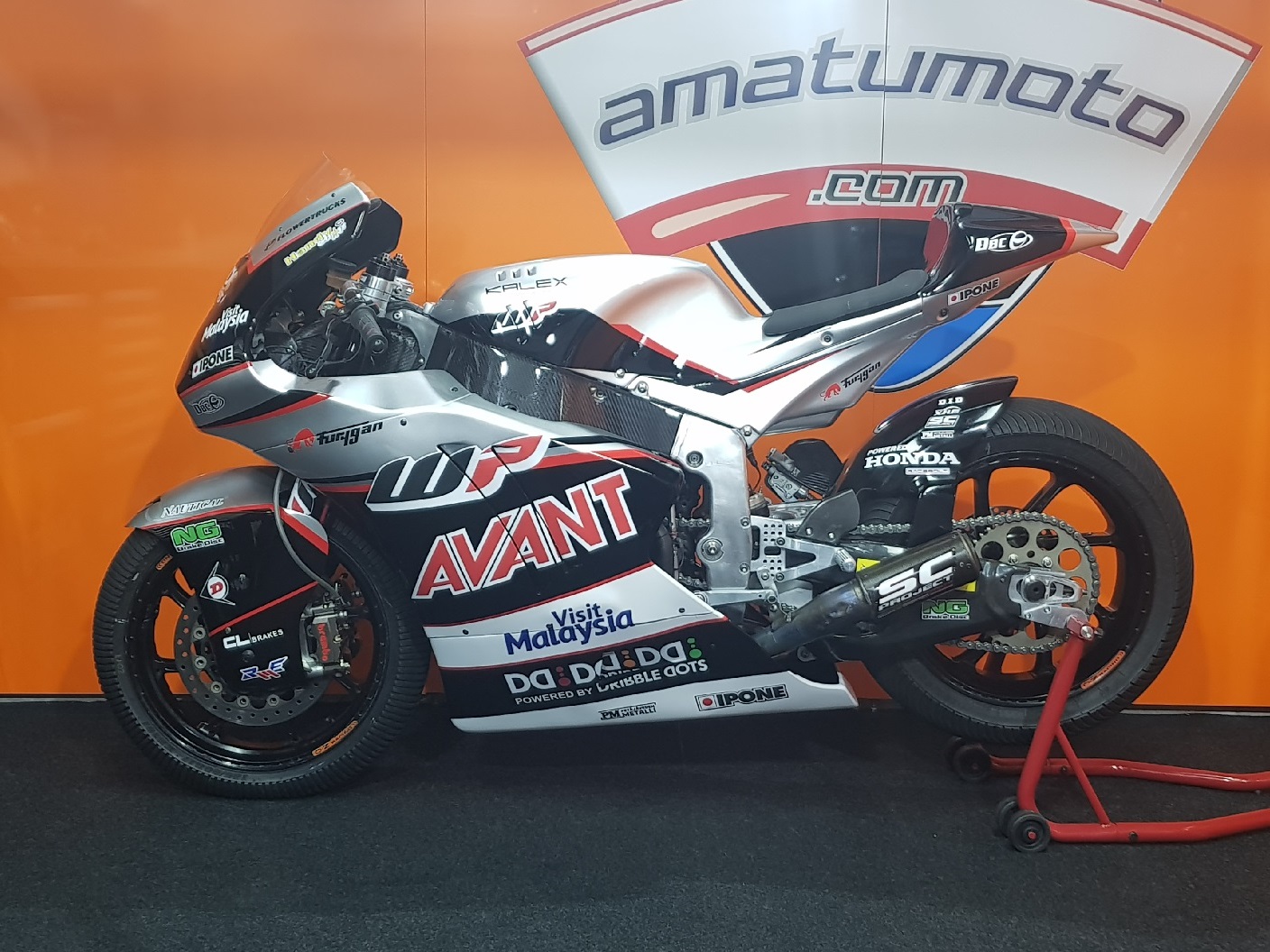 If you are looking for the ultimate collector, why would you settle for a watered-down street bike when something better is available? What is better you may ask? How about a complete and current Moto2 GP machine with a world championship winning Kalex frame, fully race prepped Honda 600cc engine, and top line competitive components and electrics throughout. How could that not strike your fancy?
If you can get past the "oh my God, this is an actual Moto2 machine" there are myriad details worth diving into. It is easy to get lost in the whole, but just check out the individual parts that go into this racetrack rocket: From the radial-mount Brembo front brakes heavily streamlined by the front fender to the tiny rear caliper hidden under the swingarm; from the exquisite carbon fiber swingarm cover to the (seemingly) rudimentary carbon dash and minimalist display; to the obviously used and adjusted WP front suspension atop the gorgeous milled triple trees to the trick rearset adjustment range; from the beautiful aluminum twin-spar frame to the even more beautiful aerodynamic carbon fiber bodywork. Did you miss the integrated electronics? The super-tucked-in exhaust? The race pattern quick shifter? What is there not to love? And here is a fun fact: according to Kalex each chassis contains approximately 33 feet of welds!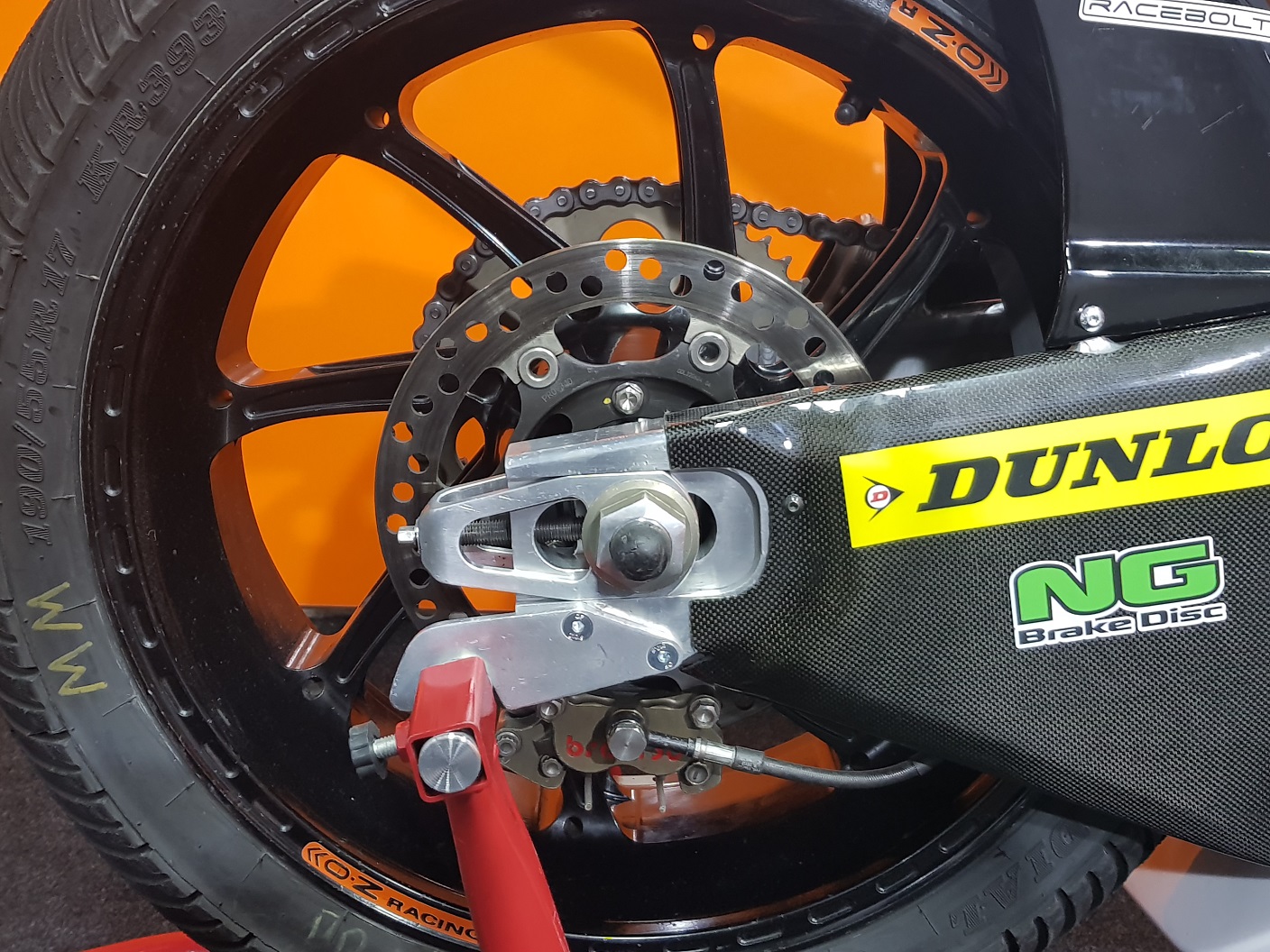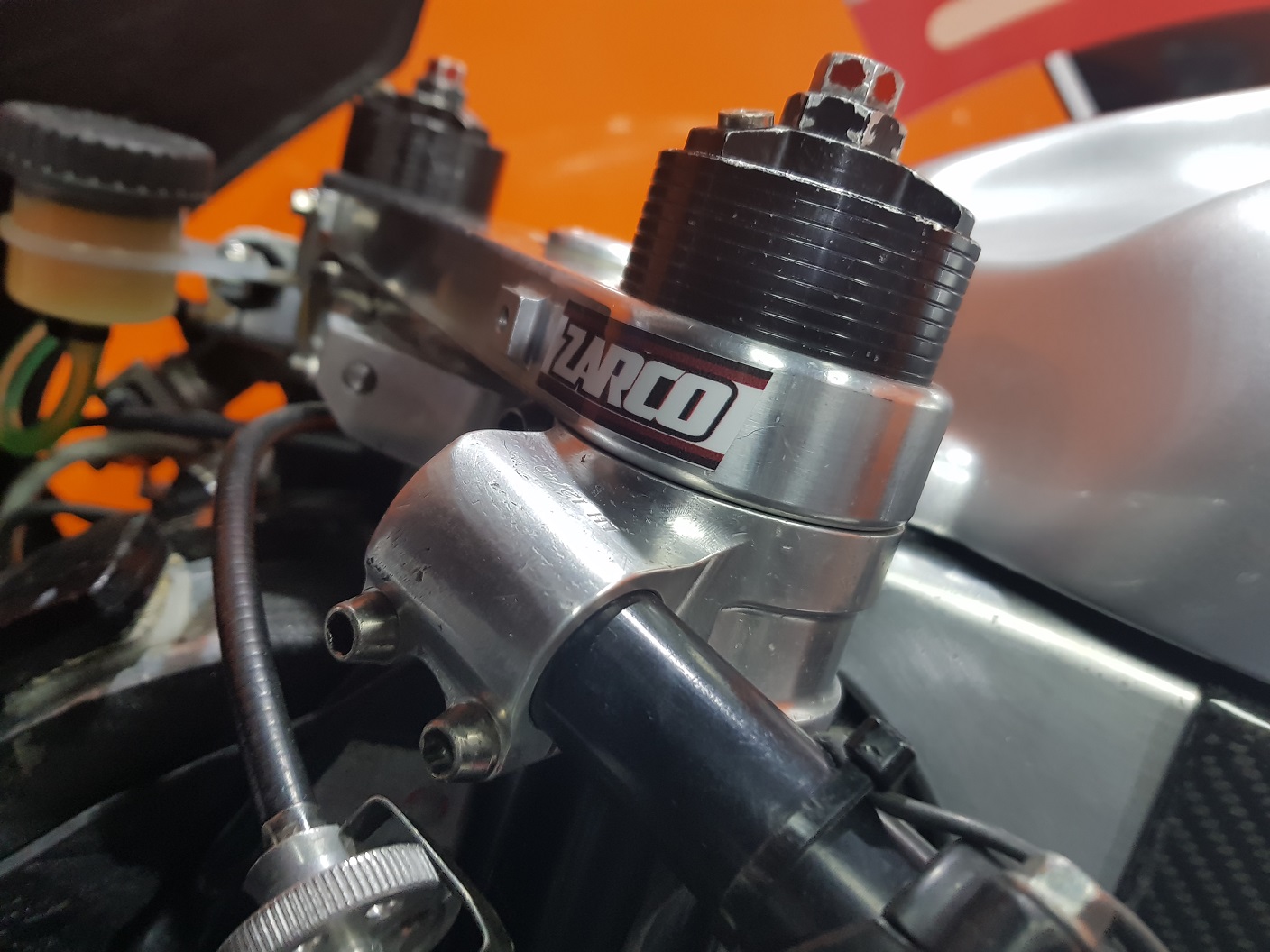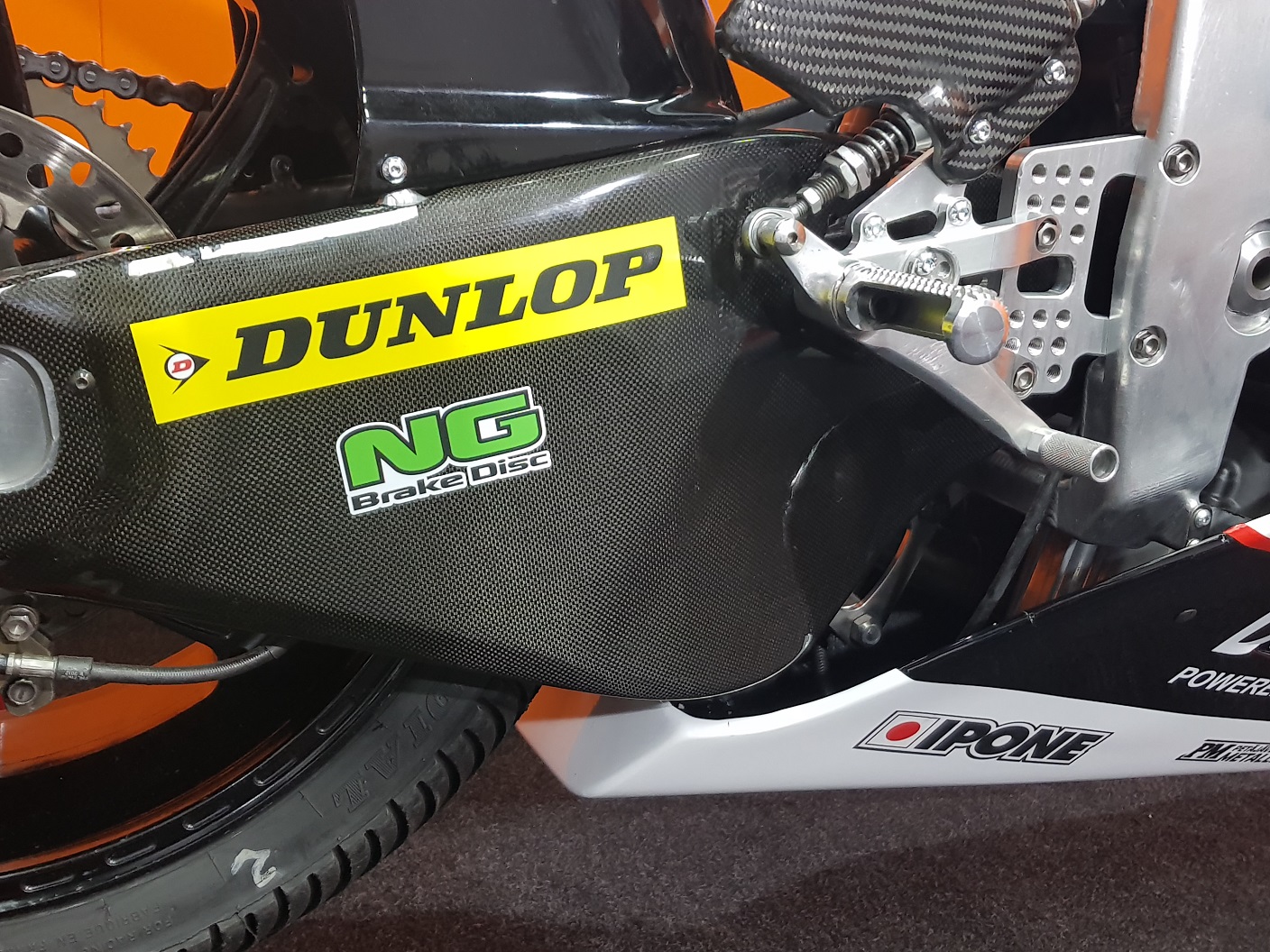 From the seller:
We took delivery of the bike here in Florida in April and I had the privilege of testing it at at track day two weeks ago at PBIR; put in about 20 laps. The bike is really impressive; substantially lighter than a track prepped / CCS/WERA SBK R6; the WP suspension front and rear was set up by our technicians in Barcelona very neutral straight out of the box; the long carousel turns allowed for smooth 2 wheel drift and powering out of the turns; likes to be backed into sharp turns; the frame as expected is crisp and v. responsive; riding position is comfortable for a 5'10" guy and in fact there was more room in the saddle in comparison to R6, ie the bike sits a bit longer; performance was impressive on the top end. The Kalex has spent a lot of time in the wind tunnel with dramatic notable higher top speed by 10-15 mph over the SBK R6's ( perhaps the biggest surprise ); when in the full tuck position wide open in 6th gear, dropping your head below the windscreen to rest on the tank was without any wind noise or buffeting; exhaust tone is Moto2 perfect; Shifting is crisp; clutch has more weight on it than stock Honda but is still easy and precise; brakes were excellent as anticipated without fade.
More from the seller:
Sale comes with extra set of fork and shock springs, front and rear sprockets and set of both rain & soft compound Dunlop Moto2 race tires ( scuffs) ; spare OZ wheelset available for additional modest charge.

Dunlop USA was at the track with us for support; The Dunlop Moto2 rear tires are a 195 / 75R 17 ; The Moto2 tires are not directly available to the general public and more importantly, they are designed for 50+ minutes of extreme use; Great tire for endurance racing but for sprint racing in USA and or track days, the bike will be better off on sprint rubber; for rear tire, Dunlop recommended their 2662 soft compound in a 200 / 55R 17 for the same rolling diameter and better grip. (front is the same size 120/70 17); Obviously, other brand tires would work too.

Contact: info@gpmotorbikes.com

With the advent of the Triumph 675 era of Moto2, Honda-powered Moto2 machines are slowly trickling into the market. This German made Kalex chassis is the real deal in more ways than one. Firstly, Kalex has more Moto2 championships between riders and teams than anyone in the business; you are looking at the best of the best. In fact, this is a race machine that you can still get parts for, as Kalex continues to do in-house manufacturing and shipping of new bikes and spares. And speaking of spares, this machine comes with sprockets for gearing changes, as well as additional fork and main springs for tuning (we can't all be at our 18 year old race weight these days…). An additional spare set of wheels is also available for an additional cost. Drool through the pictures, and then jump over to the Amatumoto Grand Prix Motorbikes store for more details. Good luck!!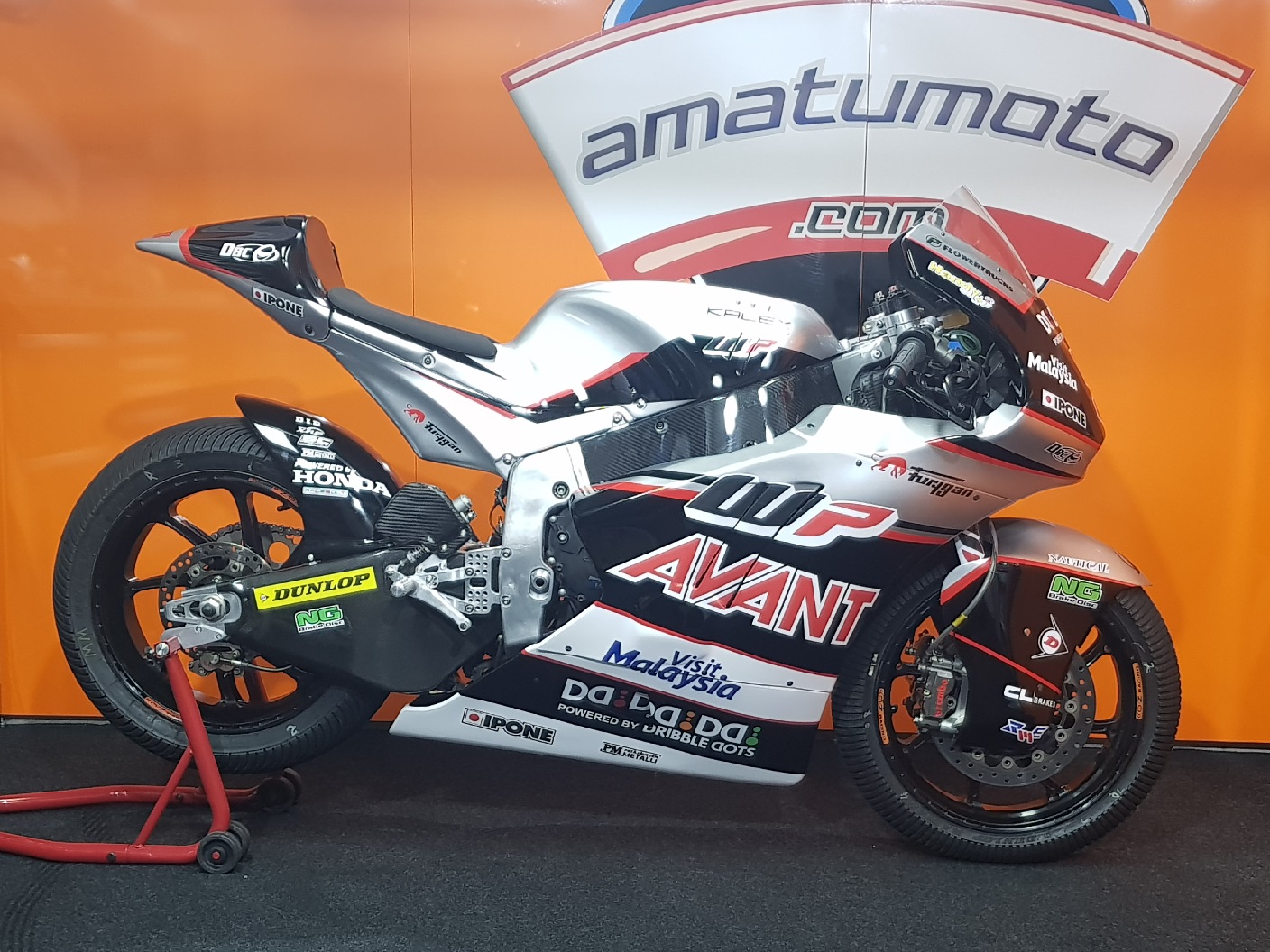 MI