Warning!
This post is in our archives. Links in this post have been updated to point to similar bikes available to bid on eBay.

http://ebay.com/sch/i.html?_dcat=6024&_fsrp=1&_sop=3&_nkw=(r1100s%2C+r1200s%2C+fzr%2C+ducati%2C+aprilia%2C+bimota%2C+cbr%2C+cb%2C+rc51%2C+rc45%2C+rc30%2C+vfr%2C+yzf%2C+fzr%2C+ninja%2C+rd%2C+rz%2C+rzv%2C+rg%2C+rgv%2C+rare%2C+two+stroke%2C+guzzi%2C+yamaha%2Czx%2C+zxr%2Cgsx%2C+gsxr%2C+nsr%2C+tzr+)&_sacat=6024&_from=R40&rt=nc&Model%2520Year=1977%7C1978%7C1979%7C1980%7C1981%7C1982%7C1983%7C1985%7C1986%7C1987%7C1988%7C1989%7C1990%7C1991%7C1993%7C1994%7C1995%7C1996%7C1997%7C1998%7C1999%7C2000%7C2001%7C2002%7C2003%7C2004%7C2005&LH_TitleDesc=0&Make=Aprilia%7CBenelli%7CBimota%7CBMW%7CBuell%7CDucati%7CHonda%7CMoto%2520Guzzi%7CMV%2520Agusta%7COther%2520Makes%7CSuzuki%7CYamaha&mkcid=1&mkrid=711-53200-19255-0&siteid=0&campid=5336491866&toolid=20008&mkevt=1&MBDACmisc=1t9Bzlh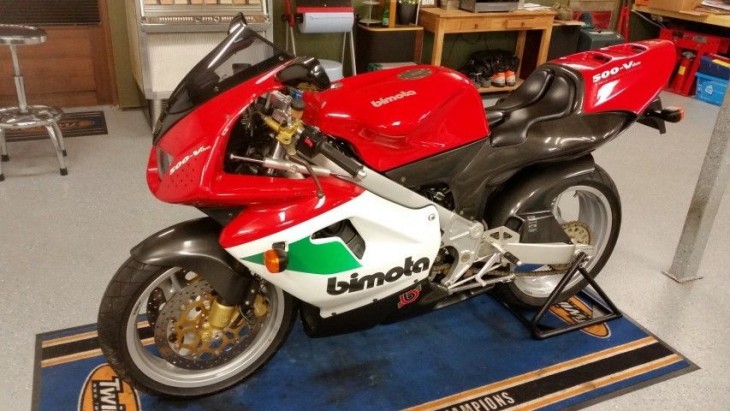 Back in 1997 the VDue (pronounced "Vee-Doo-A") was supposed to be the Bike that pulled Bimota out of debt and back on the map.  The idea was great; a fuel injected two stroke that offered riders the power of a 500cc two stroke without the peaky two stroke power issue.  But as anyone familiar with the VDue or regular readers of RSBFS know, exactly the opposite happened and the VDue was pretty much a disaster.
The VDue had several problems, including typical manufacturing quality issues from a small Italian company (including spares availability).   But the biggest problem was the Fuel Injector system never worked correctly.  The bike struggled to run smoothly and couldn't pass USA EPA standards.  Bimota was forced to ditch the novel fuel injection system and offer bikes with carburetors, which kind of defeated the point of the motorcycle.
Faced with another hit to their reputation (the preceding Tesi effort had also been a sales disaster), Bimota was struggling and then during the 2000 World Superbike season one of Bimota's main sponsors disappeared while owing the company a great deal of money. The combination of events forced Bimota to file for bankruptcy and close their doors.  The remaining VDues were locked in the factory but eventually acquired and sold off to a combination of collectors and enthusiasts who continued to work to improve them.
Note:  An excellent write up on the VDue can be read on oddbike.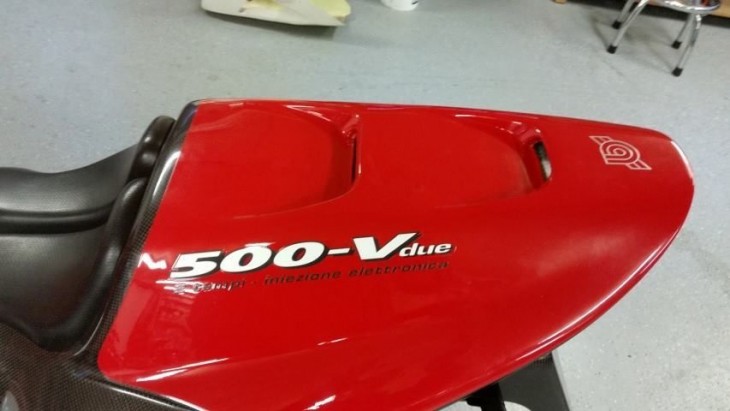 This particular VDue appears to be completely stock, which means it would likely still have the running issues the bike is known for.    The seller states that the bike only has 20 miles on it but unfortunately doesn't include any pictures of the dash mileage indicator gauge so this would need to be verified.   The bike is located in the Netherlands so asking prices will be higher than places like the USA.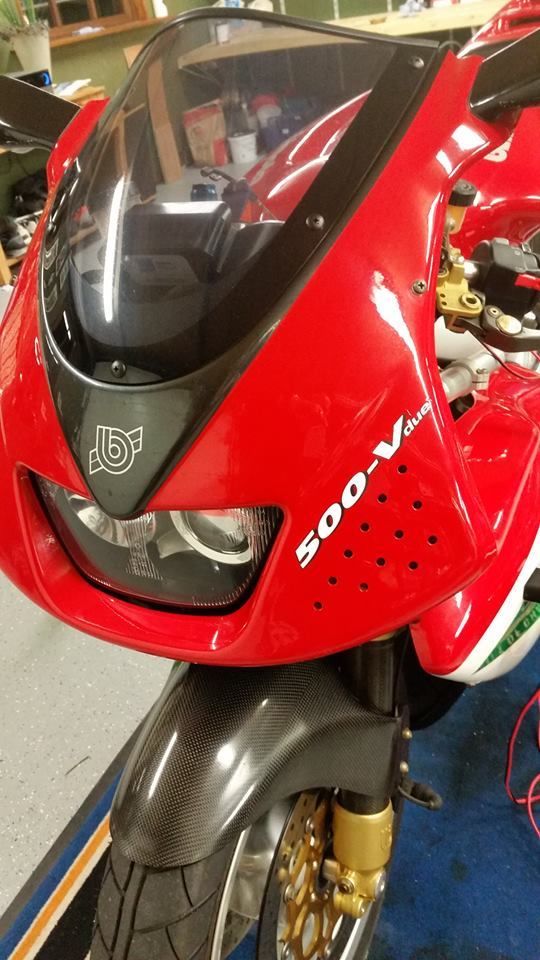 The asking price for this VDue is between 25-30 USD which while a lot, is actually in line with previous auctions.  Now I know that amount of money could get you something like the Yamaha R7 OW02 we listed earlier this week .  Also while this bike would not be able to be ridden right away.   So why would someone pick this over the OW02? Simple- based on the prices we have seen these listing for, these bikes are already starting to appreciate/values are going back up while bikes like the OW02 remain flat or are still declining.
The rise in asking/sales prices is probably due to several factors, including age and rarity.  But I have noticed that the VDue does seem to be a halo bike/"the-one-bimota-I want" for a lot of people (including Isle of Mann rider Guy Martin).  This is kind of interesting because since Bimota was restarted in 2003, their Ducati and BMW powered machines have gotten excellent reviews and parts availability/maintenance is no longer an issue.  Perhaps its a case of succeeding by failing first; the Bimota VDue failure made people believe that the company operates with an eye for passion as well as a desire for profitability.