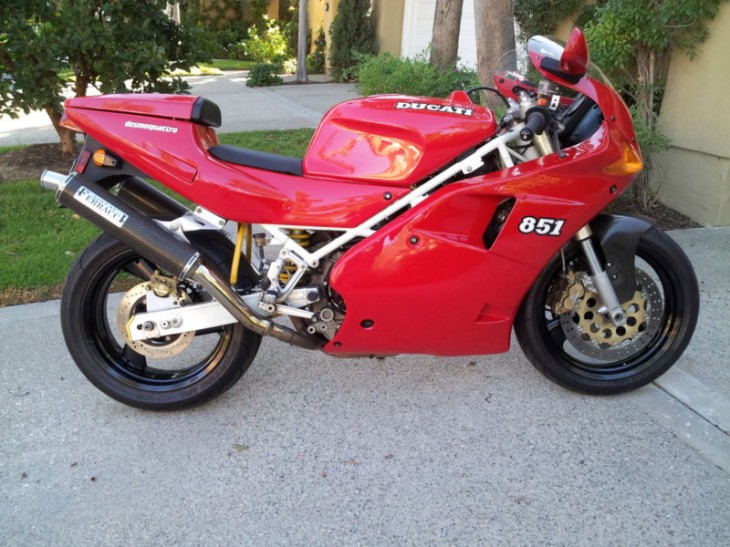 Today's 1992 Ducati 851 might show 22k miles on the clock, but that's about the only place she reveals her miles. The seller notes plenty of thoughtful maintenance and subtle upgrades, and the only blem is a tiny crack in the lower fairing. It's a no reserve auction and the opening bid is waiting at just $6500.
dc
from the seller:
I bought this bike a little over a year ago, with the intent of never selling. I searched for about 5 months to find the right bike. I have four other Ducatis, and now have my eye on an airplane – so now one or two of the bikes must be sold.

CONDITION:
Overall this bike is in excellent condition. I am extremely fastidious about maintenance on all my machines and keep them spotless and waxed. That said, it is a "rider", not a showroom queen. It gets ridden regularly – about twice a month, and has always been kept in my garage under a cover. The bike is insured and I have the Title in my hand.

The bodywork is superb – all paint is shiny but has a few nicks in various places – but no scratches. Far above average for a 20 year old motorcycle. There is one crack in the bodywork – see foto – on the bottom of the right fairing. It was there before purchase, and the previous owner bought that way as well. There is no evidence of going down anywhere on the bike. The bike has never been down or raced to my knowledge – and I asked before buying…
All fluids are fresh and or bled. New filters, new clutch, new O-ring chain and sprockets.
Since purchasing, I have gone completely through the bike either to correct small items or adding aftermarket upgrades – listed below. All upgrades were to enhance appearance and/or function without detracting from the character of the bike. All items function correctly, all bulbs light. Bike is not perfect, but it is very, very close.

Metzler Sportec tires, less than 1000 mi
Shiny Carbon Fiber – Front Fender, Belt covers, countershaft Sprocket cover, Rear "Hugger"
Stainless front brake lines
Brand new Barnett Clutch – just installed
Speedy Moto Clutch cover
Speedy Moto pressure plate with stronger springs (Stock items included)
Lightweight aluminum clutch Hub
Nichols Motorsports Engine Bolts
Ferraci slip Ons, Ferraci Chip, K&N AirFilter (Don't have Airbox lid) – starts excellent, runs clean to redline
New Grips and Bar Ends
Front / Rear Brake lines / Clutch bled with new DOT 4 fluid
Clear Zero Gravity Windscreen
Odyssey dry cell battery
New 520 racing Chain conversion – DID O-ring chain, hardened sprockets
Forks were just re-built due to leaking seal. Full slider polish / new fluid. Stock internals.

Note: With the airbox lid gone, the hoses from the front "ducts" are gone as well. The engine breathes better with the open top airbox and the sound is really superb.

ADDITIONALLY:
The rear stand comes with the bike, but if you are out of the area, you must consider the shipping method / cost(s).
The rear has aftermarket turn signals that I never liked, but the stock ones look worse, and I haven't found anything I like better…

This is a NO RESRVE Auction. I list at slightly below fair market, and let bidders dictate price. Your Bid is a Contract – decide before you bid.

The bike is avail for viewing in Irvine, CA. Contact me for a time. You can even ride it – with a $7000.00 cash deposit resting in my pocket.