Yamaberg? Husaha?  TZ Framed/Husaberg "Supermono"  Single Racer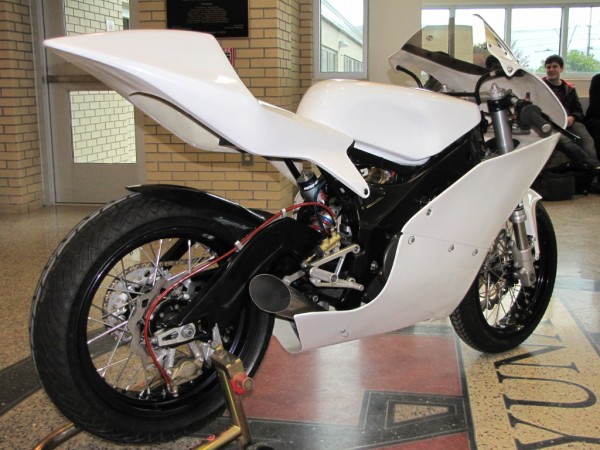 Here is a little gem I found while lurking in the USGPRU Forum.  It's rare because:  well, there isn't another one on the planet.  We don't usually post builds but the stars aligned:  the boss is away drinking margaritas, I like small cc bikes and it looks like a nice build.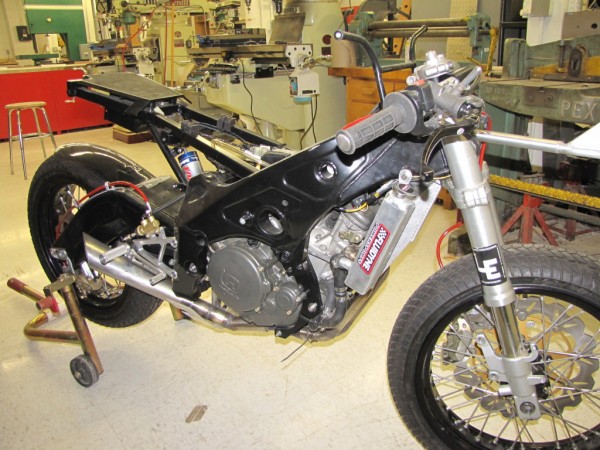 Yeah, get naked baby.
Here are some specs on the bike:
CHASSIS:
1991 TZ 250 4DP frame and swing arm
Powder coated black by Powder Tech
SUSPENSION:
Front:
1998 4DP forks rebuilt by Lindemann Racing
BN Lindemann Springs for the forks for a 200lb rider (not installed)
BN fork seals (not installed)
Rear:
Fox Twin clicker (Built for the 4DP)

Motor:

2006 Husqvarna TE 450 Bought from Fast by Ferracci it was never used so the only time on this motor is the dyno pulls.
Custom radiator built by Fluidyne power sports
Carburetor :
Keihn 41mm with TPS
Power now bell mouth
Power Now Power shot
Electronics:
OEM Husky CPU
Vortex Ignition X10 (change maps on the fly)
This bike is electric start and has a new gel cell battery in it
Exhaust:
Custom SS with megaphone

Body:
Airtech: Honda RS250 A kit bodywork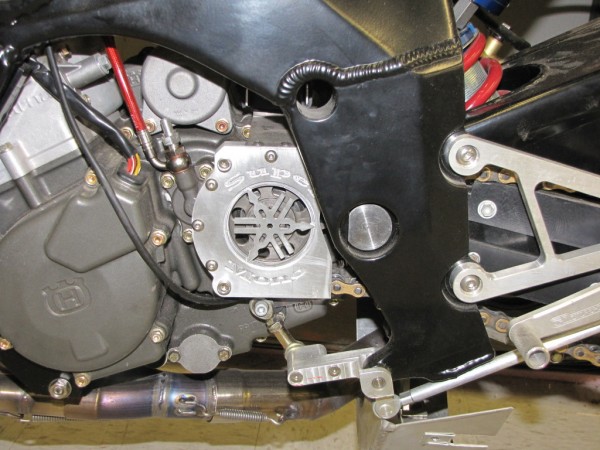 I know the Husaberg engine is no slouch in the woods but an interesting choice for a singles racer.  With Moto3 going to singles I bet we will see more builds like this crop up.  There are already kits out there where you can convert your 450 motorcross bike to a singles racer.
The seller is asking $5,000 for his creation.  You can see the thread about the sell here.  The seller also has a website with more pictures of the build.
Ian