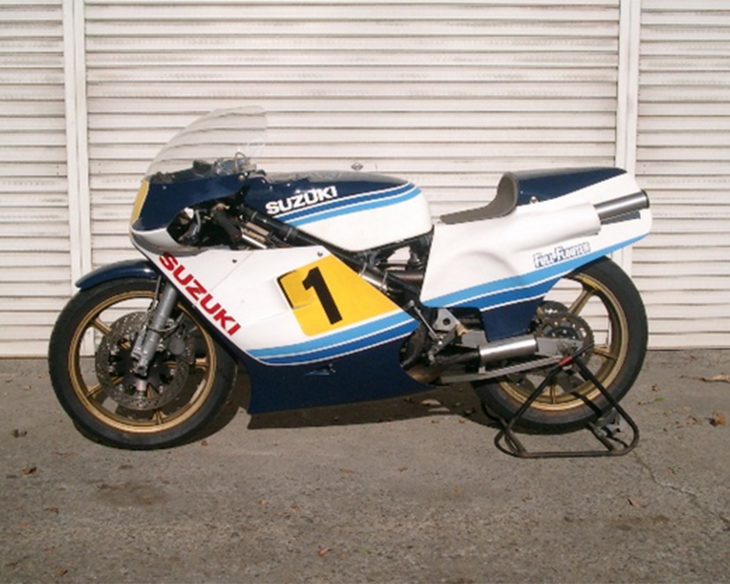 This time of year, really interesting sportbikes can be a little thin on the ground, so our online searches naturally take us farther afield. In this case, all the way to Japan for a 1983 Suzuki RGB500 that was the Grand Prix racing inspiration for the two-stroke RG500Γ. This Mk8 version was highly-developed, although the earliest iterations of the bike were notoriously brawn-over-brains machines, with plenty of power but sometimes terrifying high-speed handling…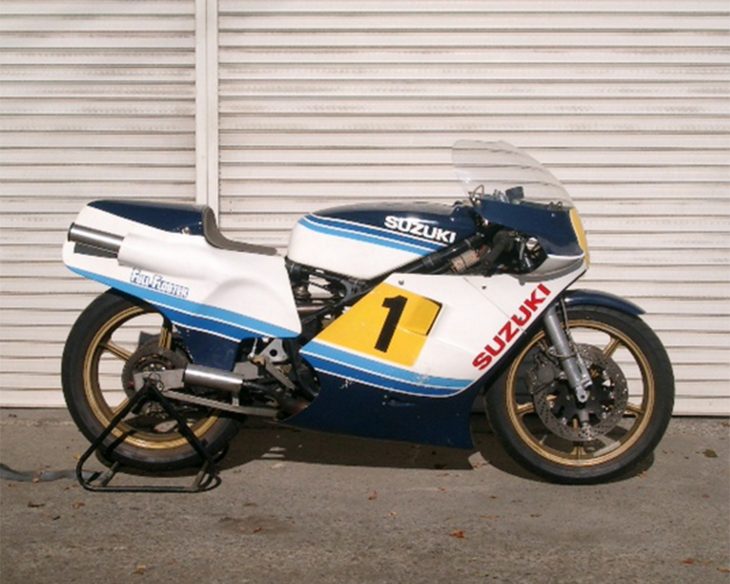 Suzuki's initial foray back into Grand Prix competition in the early 1970s was built around a production-based, water-cooled parallel twin borrowed from their T500 Titan, which saw limited success. Something different was needed if Suzuki wanted to win, and that meant the development of a brand-new four cylinder engine that featured a pair of cranks, disc valves, and the now famous square-four architecture. The new four-cylinder machine was first competed in 1974 and won its first Manufacturer's Title in 1976, then went on to dominate Grand Prix racing for years, and actually drove the shift from four-stroke machines to smokers: if you wanted to compete, you made the switch. That change defined prototype motorcycle racing up until 2002, when rules changes specifically intended to allow four-strokes to compete on more equal footing were introduced.
The original design for Suzuki's new square-four used front and rear cylinder banks that were the same height and made 110hp, although later versions used the more familiar "stepped" arrangement familiar to fans of the Gamma and made even more power. Suspension and tire technology took a while to catch up with the engine's brutal performance: 120hp may not sound like much today, but two-strokes deliver that power in a famously abrupt manner, and the early machines ate tires and chains with startling regularity. By 1982, the bike weighed 238lbs and produced over 120hp, with top speeds of up to 170mph and the RGB500, helped along by talented riders like Barry Sheene and Randy Mamola, was a dominant force in top-level motorcycle racing throughout the 1980s.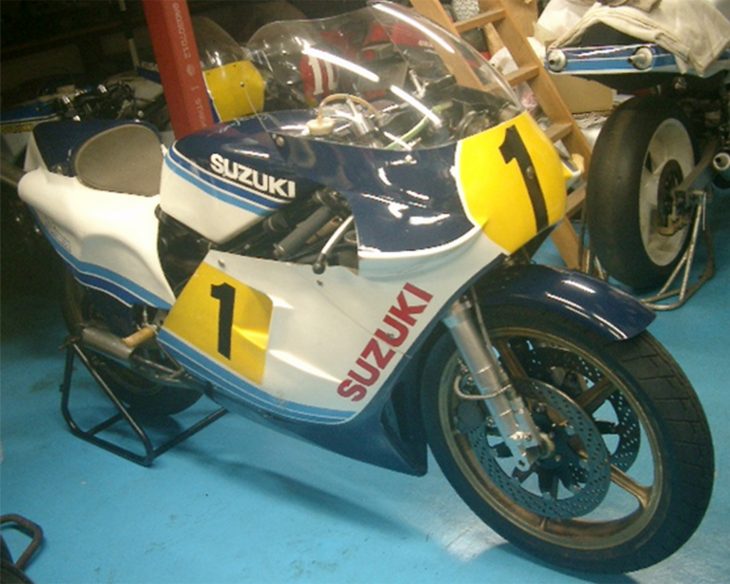 From the original Yahoo! Japan listing: 1983 Suzuki RGB500 for Sale
Racer RGB 500 I-MK 8 Works specifications. (Marco Rukkinelli player in Japan has riding)

Frame engine · swing arm Other than Works parts · Exterior manufacturer original.

(Engine) Works Mechanic · Full Overhaul (Replacement of new parts such as expendable parts)

It is running for 2 hours including a mustard and test course.

Basically present car verification. On… examination can receive person hope, in any case present condition delivery no claim.

A bid please those who can understand old racers · those who can understand by image.

Since cancellation of a bid can not correspond, please bid carefully under self-responsibility.

Those who can withdraw to Saitasa city, or if you can arrange for land transportation by yourself as a guideline after about a week after a successful bid

If it is BAS, we will bring it to Kashiwa depot for 5000 yen.

BAS Please bear the shipping fee from Kashiwa Depot by the highest bidder
Please, no jokes about the listing: I ran this though Google Translate so the original seller isn't responsible for any atrocious syntactical mistakes. Although I'm really interested in "a mustard and test course." Obviously, potential buyers won't be worried about the need to register their purchase, since this isn't a street bike. You'd just need to figure out whether to to race or display this bit of history.
-tad